Jeremy Meeks has turned out to be the ultimate bad boy now that he has gained all the fame after entering the glitz and glamor arena straight from prison. Jeremy Meeks has filed for a divorce with his wife Melissa Meeks. The couple had been married for 8 years. What caused Jeremy Meeks to divorce his wife all of a sudden? Let us find out!
As per the reports and revelations made by TMZ, Jeremy Meeks is seeking legal separation from his wife Melissa Meeks. Melissa Meeks recently revealed that she was going to divorce her husband Jeremy. Why? Photos of Jeremy Meeks kissing Chloe Green on a yacht in Turkey surfaced last month. Chloe Green is the heiress of Topshop.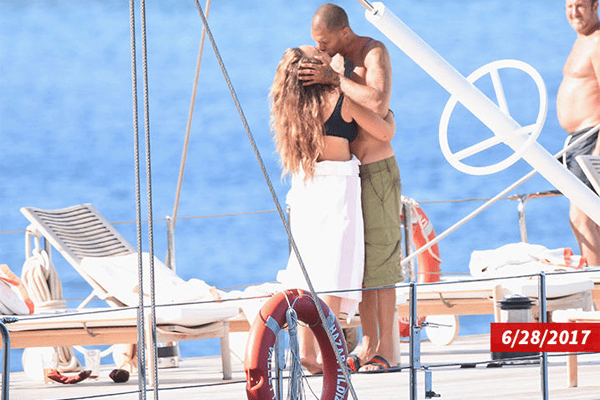 The photos were a shock to everyone. Melissa Meeks shared that she was extremely shocked by the photos. She also shared that Jeremy had promised that the trip was all for work. The rumors of Jeremy cheating on his wife spread like wildfire.
It was somehow easy for people to see it coming since Jeremy gained prominence all at once. Jeremy was a bad boy when he got into jail and is still acting as a bad boy after getting out of it.
Melissa Meeks shared publicly that she was going to divorce her husband, however, now she has been slapped with a divorce assurance from his husband.
Jeremy Meeks entrance to the glitz and glamor arena was much unexpected. Meeks came into the limelight in social media in 2016 when his hot mug shot was shared. Jeremy was convicted of the possession of a firearm in 2014. Jeremy was released in 2016. With his release, his story became viral along with his mug shot.
Jeremy eventually became a star overnight. Jeremy Meeks went on to sign a modeling contract with White Cross Management.
Jeremy and Melissa Meeks have been married for 8 years now. The couple has a child together. Their son, Jeremy Jr. is 7 years old. Melissa also has a son from her previous relationship.
Following the divorce, the assets of the couple will be divided.
Jeremy Meek had not spoken publicly about the allegations of him cheating and his wife although the pictures are a clear proof. Meeks is yet to make a public statement about the filing for the divorce and the divorce settlements thereon.