The Morandi motorway bridge has collapsed near the Italian city of Genoa leading to multiple fatalities on 14 August 2018. According to the local police, the death toll has reached 35 with 18 injured survivors. Likewise, The number of missing people ranges from four to 12.
A section of the bridge collapsed as the city was lashed by an intense thunderstorm. Multiple heavy cars and trucks fell a staggering 45m to the ground as the concrete 80-meter (262-foot) section came crashing down.
There were hundreds of firefighters and emergency rescue officials to extract survivors from the rubble. According to the emergency officials, cries can still be heard from inside the debris.  The rescuers are scouring through the wreckage and have no intention to give up until the last victim is rescued.
What might have gone wrong? Engineers Insight on Italy Bridge Collapse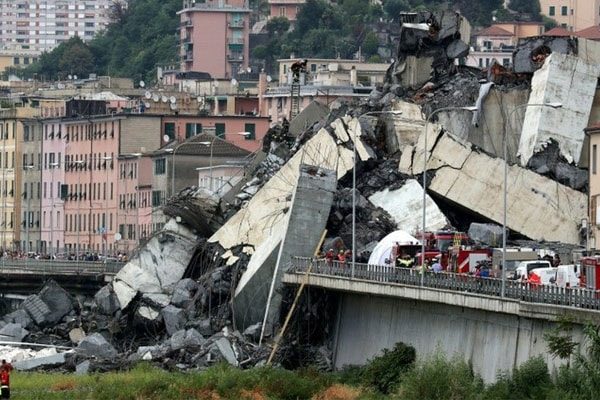 Morandi Bridge in Italy collapsed with the death toll of 35.
Image source: BBC News
The prosecutors are opening an investigation into the disaster.  However, the cause for the Morandi Bridge fall down remains unknown. The investigation team has found various possible cause for the incident.
The tragic incident might be the cause of structural failure, lack of maintenance and corrosion or weather conditions. Also, the wreckage is the cause of major negligence as well.

The bridge manifested various problems including construction costs, which went over the budget. The incident showed that Italy needed to spend more on its dilapidated infrastructure, even if it meant ignoring EU budget.
Structural Failure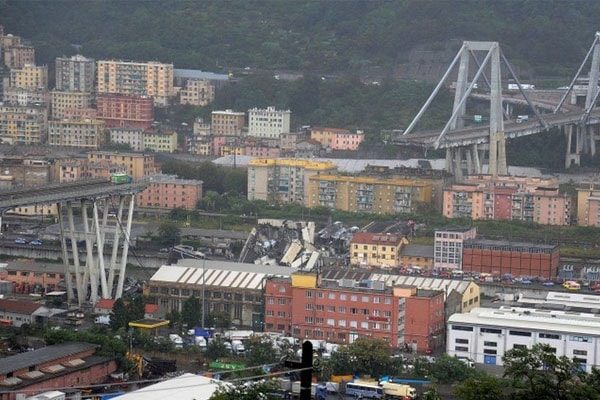 Structural failure could be one of the causes of Morandi bridge collapse. 
Image source: BBC News 
In this incident, early speculation focused on the structural weakness of the span. The 1.2-kilometer (0.75-mile) highway bridge was built in 1967 but the design was highly criticized by many in the past. Moreover, the design was "the failure of engineering" according to a professor specializing in reinforced concrete construction.
Most bridges are designed to last for at least 100 years. However, the bridge needed to be replaced as the Morandi bridge surpassed its lifespan.
Lack of Maintenance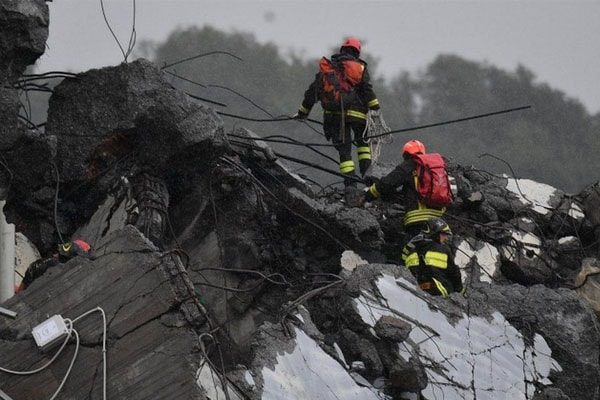 Firefighters and emergency rescue officials are extracting survivors from the Morandi bridge rubble. Image source: BBC News
Despite the possible predictions in 2016, The bridge has not been maintained since its inauguration in 1967. However, according to the Autostrade official, the bridge was constantly monitored and supervised. Also, he believed that the maintenance was well beyond what the law required and there was no reason to consider the bridge dangerous
Among all the various reasons, the horrid weather condition could be one. The pedestrians have witnessed a thunderbolt striking the bridge on Tuesday morning on the eve of a major holiday.
For More News  Update visit SuperbHub.