Harry Styles has always been the eye candy for all the hip youngsters who adore his music and his personality. And when Harry Style came to the Today show to reveal his debut his new single, the audience could not stop gasping for air and screaming with joy. Yes! Harry Styles is up and running his tunes of his new hit "Carolina" which he revealed he is hooked with! Let us find out more about his new music!
Harry Styles has come alone this time and with a bang! Yes, the very stylish Harry Style dressed in a hot pink suit appeared on the Today show on May 9 and brighten up every viewers day with the revelation of his new single.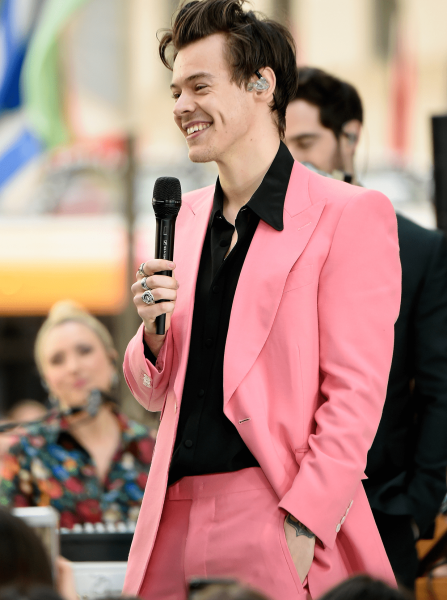 We are very much aware that Harry Styles has been putting out music like he's on fire. Styles recently debuted his single "Ever Since new York" on SNL. His charm seems to have been working pretty well since the songs are gradually reaching the top chart list. With another soaring success from "Sign of the Times" and "Sweet Creature", Harry has laid in front of his fans yet another new song titled, "Carolina"!
The song begins with him being completely lovesick by this "good girl" who has got a family in "Carolina" and says that he reminds her of "home". The song is pretty sweet and smooth flowing. This little story about the "good girl" who makes him "feel so good" has got Styles smitten.
With his black shirt underneath the hot pink suit, Harry Styles has certainly made a statement that he is all for releasing hits upon hits. Carolina being Harry Styles's fourth track from his new album. The Album is set to release on 12th May.
Harry Styles has a lot going on in this month. He will work in the weeklong show at The Late Late Show with James Corden. Styles has also made it official that he will be working in an Apple Music Documentary. The documentary will show the making of his new Album.
Harry's fans are very much excited for his new tunes and his guitar-heavy songs that will follow. Harry has been lately dropping bombs time and again with his new songs. "Carolina' will be yet another hit this week and we cannot wait to get more out of Harry Style's new album!