Photo Source: honey.nine.com.au
Halle Berry's figure has made quite a lot of statements on 4th June 2017 at the Chrysalis Butterfly Ball in Los Angeles. On June 4th Halle Berry looked mesmerizing in her silver dress but what caught the attention of the tabloid was how she was caressing her growing belly! Halle Berry recently got out of a divorce with her ex-husband which makes it furthermore surprising. Let us get into the details of the rumors!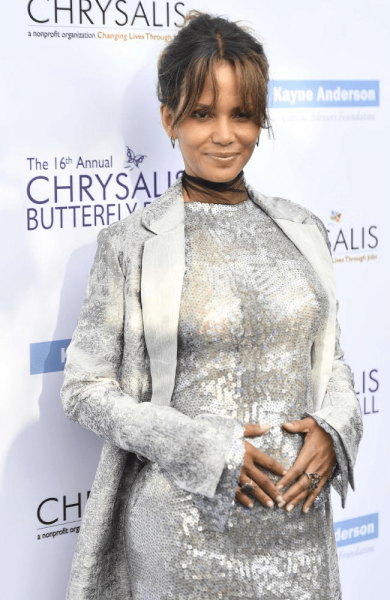 Halle Berry always looks stunning with her slim figure and charming smile. However, on 4th June 2017, Berry turned heads not because of her youthful looks but because of her growing belly! Yes, Berry was the focal point of attention for the tabloids for the growing belly that she was seen caressing.
The very slim Halle Berry's heavy tummy lining clearly hinted that she was pregnant. It might be soon that we see Halle Berry give birth to a baby. However, the pregnancy rumors appear straight after Berry divorce her former husband Oliver Marinez.
Berry has had a very unfortunate and disturbing marital status in the past years. Berry has been divorced three times. The Oscar award winning actress has been doing great but her private life has not been as triumphant!
She was married to a baseball player, David Justice, however, the couple got divorced three years later. Berry then got married to her second husband, songwriter, and singer Eric Benet. After their divorce on 2005, She got into a relationship with Gabriel Aubry. The couple also has a daughter named Nahla Ariela Aubry in 2008.
Aubry and Berry had a hugely publicized and nasty custody battle. Berry who had requested to move from Los Angeles to France was denied for the arrangement when Aubry objected to the move. The entire ordeal went on to get physical when Aubry and Berry had a physical altercation after which both of them had to be hospitalized.
Halle Berry was married to Oliver Martinez for 3 years in which time the couple had a son named Maceo Robert Martinez. The tabloids were all over the incident when Martinez threatened to kill Aubry.  Halle Berry has been a very protective mother. Now, Halle Berry has been fully focused on her career and her kids. By her recent red carpet appearance, it seems that Halle Berry is yet to have another child but it is too early to make assumptions about who the father might be!