In an episode of Loose Women, Christine Bleakly had a lot to say about her newlywed husband and her relationship. Among other things, Christine candidly revealed that her husband Frank Lampard was being cross with her just because of what she had done, in his dream! The hot English footballer sure knows how to throw fits like a kid! Let us find out more!
Frank Lampard might be known as the extremely hot and happening English footballer who draws the attention of women wherever he goes. But, at home, Frank is only so devoted to his wife Bleakley that he went bonkers over what she had done in his dream!
On an episode of Loose Women where the women were casually talking about embracing their jealous streak, Christine Bleakley had her story to share. She revealed that she would be amazed to see a "group of girls" lingering around Lampard as soon as Christine left for the loo! When asked if she was jealous, Christine revealed that she would but she knew "what was within her" and that she is not " girly when it comes to that" and said that she is not "running after" anybody!
Also, Christine added that Frank Lampard said that he wouldn't talk to her a fine morning and when asked why said that she was a "bit naughty" in his dream! Christine would jokingly ask " What did I do this time?".
Christine also shared that they have these "jokey" things in their lives which "makes for a healthy relationship". In the same light, co-host Coleen Nolan was jokingly hinting an affair with Frank Lampard and teasing Christine to bring up her jealous streak. Coleen jokingly asked Christine to tell Lampard to "stop texting" her. In the light humor, Christine showed that she might have been a little jealous!
Christine termed the entire humorous event about Frank being jealous because Christine had been a little "naughty" in his dream as "a positive kind of jealousy".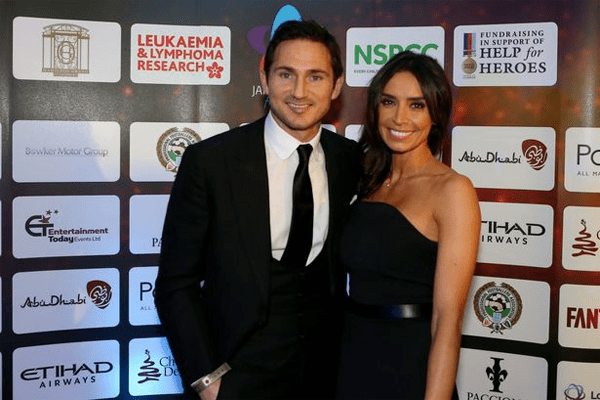 The hot power couple met in 2009 and fell in love. Eventually, they got engaged in June 2011. Their wedding was a lavish one on 20th December 2015. Frank has two children with his former fiancé Elen Rivas. He frequently meets his daughters Luna and Isla.
Christine and Frank look in good terms and are heading towards a healthy married life!