A massive earthquake of 8.2 magnitudes has rocked close to the islands of Tonga and Fiji on August 19, 2018. The record of tremors was at 00:19 GMT /5:37 PM PST.
According to the United States Geological Survey, the tremor struck off at about 281 kilometers north of Ndoi Island. There was a remarkable depth of 559.6 kilometers in the Pacific nation's capital Suva.

However, the quake that escalated its magnitude from 8.0 to 8.2  could not cause tremendous damage. The shock was it was too deep to cause an impact.
So far, there are no expectations of casualties according to initial readings. Likewise, as the Pacific Tsunami Warning Center, there are small tsunami waves in the ocean. However, there is no tsunami threat.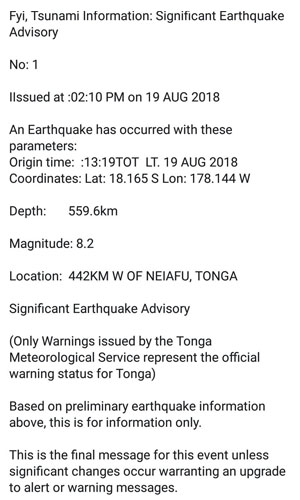 Fiji felt the longest and massive earthquake of 8.2 on the Richter Scale.
Image source: Twitter
The epicenter was located 275 miles (443 kilometers) west of Neiafu in Tonga and 167 miles (270 kilometers) east of Levuka on Fiji's Ovalau Island.
Earthquakes on Fiji
According to Fiji Seismology Unit director, Apete Soro, the quake hit the group of islands. It has its impact near Waiqori Village, with a population of around 6,000 people.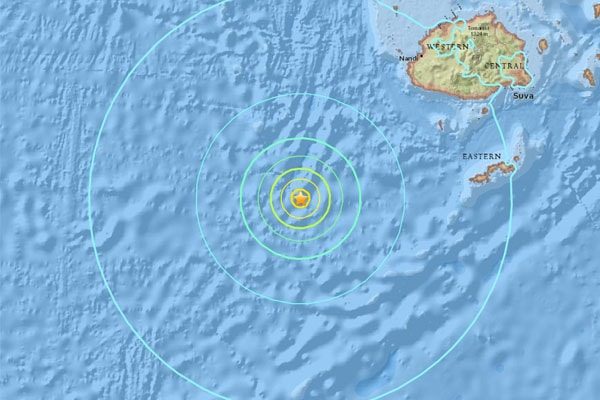 8.2 magnitude earthquake strikes in the South Pacific, Fiji. 
Image source: The Independent 
Likewise, there were also reports of the quake in the central and western parts of the main island Viti Levu.
According to USGS, The holiday island, Fiji, is not new to regular quake experiences. The Fiji Islands has experienced over a dozen earthquakes. It is in a notorious seismically active zone known as the Pacific Ring of Fire. The active region is the cause of regular experience of massive and devastating earthquakes in Fiji.
Likewise, in the past several months, Fiji has encountered that over 17 earthquakes. The earthquakes are over the magnitude of 1.5 over a month. There are several aftershocks reports in Fiji as several tectonic plates that meet at the region.
SuperbHub for News and Entertainment.