After midterm elections next month, President Donald Trump is getting ready to see departure of more cabinet officials. According to the interviews conducted by Politico with former and current White House officials, up to six officials have set their mind to resign.
Nikki Haley, Ambassador to United Nations is one of them who had announced last month that she will resign and leave by the end of the year.
The reason behind Haley's resignation was unclear. Her resignation however might not have anything to do with her issues with anyone or Trump himself.  She must be the rare own to resign in her own terms.
As both Haley and Trump praised each other after her resignation announcement. Praising Haley for her work like making progress on trade and nuclear disarmament in North Korea and Iran, Trump said that she could pick her roles if she decided to return to the White House.
Similarly, next on the list could be Attorney General Jeff Sessions as Trump has been criticizing him for a long time.
The other names in the list includes Interior Secretary Ryan Zinke, Homeland Security Secretary Kirstjen Nielsen,  Defense Secretary Jim Mattis, and Commerce Secretary Wilbur Ross.
With these departures, President Trump will be known for making highest turnover rate. As many other high rank White House officials had already resigned or been pushed out since Trump's presidency.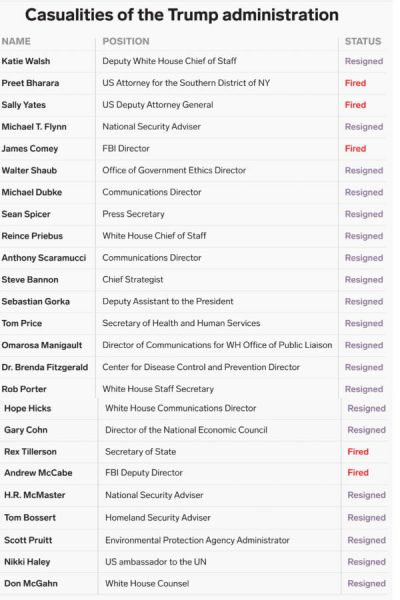 Having such turnovers may create problems in White House administration creating confusion among departments. However, President Trump allies have said that Trump would focus on looking better performers who would bring political benefits for him. He wants a strongest team who will be going into 2020.
Stand by for more updates on news, entertainment, health & beauty and articles only on SuperbHub.