Our most beloved celebrity Lifeguards take the center stage always with the new "Baywatch" premiers. Beach babe, Pamela Anderson has always been the most cherished lifeguard in the Baywatch series.
We have been eagerly waiting for Baywatch to hit the cinema's while E! News has been catching up with the originals, Pamela Anderson and David Hasselhoff. In the David Hasselhoff reminds us of the times when Pamela Anderson's "Charisma" took us back!
What does David Hasselhoff have to say about pal, Pamela Anderson?
David and Pamela have many things in common, but in the present context, the most common thing they can share is their "Baywatch" series. E! News was on the move to interview the Baywatch cast during this weekend's premiere in Miami Beach.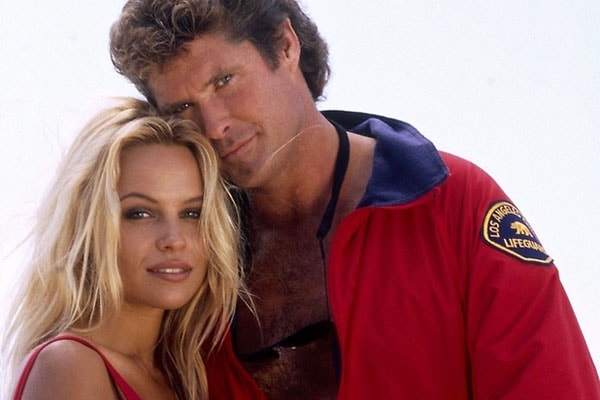 David Hasselhoff still reminiscences Pamela Anderson's Baywatch performance.Photo Source: Redbubble.
Pamela shared to E! News that she and Hasselhoff "run into each other all the time" and that she had last seen him in Europe. She also seemed very excited for the upcoming Baywatch movie since she has not seen any previews.
While asked what he felt about Pamela Anderson, David Hasselhoff had nothing but sweet words to share. He shared that he meets Pamela Anderson in various events and that they have "nothing but mutual respect for each other.
Reminiscing about those moments of shooting, David revealed that Pamela was "awesome to work with"  and that " when the water was cold, she was one of the first ones who got in there"! Furthermore, he said that even though the show was no one before she came and after she left, but Pamela "made a difference"!
Beautiful words regarding Pamela flew like a wind out of David Hasselhoff who shared that Pamela Anderson has got more "charisma" than any women he'd ever seen! Well, we can certainly agree with that!
Regarding Baywatch itself, David shared that "Baywatch hit at the right time" because it gave a fresh new content and that "it was the first time they'd seen America on television."
Although the Baywatch series ended a long time ago, Hasselhoff and Anderson have been friends are meet each other often.
Here is the new cast for the upcoming movie of "Baywatch."
The Baywatch cast is, of course, star-studded with hot beach bodies that the audience will be drooling for!
Zac Efron, Priyanka Chopra, Dwayne Johnson, Alexandra Daddario, Kelly Rohrbach, and other hot beauties and handsome hunks are the lifeguards in the upcoming anticipated Baywatch movie! We can't wait for it to hit the cinemas!