March 13, 2018, Comedy Legend Sir Ken Dodd, creator of the Diddy Men died aged 90. One of the influential comedians of his time, Dodd died at his home in the Liverpool suburb of Knotty Ash.
The Liverpool legend had recently been discharged from hospital after six weeks of chest infection treatment.  On March 9, 2018, Ken had married his longtime partner of 40 years Anne Jones, they exchanged their vows on the same Liverpool house Ken grew up and passed in.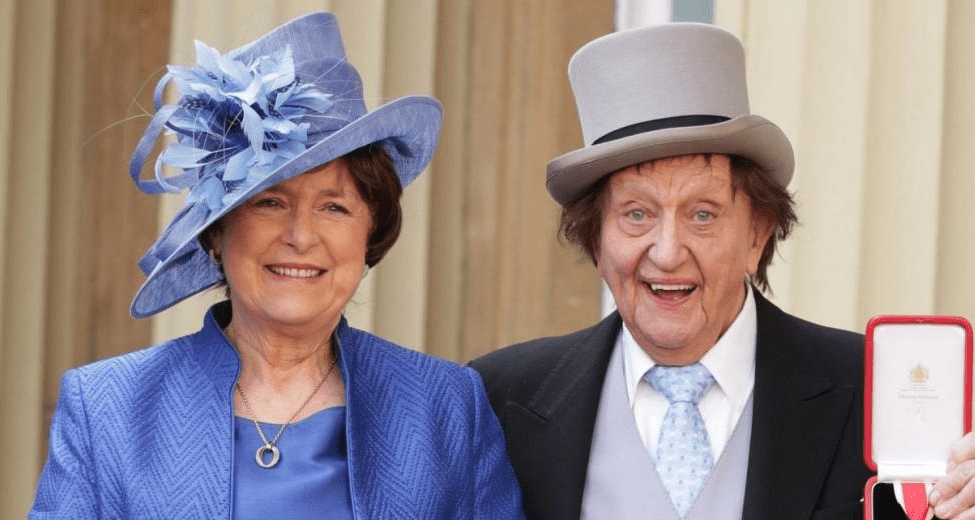 Sir Ken and Anne Jones at Buckingham Palace, London awarded Knight Bachelor of the British Empire.
Image Source: Standard co UK
Anne describes him as the most Life-enhancing, brilliant and creative comedian. Speaking outside their home, Anne said Sir Ken always wanted to make people happy and laugh. She feels overwhelmed by the love and affection of friends and public.

Lady Dodd reads a tribute to her late Husband Dodd outside their house.
Sir Paul McCartney tweeted a picture of Dodd with The Beatles, saying he was the champion of comedy and home city.
Sir McCartney was one of the many tribute that has been paid to the legendary comedian.
Read the five little facts of the comedian:
| | |
| --- | --- |
| 1 | Sir Ken Dodd left school at 14 |
| 2 | Dodd's song Tears is one of the best-selling songs of 1960s |
| 3 | Dodd holds a Guinness World Record (1500 jokes in three and half hours) |
| 4 | Todd was a member of the Grand Order of Water Rats |
| 5 | Dodd has longtime feud with Inland Revenue |
Some of the Best Lines that Todd left Audiences in tears of laughter.
| | |
| --- | --- |
| 1 | My dad knew I was going to be a comedian. When I was a baby he said,Is this a joke? |
| 2 | I haven't spoken to my mother-in-law for 18 months. I don't like to interrupt her. |
| 3 | My act is very educational. I heard a man leaving the other night saying, Well that taught me a lesson. |
| 4 | I do all exercises every morning in front of the television- up,down,up,down . Then the other eyelid |
| 5 | On his 80th birthday, "Age doesn't matter unless you are a cheese" |
Sir Todd has been a comedian since 1954 and was born as a son of coal merchant in 1927. Ken and his wife had met Anne when she appeared in the Ken Dodd Christman Show at Manchester Opera in 1961.
Ken throughout the 1970s and 80s was a regular face on television and worked very hard and punishing schedule rarely taking holidays. Initially, Ken had started his career as a door to door salesman selling pans, soap powder, buckets etc, that was his real experience and bond with the audiences.
Soon he was a salesman by day and a part-time comedian at night working for social and men's club. He made his BBC debut in 1954 and recalls it frightening.
May his departed soul rest in serenity and peace.
Source: BBC, The Sun, The Week