Photo Source: mirror.co.uk
Christine and Frank Lampard are major couple goals. The couple knows exactly how to be both adorable and steamy at the same time. Christine and Frank Lampard built a love nest of their own while they enjoyed their day on their yacht off the Corsica coast. The couple gave some major PDA while they clung to each other's arms. The Lampards were surrounded with hugs, kisses, and champagnes on their romantic Mediterranean cruise. Let us get into the details of Christine and Frank Lampard's romantic getaway!
Christine and Frank Lampard totally stole our hearts with their romantic and steamy getaway that has given us all the feels. Christine and Frank Lampard could not keep their hands to themselves as they spend some quality time with each other in Corsica.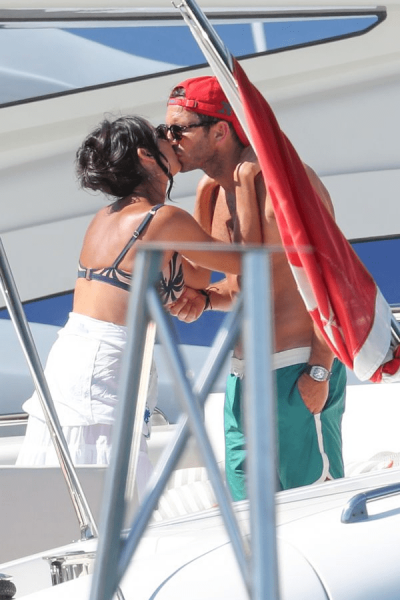 The couple took a day off from their busy schedule and was spotted under the sun in their luxury yacht on 20th July. The couple had some champagne in their glasses and looked adorably cute together. Frank was occasionally sharing passionate kisses with his lady love. It seemed like the couple could not keep their hands to themselves as they soaked up the sun. Christine looked hot in her blue bra while Frank Lampard rocked his sky blue shorts.
As they sipped their champagne, Frank shared a joke and the couple was spotted giggling together. Christine and Frank Lampard were not the only ones in their luxury yacht in the port of Calvi, Corsica. They also had some friends for company but the tabloids could not keep their eyes of the steamy couple.
The 38-year-old brunette, Christine Lampard is known best for her work in BBC and ITV in the show Loose Women where she is often spotted sharing details of her personal life mostly about her hubby Frank Lampard.
Frank Lampard, 39 is a former professional footballer who last played for Manchester City and New York City FC. After his retirement in February 2017, Lampard has found some time to share with his lovely wife Christine.
The couple got engaged in 2011 and eventually married on 20th December 2015. The couple does not have any children together; however, Frank does have two children from his former fiancée Elen Rivas.
Looking at Christine and Frank Lampard's romantic getaway, it is clear that they are very much in love with each other.