Photo Source:thesun.co.uk
Charlize Theron is loud and unafraid of taking any risk may it be on her roles or in real life. Charlize Theron at Atomic Blonde Berlin Premier looked hot in her white bra and miniskirt. When it comes to acting, Charlize Theron gives her best and when it comes to red carpet she perfectly depicts the strength of her character!
Charlize Theron attended the latest premiere of her new movie Atomic Blonde in Berlin and she sizzled the red carpet with her simple yet chic look that made a huge statement. Charlize Theron at Atomic Blonde Berlin Premier wore all white. She rocked her white bra with a white miniskirt. Her leather mini skirt was designed by Dior. Also, her white cotton triangle bralette was by Christian Dior. Her miniskirt was high rising and slightly was boning through the waist.
Theron looked blonde and beautiful wearing her red lipstick that matched her red nail polish. She wore white pumps as well which gave her long wide legs a perfect touch.
Charlize Theron at Atomic Blonde Berlin Premier looked edgy and classy and the dress perfectly matched her role in the movie Atomic Blonde and also her personality in real life.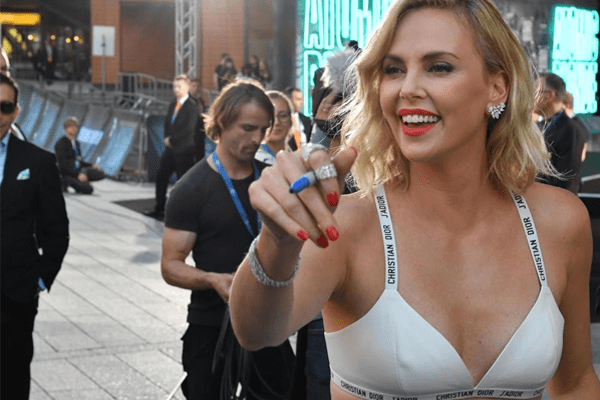 Charlize Theron's new movie, Atomic Blonde is out and we can just not get enough of it! Theron has given her all in the new movie. As per the reports, Theron did her own stunts in Atomic Blonde. She even accidentally cracked her teeth. But it is nothing new for the very strong and focused Charlize Theron.
Theron has worked equally hard for other roles of hers. Theron for her role in the movie Tully gained 35 pounds. She did not just win an Oscar for nothing in the movie Monster. Theron is known to have shaved off her head for her role in the movie Mad Max.
She has represented strong female characters since the time she entered the acting arena. Charlize Theron with her immaculate performance has been breaking boundaries. Her kick ass all white attire at the premiere of Atomic Blonde shows that she is not afraid to represent a strong female character or to wear edgy apparel.
Charlize Theron at Atomic Blonde Berlin Premier totally stole the show. The 41-year-old actress has been defying age with her angelic beauty and charm. We hope that her role as an agent in Atomic Blonde will be as successful as her past endeavors.
Charlize Theron at Atomic Blonde Berlin Premier