President of the United States of America, Donald Trump keeps on finding ways to be mocked upon and Hollywood doesn't miss a chance! Trump took to Friday to claim he'd turned down the widely respected honor of Time magazine's person of the year.
Time took no time at all to correct president's far-fetched claim. Celebrities have taken the responsibility to troll and mock Donald's tweet.
On Friday, Trump wrote that Time Magazine called to say he was Probably going to be mentioned "Man (Person) of the Year," as he did last year If he had agreed on an interview and a most of the photo shoot. He said probably is not good and took a pass. He is thankful anyway!
Last year, Time Magazine named Donald Trump as the person of the year on December 7, 2016. In addition, the magazine's cover also called him the president of the divided states of America.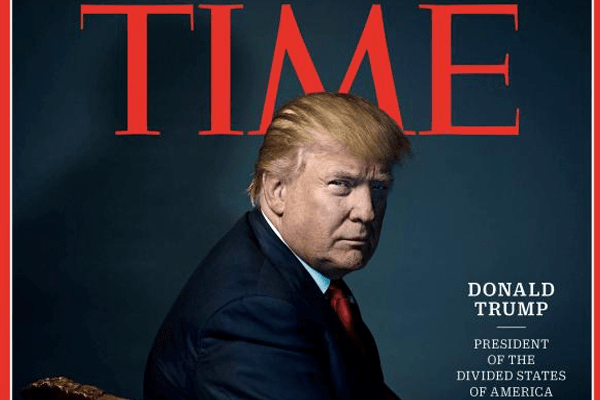 Photo Credit: alghad.com
In response, Donald Trump told to NBC, "I didn't divide them, they're divided now,"."We're going to put it back together." He also added: "I think putting 'divided' is snarky."
Time with a readership of 26 million, 20 million of which are based in the United States, quickly took upon Twitter and clarified," The President is incorrect about how we choose Person of the Year. TIME does not comment on our choice until publication, which is December 6."
Burn!!
Waiting in a queue, several celebrities posted their own versions of Trump's tweet, pun intended.
Boy band NSYNC's former member Lance Bass took a swing with a hilarious tweet saying, "Tiger Beat called himself and said that he was readily going to be Boy bander of the year, but long photo shoot and interview were troublesome. Unluckily, I have a far-awaited appointment to frost my tips on the day of the interview so Tiger Beat couldn't turn it! No thanks, Tiger Beat!!!"
Seinfeld and Veep star Julia Louis-Dreyfus had her own version for the president's tweet saying:
Along with Hollywood,three-time Grand Slam winner, Andy Murray wrote:
Pakistan-born comedian Kumail Nanjiani shared on Twitter:
Parks and Recreation star Billy Eichner came with his own rendition twitting, "The Time Magazine called me a few weeks ago. This led to our texting and then, yes, sexting too. We hooked upon each other a few times, which was fun. But, at the end, I didn't see any ideal match. It's too bad because Time Magazine is really hot. Oh well. Thanks anyway!"
Taking a serious consideration, the 2017 "Person of the Year" nominations include personalities like Ariana Grande, Emma Stone, Colin Kaepernick, Mark Zuckerberg, Patty Jenkins, Rose McGowan, Jimmy Kimmel, Serena Williams and Taylor Swift and so on.