Bollywood Veteran Sridevi Kapoor has tragically passed away after suffering a cardiac arrest in Dubai where she was attending a family wedding.
The actress is believed to be with her husband Boney Kapoor (Producer) and daughter Khushi when she passed away. Her brother-in-law Sanjay Kapoor confirmed the tragic news to the Indian Express.
"Yes, it is true that Sridevi passed away. I just landed here, I was in Dubai and now I am flying back to Dubai. It happened roughly around 11.00-11.30. I don't know more details yet,"
Born as Shree Amma Yanger Ayyapan, Sridevi paved her path to Bollywood by initially working in Tamil, Telugu, Kannada, and Malayalam.  
Sridevi started acting in the late 1960s and her performance on Malayalam film Poombata (1971) earned her state award for best child artist.
Her Bollywood debut was from the 1979 film "Solva Sawan", Himmatwala(1983), Mawaali(1983), Tohfa(1984), Naya Kadam(1984), Maqsad(1984), Masterji(1985), Nazrana(1987), Waqt Ki Awaz(1988).
Beloved actress Sridevi took a break from her career to raise her two children with Husband Boney Kapoor and returned again to star in the movie "Judaai".
The movie was undoubtedly a box office hit and Sridevi's role in 2012's hit "English Vinglish" marked herself as a treasured and enduring talent. She had returned to Bollywood after a 15 years hiatus.
Sridevi is considered one of very few Indian female actress to hit Box office success without the support of male hero. Many prominent actors and personnel expressed their shock and condolences of Sridevi's saddening death.
Indian Prime Minister Modi expressed his condolences to Sridevi's family tweeting he was saddened by her untimely demise.
Actress Kareen Kapoor also tweeted Rest in Peace.
As soon as the news was heard on Sunday, social media lit up with condolences and tribute to the Legendary actor.
Renowned names such as Chetan Bhagat, Abhishek Bachchan, Anupam Kher, Virendra Sehwag, Ajay Devgan, Preity Zinta, Varun Dhawan paid tribute to the actress.
Filmfare had posted a video of her last public appearance. Sridevi looking very beautiful enjoying the family wedding in Dubai. Sridevi's last public appearance.
Sridevi's death has saddened many peoples including London Mayor Sadiq Khan whom she had met last December.
London Mayor Sadiq writes in his tweet that he was saddened to hear the news of such terrifically talented actor, performer, and producer.
In 2013 Sridevi was awarded the Padma Shree Award by former Indian President Pranab Mukherjee.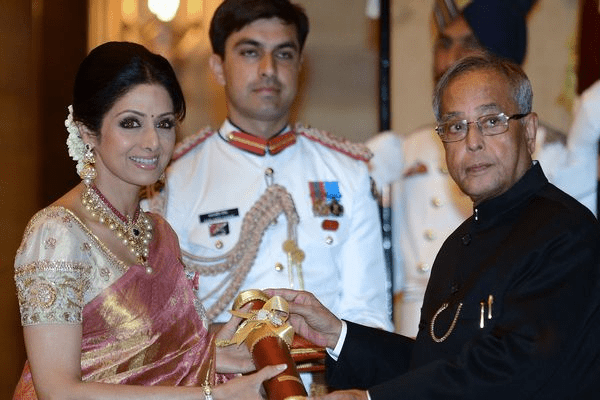 Image Source: Mirror
Sridevi's last movie was an Indian thriller "Mom" produced by her husband Boney Kapoor which released on 7th July 2017. The movie hit box office of ₹64.91 crore.
Sridevi portrayed the role of a Biology teacher and mother Devki who is popular amongst students. The movie depicts a tale of how far can a mother go for the sake of her child withstanding many obstacles to avenge her daughter. Mom is marked as Sridevi's 300th and final movie appearance.
Stay in touch with SuperbHub for more celebrity news and entertainment.