Picture credit: Mashable
Beyoncé fashion always takes our breath away with fantastic style. She not at all forget to amaze us with her looks.
The Mom of two twins recently shared a bundle of photos with her fans and followers on Monday. She has showcased two varieties of very expensive looks. In few photo shots, Beyonce –  styled by Zerina Akers – took a shot with Jay-Z on their private plane, while others were a solo pose. Many celebrities are seen happening in airports in sweats, Beyoncé on contrary chose the opposite route.
Let's have a look at her high worth looks.
Look #1
Worth of 9,635 USD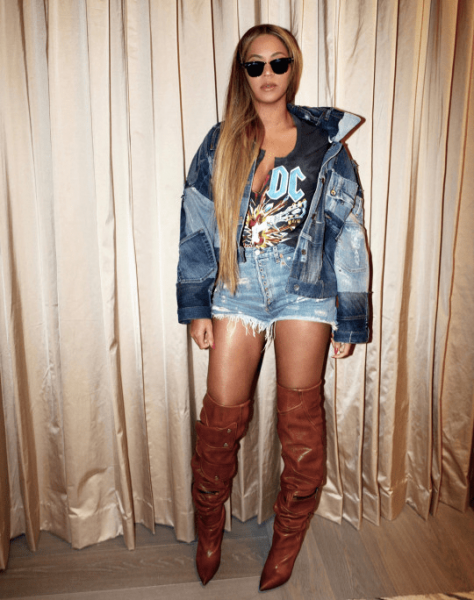 Picture  credit: Fashion Bomb Daily
• Gucci AC/DC Print Tie-Dye Cotton T-Shirt ($720)
• Gucci Shredded Bleached Denim Shorts ($850)
• Dolce & Gabbana Distressed Patchwork Denim Jacket ($3,375; on sale for $2,025)
• Saint Laurent "Niki" Leather Zip Over-the-Knee Boot ($3,495)
• Dior Denim/Pink Canvas Shoulder Bag ($1,195; on sale for $660)
Look #2
Worth of 13,163 USD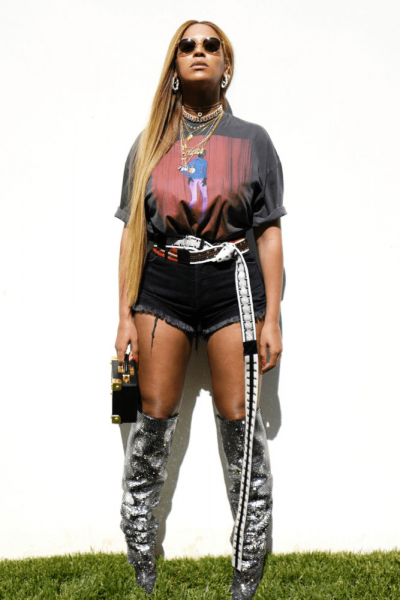 Picture  credit: Fashion Bomb Daily

• Balenciaga "Alek" Shirt ($495)
• MCM Berlin Trunk Cross Body Bag ($1,495)
• Ray-Ban Icons 53mm Retro Sunglasses ($153)
• Y/PROJECT Tulle Wrapped Hoodie ($1,020)
• Saint Laurent "Niki" Over-The-Knee Crystal Boots ($10,000)
She had posted few photos on Instagram too. All the photo collection can be found at her site.
There are others celebrities like Céline Dion and Kendall Jenner who are huge fans of Saint Laurent's boots. The two list above brings the cost of Beyoncé's looks to at least 22,798 USD excluding accessories, jewelry and more.
Beyoncé is a queen of fashion.
A year ago, she inaugurated her own athleisure line, Ivy Park, in Topshop stores around the world. "I've always been shopping at Topshop for 10 years I think. It's one of the few places where I have the confidence to shop by myself. It makes me feel like I am a teenager," she told ELLE in 2016.