Former First Lady Barbara Pierce Bush dies at age 92, the widely admired wife and matriarch of president George H.W. Bush and Mother of George W. Bush.
Barbara's cloudy white hair, pearl necklace had become her signature and her beautiful smile as a cherry on top of a cake. Former First Lady Barbara passed away aged 92 on April 17, 2018, at her Houston home after a tiring struggle with congestive heart failure and pulmonary disease.
April 15, 2018, Former President George Bush had issued a statement saying that that the Barbara Pierce Bush had decided not to seek medications but chosen a comforting care and peace.
Former First Lady Barbara was married to George Bush for 73 years which makes them the longest presidential couple in history. Former President Jimmy Carter and his wife Rosalynn Carter have been married for 71 years.
Barbara had written a note in Smith College's alumnae magazine saying that she is still old and still in love with the man she married 72 years ago.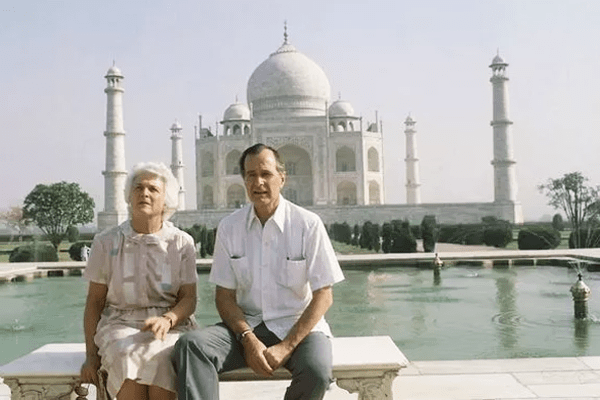 George H.W. Bush and his wife Barbara in front of Taj Mahal on May 13, 1984. 
Image Source:  USA Today
Former President George Bush and Barbara were married in 1945 after Bush had returned after serving as a Navy Pilot in Pacific during World War II and before entering Yale University.
The fiercely loyal wife and lovable mother Barbara Bush showed that she still had the sarcastic humor saying that she had great medical care and more operations that one would believe and as she had so many new body parts she wasn't sure whether God would recognize her.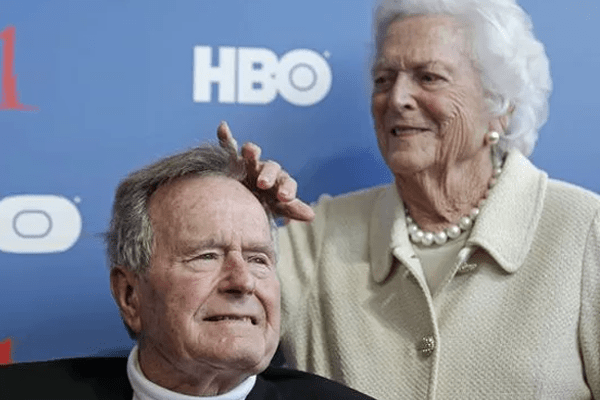 Former First Lady Barbara Bush touches the hair of her husband Former President George H.W. Bush on the premiere of HBO's documentary on his life on June 12, 2012.
Image Source: USA Today
The funeral service is scheduled for Saturday, April 21, 2018, at St. Martin's Episcopal Church, few blocks from the home she and her husband George H.W. Bush had built after his defeat in 1992 re-election.
A motorcade will carry her dead body through Memorial Park where Barbara used to walk with her dogs and to George Bush Presidential Library Centre in College Station. Barbara will be put to rest near the grave of her daughter Robin(3 years old) who died in 1953 of Leukemia.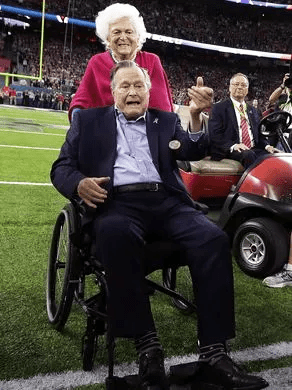 Barbara Bush with her husband, USA's 41st President now 93 old struggling with alike Parkinson's disease making him confined in a wheelchair and difficult to speak.  
Image Source: USA Today 
Mrs. Bush was hospitalized with pneumonia in December 2013. Previously the former first lady had undergone surgery for a perforated ulcer in 2008 and had a heart surgery four months later.
Hours after the sad news broke out of Barbara passing away, friends and family immediately expressed their condolences and grief. A family spokesman, Jim McGrath announced the death of Barbara in a statement posted to Twitter.
George W Bush took to his Instagram to post a heartfelt message and condolence to his mother. Former President Bush wrote that his mom had kept her children on her toes and kept them laughing till the end, Bush states he is a lucky man to have Barbara as his mother and called her a "force of nature".
Watch Barbara's interview with C-Span where she says that she has no fear of death.
For more Celebrity News and Entertainment: SuperbHub.