Amidst all the divorces and break ups happening in Hollywood, it is relieving to see some cute couple getting married. All the Bachelorette fans might be super excited by the news that one of the former Bachelorette star, Ali Fedotowsky is finally hitched. Ali Fedotowsky got married to her fiancé Kevin Manno this March 3rd!  Let us get into the details of their marriage!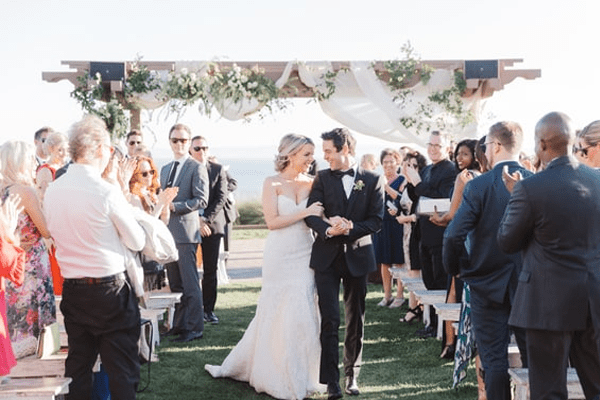 May 3rd, 2017 marked the big day for the power couple Ali Fedotowsky and her fiancé Kevin Manno. As reported by some sources, the lovely couple got married at the Terranea Resort in Los Angeles overlooking a beautiful view on a sunny day.
As revealed by Elegant Reveal's twitter post, the couple was seen looking absolutely delighted, warm and smitten by each other. Ali Fedotowsky glowed in her white dress as she walked down the aisle wearing a loose bun and showing off her cleavage in the most subtle attire.
While Ai looked gorgeous, her husband, Kevin shone in his own black suit and a black bow tie accompanying it. Their seven-month-old baby girl, Molly looked equally adorable. The couple looked really happy and deeply in love as their shared their kiss.
Ali was super excited when she share the news that Kevin had proposed to her in September 2015. She dramatically states like any other excited bride to be, that she did not just say YES but she screamed it. The couple had been in a relationship since April 2013. Things got pretty well and the couple had a baby whom they named Molly.
Ali later chatted with the US Weekly and spoke in light of her marriage. She shared how the day was better than what she imagined and dreamed of. She also sweetly states that Kevin is 'the one true love' of her life and that she feels 'insanely lucky' to call him her husband! Ali added that she was 'honored to be Mrs. Manno'. Ali revealed that like any other girl she too had imagined what her wedding day would be like all her life.
Before getting married, Ali had revealed to a source that she is 'so not traditional' and jokingly said that she 'almost would rather elope' because she does not care much about tradition. She also shared that for her the vital thing was that 'the wedding feeling ravishing, like brilliant and light and airy'.