Bella Hadid has been the Jennifer Lawrence of Cannes Wardrobe Malfunction (How can we forget Jennifer Lawrence falling off the stage 2 times straight?)! Model, Bella Hadid has been making statement after statement with her mesmerizing looks at the red carpet and 2017 Cannes was no different. However, one thing that has people really interested I how she had a wardrobe malfunction in last year's Cannes and also this year's Cannes.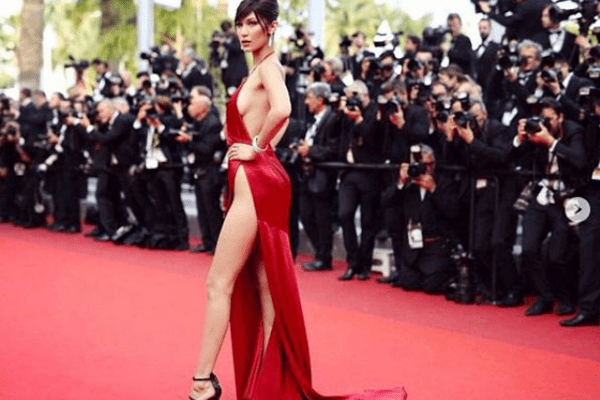 Camera's shuttered and flashed when Bella Hadid walked the red carpet at the 70th Annual Cannes Film Festival on 17th May this Wednesday. She looked absolutely stunning in her baby pink Alexander Vauthier silk gown. She was trying to make a statement with her dress but not the kind that came after.
Bella Hadid flashed her undergarments in her high-slit cut gown. It was a very risky choice considering that she had worn a red silk gown at the last year's Cannes which was also high-slit cut! Just like the previous year, Bella flashed her undergarments which did not look pleasing at all. This has turned out to be the second consecutive year of this happening to Bella Hadid!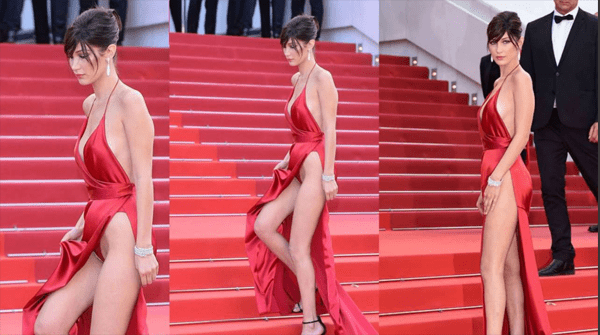 While trying to give a peck on the cheek to Susan Sarandon, this supermodel yet again flashed off her undies. The almost nude undies gave an impression that she had been wearing nothing which was even more awkward.
Bella Hadid, 20, walked gracefully with her father, Mohamed Hadid on the screening of Ismael's Ghosts. The previous year, Bella Hadid entered the Cannes on the screening of The Unknown Girl and had been wearing Alexander Vauthier. The classy red gown, however, could not cover her underwear which was on full display. While Bella tried very hard to keep her dress in place, the dress shamed her when the tabloids presented it later.
It seemed like Bella Hadid wanted to recover the pain of the wardrobe malfunction of the 69th Cannes and move on to sport the same high-cut gown apparel. But her effort and repenting the mistake did not work out quite well. The camera's and tabloids were quick to notice the wardrobe malfunction.
History repeats itself and for Bella Hadid it certainly has! Maybe drop the high-cut gown for the coming years? We hope that the supermodel brushes off the humiliation of the two consecutive wardrobe malfunctions and appears in the next Cannes Festival looking fresh and fashionable as always!