American sports journalist and radio host Stephen A. Smith is a renowned figure as far a sports journalism go in the New York. He is primarily associated with ESPN, where he is an NBA analyst and appears on different shows. Thanks to all this work in ESPN, as of 2018, Stephen A. Smith's net worth is $10 million.
Stephen also works extensively on the radio for various shows like The Stephen A. Smith Show and Mad Dog Sports Radio. Add to that the fact that he is a columnist for multiple news outlets like ESPNNY.com and The Philadelphia Inquirer, and you can see exactly why he has such a huge net worth.
Stephen A. Smith's net worth is $10 million. He earns $3 million a year from ESPN. He also makes $1 million a year for his radio show "The Stephen A. Smith Show".
Stephen Smith Earnings and Salary from ESPN
Stephen's main source of income is the money he makes from his duties for ESPN. He appears on multiple shows for ESPN, mostly as an NBA commentator and analyst. The shows he appears in are NBA First Take and NBA Countdown and he also commentates on the matches that are broadcasted by ESPN.
Smith signed an exclusive contract with ESPN in 2014, and as per the deal, he receives $3 million annually. He is one of the highest paid employees under the ESPN hierarchy.
Smith has been an active journalist on television since 199 when he started working for CNN/SI. He has been working for ESPN since 2005. All these years of work have led to him accumulating a ton of cash.
Earnings From Radio
Along with TV, Smith also works extensively on radio. After working for ESPN Radio. he joined Fox Sports Radio, providing analysis on NBA matches. He currently hosts "The Stephen A. Smith Show" on the SIRIUS XM Radio.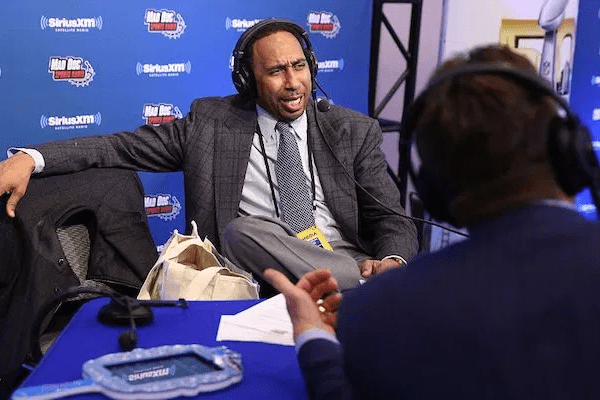 Stephen A. Smith hosts "The Stephen A. Smith Show"
Image Credit: BroBible
As far as his earning go, SIRIUS XM Radio pays Stephen $1 million per year for hosting his show "The Stephen A. Smith Show". The daily 2-hour program has been a massive and has helped Smith accumulate a massive net worth.
Stephen Smith Earnings From Acting and Other Endeavors
The famous journalist Smith has branched out to acting as well. He has had cameo appearances in the TV series General Hospital, where he portrays the character, Brick. His movie titled "I Think I Love My Life" featuring Chris Rock managed to earn a respectable $13 million at the box office.
In addition, his work as a columnist for years has helped him add additional money to his bank account. Thus Stephen A. Smith's Net Worth is $10 million amassed from his work on ESPN and as a radio show host.
For more News, Biography, and Entertainment visit SuperbHub.