Stephen A. Smith is an American sports journalist, columnist, TV host, and radio personality. A veteran of over 25 years, he is best known for his work as an NBA analyst and commentator for ESPN as well as for hosting "The Stephen A. Smith Show" on SIRIUS XM radio. Stephen A Smith Net Worth is $10 million.
Stephen started out as a writer for various print media's like the New York Daily and the Philadelphia, he transitioned to radio and television and has found considerable success. He has worked for radio stations like WEPN, ESPN Radio, SIRIUS XM, FOX Sports radio amongst others. As far as TV goes, he has been working for ESPN on numerous shows since 2005.
Steven A Smith Net Worth, Earnings From ESPN, Radio Show
As of 2018, Stephen A. Smith's net worth is $10 million, as per The Richest. He makes most of his money from his multiple duties for ESPN. He has been with ESPN since 2005. In 2014, he signed a contract with ESPN and as part of the contract, he receives $3 million a year from ESPN.
In addition, Stephen also makes a considerable amount of money from his radio shows. Over the years, he has worked for many radio stations, helping him earn a ton of cash. He currently hosts "The Stephen A. Smith Show" on SIRIUS XM radio, for which he earns $1 million a year.
Furthermore, other than being a sports journalist, Smith has also branched into acting, starring in TV shows and films. His only movie titled "I Think I Love My Wife" featuring Chris Rock earned a respectable $13 million at the box office.
Stephen A Smith Girlfriend and Personal Life
Smith, despite being a highly recognized public figure in the United States, has managed to keep his private life very private indeed. Despite being seen with multiple women, nobody has been able to figure out who his girlfriend is.
As far as his family goes, he has four older sisters and a younger brother. His brother died in a car accident back in 1992. He was born and raised in the Oueens and New York.
Stephen A Smith Controversies
Over the course of his illustrious career, Smith has been involved in a fair share of controversies. The first one occurred in 2014 when he made a comment regarding the domestic abuse situation of Ray Rice where he said that women shouldn't provoke men into punishing them. This led to widespread criticism and he was suspended for a week by ESPN. He later apologized for his comments.
Another controversy took place when Smith joked that German female soccer players turned their heads away while defending a free kick because they didn't want to get their hair messed up. This was regarded as a sexist comment by many and Smith came out and apologized.
Career Summary
Smith has been an active sports journalist since the early 90s, starting out as a writer. He transitioned into radio, providing NBA analysis for many radio stations like FOX Sports radio, SIRIUS XM, ESPN Radio, and many more. He currently works for SIRIUS XM as he hosts "The Stephen A. Smith Show".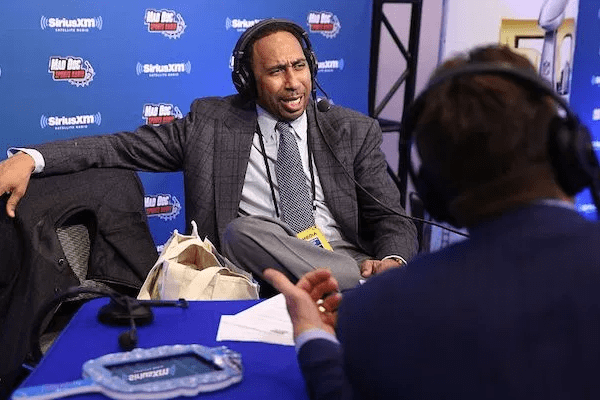 Stephen A. Smith on his radio show.
Photo Source: BroBible
Smith started out in television in 1999 with the channel CNN/SI. he has been working as an NBA analyst for ESPN since 2009. He currently hosts the show "ESPN First Take" alongside Max Kellerman and Molly Qerim. He has also branched into acting, appearing in the TV series General Hospital as well as the movie "I Think I Love My Wife"
For more News, Biography, and Entertainment visit SuperbHub.