Born on August 20, 1989, Olivia Pierson is an Instagram model who starred in E!'s WAGs. Born to the Canadian parents, Julia and Brian, she grew up with her siblings (three brothers; Brock, Preston and Owen, and a sister, Sophia) in Langley.
The Instagram model, Pierson, having 2.4 million followers on Instagram as of 2018, has dated some guys over the past few years. Olivia Pierson was involved in an affair with Joel Embiid (or at least according to Pierson). The famous model was also involved in a relationship with Marcedes Lewis but broke up due to certain issues. There were also rumours that the model, Olivia Pierson once dated Shawne Merriman too.
Olivia Pierson and Shawne Merriman
The stunning Instagram model, Olivia Pierson had been single for a long time. In 2015, she was seen to be together with the formal NFL player, Shawne Merriman. Shawne played for San Diego Chargers and Buffalo Bills and was retired in 2012.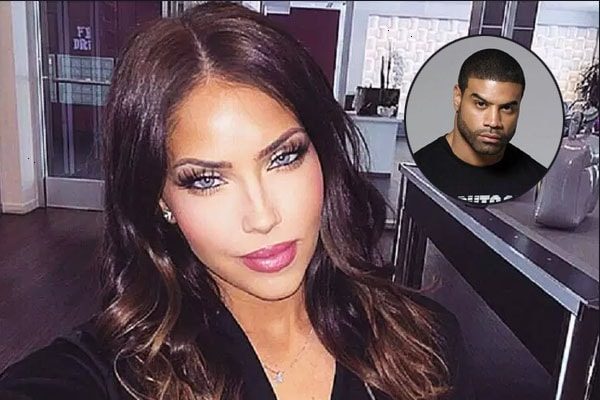 Olivia Pierson and Shawne Merriman were seen dating in 2015.
Image Source: Heavy/The Diamondback
In 2009, Shawne Merriman was accused, by his ex-girlfriend Tila Tequila, of choking her after she tried to leave him and his house.
Olivia Pierson and Shawne Merriman's date seem to had been for a short time. Not any news was heard of the couple thereafter. Or even the date could have been a rumour.
Marcedes Lewis
In 2016, Olivia Pierson was involved in a relationship with an American football player, Marcedes Lewis. Marcedes played for the Jacksonville Jaguars and Green Bay Packers. Olivia's relationship with Marcedes Lewis could not last long as she was forced to quit her relation with him because of his suspicious activities.
In the beginning, their bond seemed stronger as if the American footballer, Marcedes Lewis is about to take his relation from casual dating to a serious one. But Lewis's behaviour seemed to be changing and there was a kind of a gap between the two.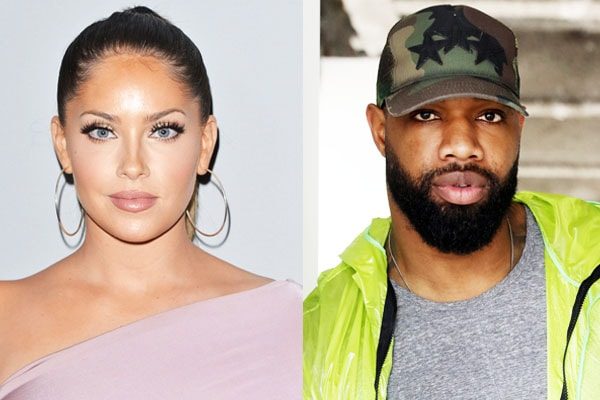 Olivia Pierson and American footballer, Marcedes Lewis dated in 2016. Image Source: CelebMafia/Sports Illustrated
Marcedes Lewis, at first, was flirting innocently with Tia Shipman. Following this activity was the suspicious picture of Marcedes with Sophia Pierson, Olivia's sister.
In addition to this, Marcedes Lewis showed up to a party in Los Angeles when he was supposed to be in the training for his game. Moreover, Lewis did not care to tell Olivia that he was in the town.
This ended up Olivia and Marcedes's relationship.
Olivia Pierson and Joel Embiid Made Headlines
After breaking up with Marcedes Lewis, Olivia Pierson admitted that she was in a relationship with Joel Embidd, a professional basketball player for Philadelphia 76ers. In February 2017, she posted a picture of her and Joel together in Instagram wishing him for Valentine's day.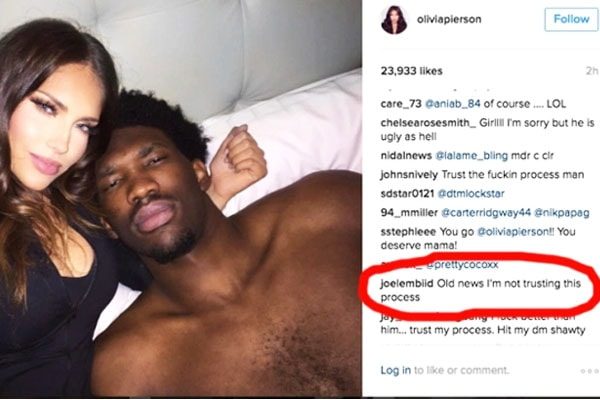 Joel Embiid denies the valentines post of Olivia Pierson.
Image Source: Uproxx
The news got more viral and spread like a wildfire when Joel Embiid responded to the post. Olivia received a savage reply from Joel. He screenshot the photo and hashtagged 'fake news' and posted in his Instagram story. He also commented on Olivia's Instagram post saying that it was an old news and he did not trust the process.
Both the celebrities deleted the post afterwards.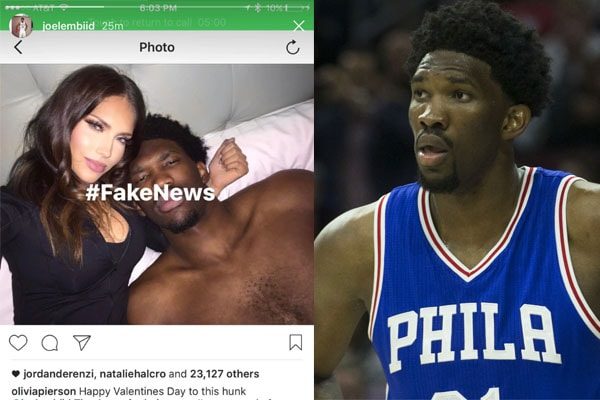 Joel Embiid hashtagged 'fake news' responding to Olivia's Instagram post. Image Source: USA Today FTW/Sporting News
As of 2018, Olivia Pierson has not disclosed her relationship status. The beautiful Instagram model might be single.
For more News and Entertainment: SuperbHub