One can achieve their dream once they prove their hard work, diligence, and trust. So did Macklemore and Ryan Lewis. Today, both music stars are multimillionaires and living comfortably with their families. Both men have made quite a name of themselves in the music industry.
Now, Ryan Lewis started his journey as a videographer and photographer while Macklemore as a young rapper since 2000. The duo was formed in 2008, from Seattle, Washington, as a rapper and a music producer. They grew together and now have parted ways. However, throughout their journeys together, both Macklemore and Ryan Lewis's net worth has escalated rapidly.
Macklemore's Net Worth Estimated At $25 Million
Benjamin Hammond Haggerty, aka Macklemore, is one of the most prominent figures in the music world. Hustling from the bottom, he has hit several milestones throughout his decade long musical journey. Hitting off since 2000, Macklemore's net worth has racked up to $25 million by now.
Macklemore confronted breakthrough with his debut studio album, The Heist. The album debuted at #2 of the U.S. Billboard top 200 in 2000 and sold almost 80,000 copies that week. 'Thrift Shop' made history as it became the first song to reach the top of the Hot 100 Chart since 1994 without a major record label.
Receiving back to back success from his second album, "The Heist," including 'Can't Hold Us,' Macklemore spent few years collaborating with other artists, including Ed Sheeran. Along with success, Macklemore's pockets were getting deeper.
Haggerty wasn't to be back until 2016 with another hit called 'The Unruly Mess I've Made .' However, Macklemore announced that he and Ryan were taking a break from one another in 2017. His 2017 release, Gemini, was produced by Josh Karp aka Budo, which featured Lil' Yachty and collaborated with Kesha.
Besides Macklemore's earnings from his albums, tours also help him support his income.
Macklemore's Earnings From Merchandise
Furthermore, Macklemore's net worth is backed up by his merchandise sales as well. Some of the items from his online store are listed below, along with their respective prices.
Gemini Delux Album: $20
Gemini Delux+T-Shirt+Poster Bundle: $60
Dad Hat: $25
Gemini Boxer T-shirt: $25
Long-Sleeved T-shirt (Gemini): $35
Gemini World Tour Hoodie: $50
Leopard T-shirt: $25
Photo Hoodie: $35
Match Crewneck: $40
As for his YouTube channel, according to SocialBlade, it generates an estimated annual income ranging between $140.2K – $2.2M as of now. With multiple income sources, seeing rapper Macklemore's net worth this grand really doesn't come off as a surprise.
Born on June 19 of 1983 in Seattle as Benjamin Hammond Haggerty, he made himself famous as Macklemore. He tackled the social issues via songs and sang about materialism, gay love, and many more. Let's hope the 'Thrift Shop' rapper lives comfortably with his wife, Tricia Davis, and daughters Sloane Ava Simone Haggerty and Colette Koala Haggerty.
What Is Ryan Lewis' Net Worth?
Ryan Lewis is yet another leading name in the industry. Complimenting Macklemore's vocals and well-known as a producer, DJ, and musician, Ryan Lewis's net worth has jumped up to $22 million as of now.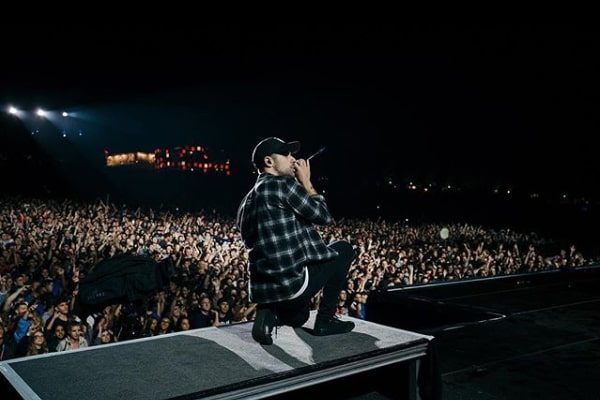 Ryan Lewis's wealth has grown a lot along with his growing career. Image Source: Lewis' Instagram.
Born on March 25, 1988, in Spokane, Washington, Ryan Lewis started his journey as a professional photographer and videographer. He was first introduced to Macklemore in late 2006. The duo started collaborating as a photographer and thereafter on some music. As a result, they released 'VS.EP' in 2009.
Before, Ryan had also collaborated with Rhode Island in a self-titled work and released it as an LP in 2008.
The EP, VS.EP gained considerable attention and led to their first studio album release 'The Heist' in October 2012. Lewis records, direct their music videos, produces and mixed all of their tracks, and has made an enormous reputation for doing so. Macklemore and Lewis's notable works include Thrift Shop", "Can't Hold Us," and "Same Love."
Furthermore, the duo is notoriously famous for releasing their music unaccompanied by a major record label. Together, Macklemore and Ryan Lewis produced two studio albums before announcing hiatus.
Besides Lewis's works with Macklemore, he has also worked with Kesha. He co-wrote and produced Kesha's song 'Praying' in 2017. Likewise, he also co-wrote and produced  Hobo Johnson's song "Subaru Crosstrek XV in 2019.
View this post on Instagram
Plus back in 2017, it was reported that Ryan Lewis was selling his Magnolia estate home for $7.5 million, which he had previously bought for $3.3 million.
Ryan Lewis' net worth seems to hike along with his remarkable works and fame. Let's hope he wins his career and lives comfortably with his wife, Jackie Ganger, and daughter, Ramona Rae Lewis.
Don't Miss To Follow SuperbHub For More Updates On Celebrity Entertainment, Biography, and News.