It's hard to fall in love with an individual's good and bads altogether, but once we do, the bond remains for eternity. A similar case of love occurred with the multiple Grammy Award-winning music producer Ryan Lewis. The man has been through a lot and has experienced a successful musical career.
The icing on the cake is Lewis's matured relationship with his wife, Jackie Ganger. Let's get to know a little about Ryan Lewis's wife and their marriage in this article.
Who Is Ryan Lewis's Wife, Jackie Ganger?
It's very exhausting to keep things confidential as the wife of a public figure. However, music producer, Ryan Lewis's wife, Jackie Ganger is a pro at it. She has kept literally everything a secret besides her name and relationship with her husband.
But separating things from the scrutiny of the world might be the key to Ryan Lewis's decade long relationship. Although there is almost nothing about Lewis's wife, it is pretty much evident that she is a good human being, very intelligent, and supportive of her husband.
Despite marrying a man who produces magic via tunes, Jackie Ganger is very grounded. Going through her Instagram account, she looks to be a jolly person who loves to establish relationships and enjoys spending some quality time with her beloved.
Ryan Lewis And Jackie Had Been High School Sweethearts
Ryan Lewis saw his dreams of fame with his high school sweetheart, Jackie Ganger. The couple met when they were just 15 years old and had been together since, loving, fighting, going through all kinds of obstacles, and dreaming of succeeding together. Their relationship proves that you are better but you need that one missing piece of a puzzle to fulfill and mend you better.
The couple must have gone through storms but their relationship withstood all of them. Furthermore, after years of dating, Ryan Lewis finally proposed the love of his life in December 2015. Ryan, as a gentleman he is, shared the whole experience with his fan via Instagram.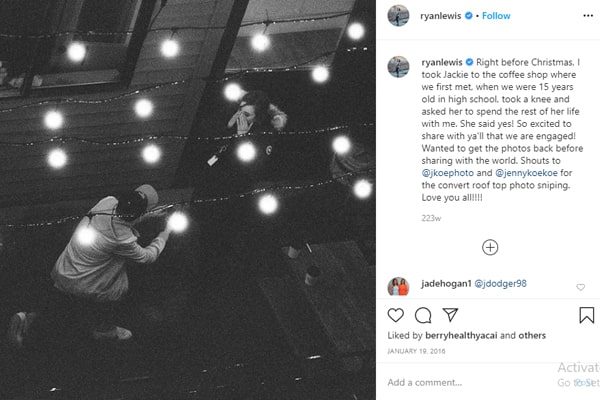 After dating for several years, Ryan Lewis finally proposed his long time girlfriend in 2015. Image Source: Lewis's Instagram. 
Ryan revealed that he took his wife-to-be, Jackie to the coffee shop they'd met when they were 15 years old and asked her to spend her life with him. Lewis's excitement was loud and clear via his caption. What a beautiful Christmas!
From High-School Sweethearts To A Married Couple
The phenomenal musician and producer, Ryan Lewis married the love of his life, Jackie Ganger after two years of engagement. Along with his uproaring success in his career, he was also moving forward with his life. The beautiful couple got married on Saturday, July 1, 2017.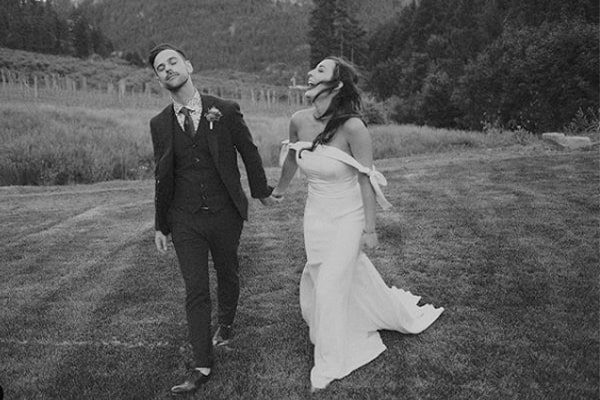 Ryan Lewis's wife, Jackie looks gorgeous. Image Source: Jackie Ganger's Instagram.
While Ben Haggerty aka Macklemore's daughter, Sloane Ava Simone Haggerty served as the cutest flower girl, the couple shared their vows of eternity among their friends and family.
Their wedding was grand and sumptuous. The photoblog shows how happy and excited the couple was to share the rest of their lives together. Ryan Lewis's wife looked gorgeous in the wedding gown. As she walked down the aisle holding her father and the Can't Hold Us producer was all emotional and appreciative.
They truly are the couple goals as they are literally together through thick and thins.
Ready For The New Phase
Jackie Ganger's husband, Ryan Lewis is a widely recognized music producer and rapper. He is almost on-road every now and then. Despite being busy with his career, the couple has managed to walk through their relationship smoothly and were more than ready to welcome little Lewis in their life.
The days weren't far! After two years of marriage, Ryan announced that they had welcomed their first child via Instagram on June 12, 2019. The producer posted the portrait taken by Erin Tole Photography and captioned it,'… wanted to share our beautiful baby girl – Ramona Rae Lewis, born June 12th!'.
View this post on Instagram
Ryan Lewis's wife, Jackie Ganger aka Jackie Lewis is a jolly person with a fun personality and of course a great mother. Walking through their relationship journey was beautiful.
Although life went through different transitions, they were together supporting and loving one another. Something to be inspired by, isn't it?
Don't Miss To Follow SuperbHub For More Updates On Celebrity Entertainment, Biography, and News.