Kailah Casillas is popularly known for making her appearance in the MTV reality shows 31st season of The Real World, Dirty 30, and The Challenge. Only by appearing in the reality shows, she has made lots of fans for having gorgeous looks and strong personality.
Kailah recommends boys not to fall in love with her because of her sexual prowess according to the MTV.
The Real World Reality TV Star Kailah Casillas is in relation with the famous rapper Mikey P. It is not sure when the couple began dating but, they are mostly seen together on social media post since January 2017 which means their relationship is already a year old.
Kailah and Mikey P Relationship
In most of their social media post, they are seen completing each other. Recently, the couple celebrated 2018 Valentine and shared a picture on the social media.
Kailah has often claimed Mikey belongs to her only. On Kailah's Instagram post, she was seen with boyfriend Mikey where she captioned:
Everyone needs a ride or die, he's mine. @iammikeyp ♥️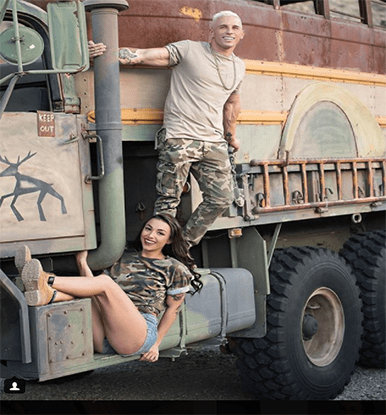 Kailah Casillas having fun with her boyfriend Mikey P.
Image source: Instagram
While in most of the images hints, they are actually in a true relationship but, some of the people think the couple is using each other for a fame according to the some Reddit Users.
Mikey released his official music video Wake Up in 2017, where girlfriend Kailah has cast in the video.

Previously, Kailah was seen having a romance with stupid show mate which is considered to be her greatest weakness. Currently, she is in a supportive relationship with Mikey P who has become a backbone for Kailah.
Mikey P knows that his girlfriend is very flirty with guys but he does not mind at all but look at the productivity that she is maintaining and growing.
As Mikey P has done lots of reality shows in the past, he hasn't kept any restriction for his girlfriend Kailah being in the reality and he even loves to train with her.
Kailah's Beau: Mikey P
Kailah's boyfriend Mikey P is well known named in rapper's world since 2003. According to Mickey P's website, he stepped into rapping world he never wanted to be behind the desk 9-5. He wanted to fly without any boundaries, especially in music industries where he can be himself, entertain his audience with his performances.
Mikey P is popular among his fans for having a unique blend of pop and hip hop mixed, with a beastie boys flavor. Like as girlfriend Kailah, Mikey has also made his appearance in several reality shows including Dating Naked, American Ninja Warrior, Guinness World Records Unleased, Dancin on air, Focus Rally America & From Gs To Gents.
Personal Life
Kailah has a very small friend circle because of her strong personality. She was said to be very mean during her high school and was labeled as gossips queen by the peers.
Kailah Casillas has collected huge amount from her TV career and stands with an impressive Net Worth. She also has her own YouTube channel named Kailah Casillas with 2,482 subscribers.
Kailah Net Worth includes earning from her e-commerce website named Kailah where people can buy cloth starting from $12.
For more Entertainment, stay tuned with SuperbHub.