Who doesn't love to get a nice looking tattoo? People all over the world get tattoos that define themselves, be it about their feelings, their close ones, and even their bad decisions.
Everyone has met someone in their lives who say that they regret getting a certain tattoo. But guess no one can compete with one of the most hilarious stuntmen, Steve-O. Let's have a look at his tattoos and find out which one he likes and regrets the most.
How Many Tattoos Does Steve-O Have?
When you look at Steve-O, one of the first things that you notice is his collection of tattoos on his arms. But if you happen to pay attention, he has a whole lot more on his body.
The stuntman's first tattoo, which he admits was super dumb, was his "I Love To Bone" tattoo, which is represented by a set of emojis. Since then, he has gotten a lot of tattoos, and now they number to over 20. Many of these tattoos were made while he was drunk but still loves them nonetheless.
Steve-O has got over 20 tattoos on his bodies. Image Source: Pinterest.
However, as time flew by, there were some tattoos that, despite liking them, he got them lasered off. So, which one does he like and regrets the most?
Steve-O's Favorite Tattoo
Among all the tattoos that Steve has had in his life, there was one that he loved. Ironically, he also got it lasered off completely. It was none other than the "S**t" and "F**k" tattoo on his knuckles.
According to Real Clear, Steve got this tattoo during the early 2000s thinking that it would make him an "absolute legend." He also thought, maybe jokingly, that Ozzy Osbourne would become his fan over this tattoo. For that reason, this particular tattoo has been Steve-O's favorite tattoo.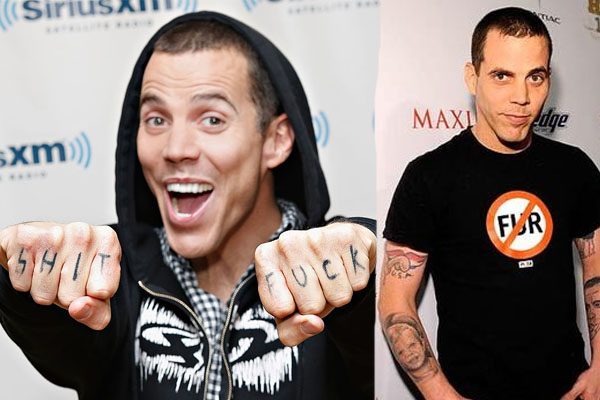 Among all the tattoos, Steve-O loved his knuckle tattoo but later got it lasered. Image Source: Getty Images, Pinterest.
However, since Steve started working diligently for his career as an actor, he decided to get this favorite ink removed. In the end, after a long time, he concluded that no one really cared about his tattoo and that these attempts to impress people were also of no use.
With Steve-O's net worth being a grand of $2.5 million, he will surely get some more tattoos in the future and have new favorites to show off. This time may be attracting a whole lot of attention than before.
Which Is The Tattoo Steve-O Regrets?
It is no wonder that anyone with a huge tattoo collection would have at least one that they consider to be quite dumb. In fact, this is exactly what one of Steve-O's tattoos was; a dumb decision, but the stuntman did not take long to realize it and quickly had it covered.
This tattoo, Steve admits, was way over the line. The story of this particular tattoo dates back to 2006, and while he and his friends were drunk, they talked about never wanting kids. During this conversation, Steve decided that he would get a tattoo of a baby with a circle and a slash across it, like a no babies sign.
After a few more drinks, they thought, "F**k Babies!". And as there were already a lot of tattoos with words, Steve decided to express it with a cartoon of a man doing it with a baby. And that is exactly the tattoo that he got.
The look of horror on the first people to see this tattoo made him realize just how big of a mistake it was. Very soon, Steve himself covered the baby's body with ink and, after some consultations, made it into an ostrich. Thus turning the tattoo into a man doing it with an ostrich.
Some More Of Steve-O's Tattoos
As mentioned, among his favorite and most regrettable ones, Steve-O has several tattoos. Some of his other tattoos include:
Santa on the Cross
Satan Fish
Alfred E. Neuman Misfits skull
Grindr app logo
Bloods and Crips
Your Name
Self-portrait on his back.
Steve has claimed that his self-portrait on his back is one of three that he has. One of which is a cartoon-ish one and the other is his two-year-old self made by tattoo artist, Kat Von D.
Now, after getting a lot of tattoos on himself, Steve-O also does tattoos for others. He is currently working with The Exotic Body in downtown Sacramento. Here fans can enter Steve-O's shop and get a tattoo that they fancy.
Don't Miss To Follow SuperbHub For More Updates On Celebrity News, Entertainment, and Biography.