Dating since 2009, Lesbian couple Jillian Michael and Heidi Rhodes are actually blessed with two kids Lukensia Michael Rhodes and Phoenix Michaels Rhoades. Jillian Michaels children even witnessed their mother Jillian's romantic proposal to Heidi on March 8, 2016, on the season finale of the show' Just Jillian.' The kids were very happy for their parents.
Being in a long relationship and parenting two kids together, Jillian and Heidi has come a long way and are soon getting married. Jillian had already given a diamond engagement ring to her future wife Heidi in 2012. In 2016, she wore a diamond ring herself after proposing Rhoades.
Jillian Michaels Children: Son Phoenix and Daughter Lukensia
Jillian Michaels children love to play with mother Michaels. A picture from 2013.
Source: Growing your Baby
After being in a domestic relationship, Jillian wasn't sure of having kids. But her future wife Heidi always wanted one. Soon, they both wanted to adopt a child, when they went on a trip to Africa and visited an orphanage to donate school supplies. Jillian mentioned this in an interview with Rich Valenza who is the founder of Raise A Child. 
The couple felt the importance of a family to the orphan child decided to bring one in their home. Since it took two long years for researching and more time for adoption process from Haiti, Jillian Michaels partner Heidi decided to be pregnant.
Also See: Heidi Rhoades Net Worth
Heidi naturally gave birth to a baby boy, Phoenix on May 3, 2012. The couple hasn't disclosed the biological father of the baby and the method used by Heidi to conceive yet.
During the time of son Phoenix's delivery, Heidi had to go through long labor hours. Jillian was then informed by the doctors that Heidi wouldn't be able to have a normal delivery. She had to go through Caesarean section.
Heidi says to People;
"It was hard for Jillian. She might have felt so helpless as she could do nothing for me but stand and watch me there. Just after my delivery, Jillian began to do everything she could. Jillian is an amazing mom."
Heidi and Jillian Michaels son Phoenix is all grown up boy now and even visits shows and events with his mom. On March 1, 2018, Phoenix accompanied his mom Jillian in Harry TV Show.
Also, read Net Worth of an American personal trainer Jillian Michael.
Jillian Michael adopts a baby girl
After Jillian recognized that she needs to adopt a baby and guide him/her throughout life, she was all set to prepare with her partner for it.
Jillian says to People;
"The adoption process wasn't easy, there was a lot of time when I thought of giving up."
However, Jillian's wish came true. She got the letter from Haiti and just after 4 days of Phoenix birth, the couple adopted a two-year-old baby girl. The proud parents named their daughter Lukensia Michaels Rhoades. It was like a dream come true for Michaels couple as they had been trying to adopt a kid from last two years.
In an interview when Jillian was asked, how could she love a child who is not her own? She replied,
"We don't give birth to our husband or wife but still we love them". To love a person they don't need to be your own blood."
Jillian loves her daughter dearly. She loves to make Lukensia's hair, go in vacation with her, sleep and wake up with her daughter.
Jillian Michaels family
The Biggest Loser's Jillian Michael has always wanted to see her family grow. Jillian with her partner Heidi is happy with their new family. Here is the video of Jillian Michael having fun with her two children.
Michaels on Parenting
Jillian says to Daily Mail it is never easy to become a mother, you should grow and sacrifice a lot for your children. It is impossible to keep yourself first if you have children. Jillian proved her words and left her reality show The Biggest Loser on 2012 to focus on being a mother. Now the show is run by Anna Kournikova.
The couple is busy with raising their children and doing the responsibility of dutiful parents.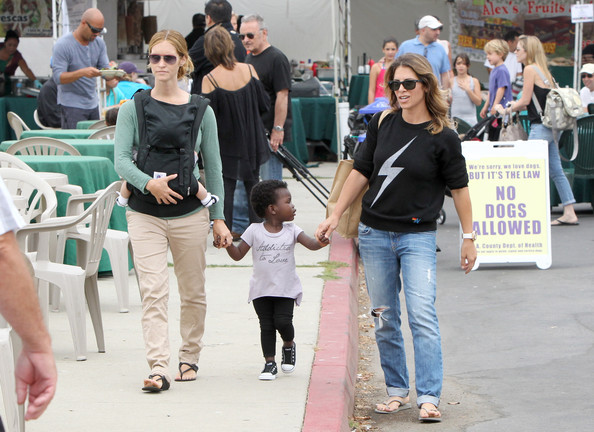 Jillian Michaels children enjoy with their parents on the farmer market.
Image source: Zimbio
Personal Life
Born on 18th February 1972, Jillian Michael is an American personal fitness trainer best known for her appearance on the reality show named The Biggest Loser. She is also the part of the television show The Doctors. She has shared lots of tips on weight loss and fit body. 
In 2011, Jillian admitted, she is bisexual. She was dating her lady partner Heidi for three years. Lesbian Jillian Michael was engaged to her lady partner Heidi on March 8, 2016. Jillian never mixed her personal life and professional life. She is very committed to a relationship with Heidi and never feel awkward to post images on social media.