Published Date 16th Sep. 2018, 16:42 pm
The Bounty Hunters Dog and Beth Chapman are one of the most loving couples of American Reality Television. Recently, The wife of Duane 'The Dog' Lee, Beth Chapman was found suffering from stage 2 throat cancer. After several surgical procedures, the cancer was removed, and Beth Chapman was able to survive. The Fatal Cancer made Beth suffer beyond her expectations whereas it was her husband Dog whose support and love made Beth battle such a life-threatening disease.
The youngest licensed bail bondsman, Beth Chapman was in a married relation and affair before Duane Lee, but none of them could last long. She only experienced the real love of life after getting engaged with Dog, Duane Lee.  After her cancer recovery, she was blessed with an infinite amount of love by her husband and children. Moreover, Beth has been working in the television industry together with Dog for more than 15 years and earned a huge net worth of $2 million to date.
Beth's Cancer Diagnosis and Recovery
After completion of two show of Beth as Bounty Hunter, she was diagnosed with stage 2 throat cancer in 2017. As per Radar Online, Beth revealed an emotional letter to friends where she mentioned that a tumor is blocking her breath. Doctors suggested Beth to immediate treatment and surgery before the disease could get worse.
View this post on Instagram
Beth Chapman immediately went for cancer tumor removal surgery which was of the size of a plum. As per People, She announced herself cancer-free in late September in the trailer of her reality show, Dog and Beth: Fight of Their Lives. This series has included the toughest journey of Beth's life on surviving a stage 2 cancer.
Beth And Dog's Love Increased after recovery
There are several physicals as well as emotional scars that Beth's cancer left for her. Moreover, Beth's cancer not only made her suffer but gifted her a forever loving husband whose love increased simultaneously for her wife. Duane Lee, whose previous four relationships with his ex-wife and girlfriend got flopped, is now graced with such a loving relationship with Beth.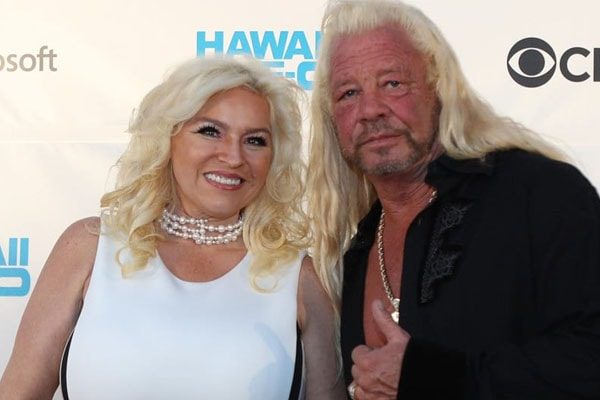 Beth Chapman and husband Duane Lee spotted together after Beth's Cancer Recovery. Image Source: Toofab
In their show, Dog was seen praying  "If you love me, Lord, you'll let me die first. Don't let me bury Bethy." Besides that, Dog and Beth were seen together on the date and dinners right after Beth's surgery. Beth's Husband, Duane has been such a caretaker who loves her with all his keen.
Speaking with Hollywood Life, The couple described their experience of battling cancer and changes after recovery. Dog mentioned the fact that he thanked God, after the restoration of his dear, Beth Chapman. Besides that, Beth showed her scars on the neck after surgery on the Instagram profile without any hesitation.
View this post on Instagram
SuperbHub For News And Entertainment