Anton Zaslavski, also known as Zedd is a famous German-Russian DJ, songwriter, and a music producer. He has worked with and produced music for celebrities like Selena Gomez, Ariana Grande, Lady Gaga, etc. As of November 2018, Zedd's Net worth is estimated to be $35 million.
The Russian born artist was raised in Kaiserslautern, Germany and was exposed to music at a very young age. His father was a guitarist, as well as a school teacher and mother, a piano instructor. Anton learned to play piano at the age of four and started playing drums from the age of 14.
Committed to pursuing his career in music, he joined a deathcore band Dioramic which was different from what he had taste in music. However, it was not long until when he heard electronic music and started making his stuff.
Zedd's Musical Career, Net Worth and Earnings
Some of the artists whose songs Zedd edited include Lady Gaga, Justin Bieber, Selena Gomez, and The Black Eyed Peas. The famous DJ's first original track named The Anthem was able to make it to the top 20 in the Beatport Electro chart. Also in the same year, he won two Beatport Awards for his remixes.
View this post on Instagram
Zedd's electronic music production was able to impress the music industry which made Interscope Records sign him in 2012. His debut single Spectrum from the album Clarity was a big hit. Another single hit Clarity was performed by the artist Foxes, which immediately made it to the Top 10 of Billboard's Hot 100. It was the most played song of that time and he was able to sell over 2 million copies.
With the increasing fame, the talented DJ, Zedd started working with some of the hottest artists of that time. He produced different songs in 2013 for Lady Gaga's album, Artpop. He also released his single Stay The Night which featured vocals from Paramore's Hayley Williams.
This single was also as big as Clarity. This single was also able to reach top 20 among the Billboard's Hot 100. Later he produced a song Break Free with collaboration with Ariana Grande which was nominated for the Teen Choice Award.
The year 2013 was the busy one for the DJ as he kicked off his Moment of Clarity world tour. He traveled and performed in 5 different continents from August to December.

In the year 2015, the talented DJ, Zedd released three different singles. The first one among them was the most popular which featured Selena Gomez, I Want You to Know was nominated for the 'Choice Party Song' at the Teen Choice Award and was also able to make it to Billboard Hot 100. The single was also sold over 1 million copies.
In the following years, Zedd made appearances in different music festivals and made some other musical tours which made him gain more fame and earn money. As of 2018, Zedd has an astounding Net worth of $35 million.
Living and Lifestyle
The rich DJ is now enjoying his lavish lifestyle and lives in a $16 million mansion in Beverly Hills, California. The house spreads on 9,400 square foot, having five bedrooms and eight bathrooms.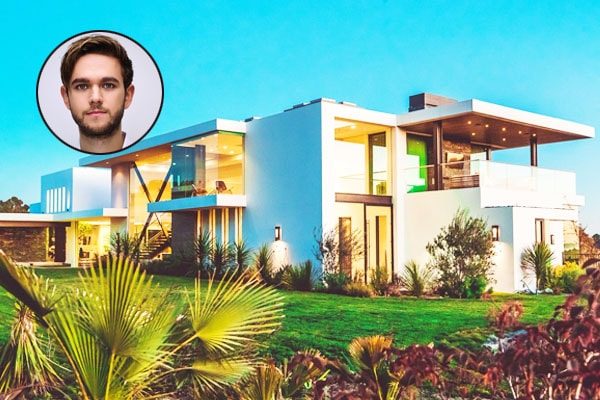 Zedd's $16 million Beverly Hills house. Image Source: Twitter/Zedd
Zedd mentions:
When you buy something of this size, you question every little thing. But this is really as close to perfect a house for me as I can get.
For more News and Entertainment: SuperbHub