Danielle Staub's ex-husband Marty Caffrey is an American personality and entrepreneur. Similarly, Danielle Staub is an American television personality.
Danielle Staub was in a marital relationship with Marty Caffrey back in 2018. The ex-pair married on May 5, 2018, and sadly divorced on February 21, 2019. During their ten months of a relationship, the ex-couple didn't share any children from their marriage.
Let's know what could be the reason behind their divorce.
Divorce Reason Of Danielle Staub And Marty Caffrey
After having Bohemian Bimini Beach wedding on May 5, 2018, Danielle and Marty's relationship was going well.
Unfortunately, just after three months of their marriage, Danielle filed for divorce, citing domestic violence in August 2018. However, their divorce was officially finalized on February 21, 2019.
The divorced case was filed just three months after Danielle Staub and Marty Caffrey 's marriage. Image Source: Pinterest.
Moreover, Danielle claimed that Marty physically and verbally abused her. As per Danielle, Marty also abused Danielle Staub's daughter, verbally.
In the divorce filing, it was written that Marty treated Danielle with extreme cruelty. Also, he recorded both videos as well as audio of their sexual intercourse and threatened Danielle to abuse in public to berate and embarrass her. He also threatened to cancel Danielle's health insurance and would leave Danielle at places without money or a way to get back home.
Marty Caffrey Frequently Abused Danielle Staub
During a ten days vacation to the beautiful island of Anguilla, Marty repeatedly harassed Danielle and her children. He embarrassed Danielle every day during their 10-day vacation. Marty became so much violence that he pushed Danielle down, holding her arms down, which led Danielle to bruise.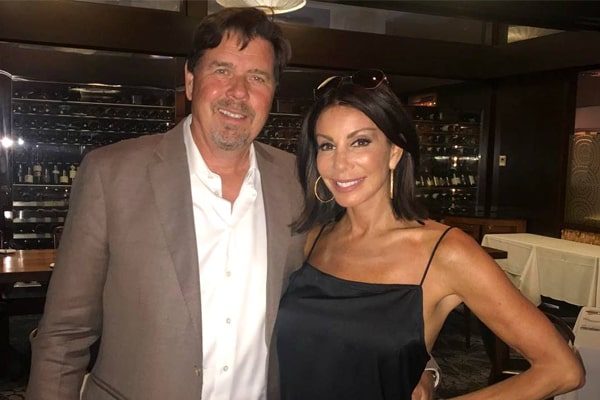 Marty Caffrey also abused Danielle Staub on their vacation to Anguilla. Photo Source: Getty Images.
Furthermore, as per Danielle, Marty said that if she was unable to perform oral s*x, she was worthless. He also used to make Danielle cook, clean, and care for the home for not earning enough money.
On the other hand, Danielle Staub's ex-spouse, Marty, claimed that his former wife had been getting "terroristic death threats" online and was blaming them on him.
After their divorce, Marty Caffrey's ex-wife Danielle told that the divorce was final, and she felt great relief as well as a bit of sadness.
Danielle Staub and Marty Caffrey's Relationship History
Before marrying, Marty Caffrey, Danielle Staub was in a marital relationship with Kevin Maher, and then Thomas N. Staub.
Danielle and Kevin were married in 1986 and divorced just after one year in 1987. After six years, The RHONJ's member Danielle Staub married second husband, Thomas N. Staub, with whom she was in a marital relationship from 1993 to 2007. During their 14 years of relationship, they welcomed two daughters Jillian Staub and Christine Staub.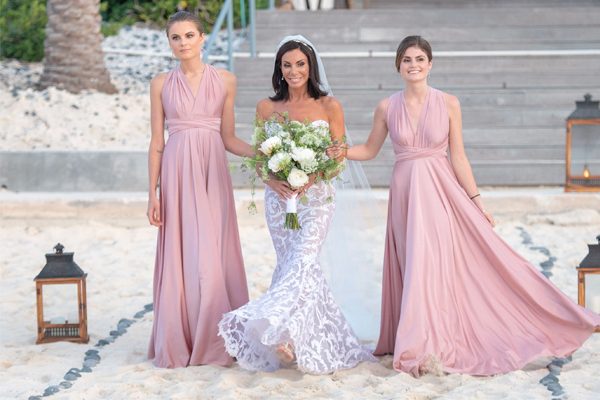 Danielle Staub shared two beautiful daughters with Thomas N. Staub. Picture Source: Getty Images.
After seven days of her divorce with Marty, Danielle got engaged to Oliver Maier in March 2019. Following the engagement, they were planning about their marriage, but in September 2019, they decided to split.
Danielle Staub and Oliver Maier were in a relationship for six months. Photo Source: Getty Images.
The one and the only person that earn an appropriate place in your life is the person who has never made you feel bad. Danielle Staub is currently single and is waiting for someone.
When it comes to Danielle Staub's ex-husband, Marty, he was married twice. Firstly, he tied the knot to Gail Marie Sincavage but separated soon. Further, Marty and Gail shared three children David Caffrey, Allison Caffrey, and Lauren Caffrey.
Following the separation with Gail, Marty went to marry Danielle but divorced soon. After two failed marriages, Marty is enjoying his single life.
If You Want More Updates On News, Entertainment, Biography Keep in Touch With SuperbHub.