Jahira Dar is an actress and former stylist, who is well known as the fiance and longtime girlfriend of a famous dog trainer, Cesar Millan. Cesar Millan was engaged with his love Jahira Dar in April 2016.
Cesar Millan is a dog trainer, who is mostly known for Emmy nominated television series Dog Whisperer with Cesar Millan. Millan started his career as a fixture of reality TV on the show called "Dog Whisperer."
"Dog Whisperer" Millan is a New York Times best-selling author.He also has lines of dog products and instructional DVDs. Let us have a close description of Cesar Millan's girlfriend turned fiance Jahira Dar.
Dog Whisperer Cesar Millan Engaged To Girlfriend Jahira Dar
Well, Millan was once a married man, he was previously married to  Ilusion Wilson. According to E! News, they got separated in 2010, after 16 years of marital relationship. Recently Cesar Millan is engaged to his longtime girlfriend, Jahira Dar.

According to daily entertainment news, Jahira and Millan met one another at the Dolce & Gabbana store, where she was working as a salesperson.
Millan proposed Jahira on March 24 and announced about their engagement on his via Instagram on Monday, April 25, 2016.
According to People, Millan said,
" Thankfully, she said 'yes'! after six amazing years"
"Cesar 911" star posted the photo as kissing his new fiancee's hand as she smiles at him by holding a bouquet of roses in her other arm. Furthermore, he also said,
"I'm so happy! I knew that I wanted someone special in my life who was sweet, adventurous, honest, and loving, but I got more than that!"
The couple was vacationing in Spain, and Dar assumed they were headed for Italy when Millan changed their tickets for Greece. Surprise!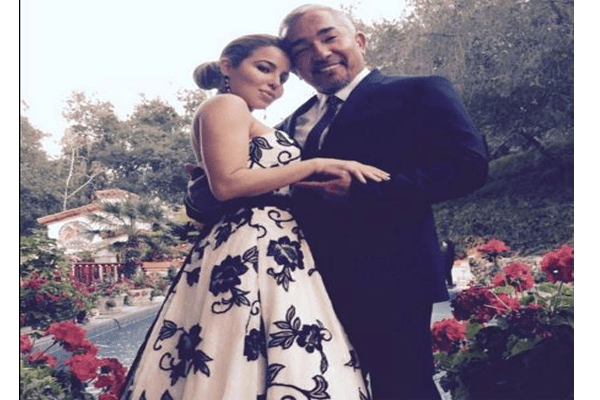 Cesar Millan's girlfriend Jahira enjoying the vacation with her man.
Image source: Daily Entertainment News
The newly engaged lovebirds had a romantic dinner in Athens. Millan had already arranged everything. He took Jahira at the top of Mount Lycabettus. The whole environment was so romantic with a violinist playing for them. Then, Millan finally proposed.
"I wanted the proposal to be special to her, so I spent months planning our trip to Greece and I am still proud of myself that I never gave it away!"
Cesar Millan Ex-wife Ilusion Millan expensive divorce
In 2012, Cesar and Ilusion Millan filed for divorce and ended up having one of the most expensive divorces than any other reality TV star. Many were amazed about this settlement but the star has the net worth of $6 million.
When the divorce was finalized Cesar Millan had to pay $400,000 as the one-time amount and $33,000 every month. $23,000 as spousal support and $10,000 as child support. He has two sons with Ilusion Millan, Calvin and Andre Millan.