If the world were to be a movie, then movie actors would be the main cast, and among the main cast would be the stars who have a reputation like no other. These stars are what we like to call "legendary." One of these legendary actors is someone who the world has come to know and love, Al Pacino.
With such a splendid reputation, fans are always looking to find out more about him and his personal life. And that also includes his children. Al Pacino is the father of three beautiful kids who he had with two different women. Let's take a look at two of these kids named Anton James Pacino and Olivia Pacino, often referred to as Al Pacino's twin children.
Children Of Beverly D'Angelo
Olivia and Anton James' mother Beverly D'Angelo has been making appearances in movies and TV series since 1976. And now, she is recognized as one of the top actresses of this generation. The actress was married for a short while to Don Lorenzo Salviati. After the duo's divorce in 1995, Beverly began dating the legendary actor Al Pacino.
A short while into their relationship, Beverly gave birth to Al Pacino's twin children, Olivia Pacino and Anton James Pacino, on January  25th, 2001. Although the duo never tied the knot, the twins are adored and loved by both their mother and father.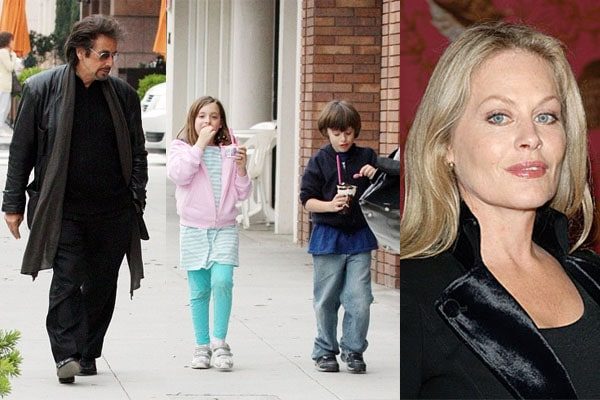 Both Olivia and Anton are adored by their parents Al and Beverly. Image Source: Pinterest, LA Times.
Aside from being the kids of two well-known stars in Hollywood, the twins are also related to another well-known person. This person is Al Pacino's daughter Julie Marie Pacino.
Half-Siblings Of Julie Marie Pacino
Olivia and Anton maybe Al Pacino's children, but they aren't his only ones. The legendary actor is also the father of one of Hollywood's emerging producers, director, and writer Julie Marie Pacino.
Anton and Olivia are the half-siblings of Julie Marie Pacino. Image Source: Getty Images.
Daughter of the acting coach, Jan Tarrant, Al Pacino's daughter, has made a name for herself in the film industry. All of Al Pacino's children share an incredible bond as a family. And in the future, fans hope to see the entire family appearing in a movie as co-stars.
Recently Graduated
Al Pacino's twin children have both graduated as the batch of 2019 from their respective high schools. The journey of graduation, however, seemed difficult for one of the twins.
Unlike Al Pacino's son Anton James, his daughter Olivia would have trouble understanding what the teachers would teach. Seeing her child troubled, Beverly decided to have Olivia join Fusion Academy Miracle Mile in Los Angeles. While it did seem hard in the beginning, Olivia started to get comfortable around her teachers. And after completing her studies, she graduated with a big smile on her face.
Since the lives of the twins were kept away from the spotlight for a long time, fans hope to see a change. Now that the twins have graduated, we might get to see the twins doing their own thing. But, ultimately, it is in the hands of the kids to decide their own future.
Don't Forget To Follow SuperbHub For More Updates On Celebrity News, Entertainment, and Biography.