California native, multihyphenate Anjelah Johnson married the famous rapper and songwriter, Manwell Reyes in June of 2011. The couple tied the knot in an auspicious matrimonial ceremony in Half Moon Bay, California. The pair exchanged vows in a surreal wedding and are now united as life partners.
Oakland Raider cheerleader, Johnson, and her husband Manwell Reyes's love-story began when the couple first met at a friend's wedding. However, their chemistry flourished over time. Johnson had a crush on Reyes for over two years before she got to walk down the aisle.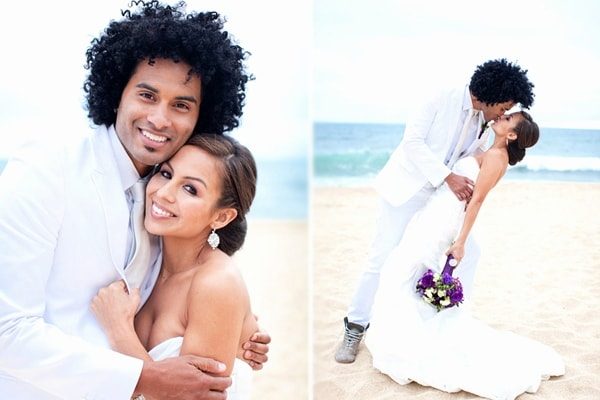 Comedian Anjelah Johnson and her husband, Manwell Reyes, on their wedding.
Image source: Pinterest
Anjelah Johnson and Manwell Reyes Marriage
The happily married couple, Anjelah and Manwell Reyes's marriage has marked 7 years this June 2018. The lovebirds are head over heels about each other and spend time with each other as much as possible.
Confessing love to one another can be quite tricky and awkward. But, Anjelah conveys her love by posting it over her blog and making her fans envious. Similar to these people, Erin Angle and husband Jon Bernthal are also a lovely couple.
Likewise, Reyes is not shy to flaunt their relationship and affection in public.  The rapper floods his social media with their adorable pictures.

Anjelah and Manwell love each other immensely and are the literal definition of relationship goals.
Soulmates and Relationship Goals!
German-born husband, Manwell Reyes, is undoubtedly not just blessed with genetical characters but also a wonderful spouse. Reyes is a caring and devoted husband who showcases his affection for his wife. Reyes loves his wife, Anjelah, unlimitedly and makes her feel wonderful.
Anjelah compares her sweetheart, Reyes, to a puppy-ferocious, yet faithful and wonders if she even deserved him. Anjelah Johnson's husband, Manwell, showers his wife with unconditional love and the relationship could be undoubtedly compared to a fairy tale. However, The pair is not planning for kids and taking all the sweet time for themselves.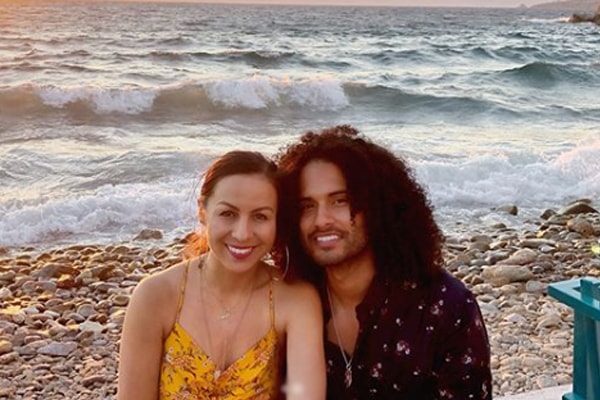 Anjelah Johnson's husband, Manwell Reyes, and herself enjoying a romantic time together. Image source: Instagram/Manwell Reyes.
The adorable couple travel together and a lot. The soulmates have recently had a romantic trip to Greece. The vocalist and rapper of hip-hop group Group 1 crew, Reyes, shares pictures of the duo traveling and performing on his Instagram.
Manwell's wife Anjelah had uploaded a video in her YouTube Channel which comprises the story of how they met and how their life in harmony began.
SuperbHub for more News and Entertainment