Zelina Vega, whose real name is Thea Megan Trinidad, is a professional wrestler and manager. She is contracted to WWE and is assigned to the Smackdown brand, where she serves as the manager (or business associate) of former NXT champion Andrade "Cien" Almas.
Before joining WWE, Zelina wrestled for many independent promotions. She also wrestled for Total Nonstop Action Wrestling from 2011 to 2015. She has also acted in a handful of movies.
Early Life
Zelina Vega was born in Queens, New York on December 27, 1990. She became a wrestling fan at a very young age thanks to influencing her brother Timothy as well as her father Micheal. Her father died during the September 11 attacks, as he was in the 103rd floor during the attack.
StoryCorps created a short cartoon titled named "Always A Family", as a way of honoring Zelina's father's memory. Zelina was also featured in an NBC special titled "Children of 9/11".
Zelina worked as a counselor for children whose parents died in 9/11. She also volunteered for various charities like Habitat for Humanity, established after Hurricane Katrina.
Zelina attributes her father as well as Dwayne "The Rock" Johnson for inspiring her to pursue a career in pro-wrestling. She expressed her desire to become the female Rey Mysterio.
Wrestling Career
Independent Circuits (2010-2016)
Zelina started training to become a pro-wrestler at the age of 17. She made her debut for the promotion National Wrestling Superstars (NWS) on February 20, 2010. She used the ring name Divina Fly.
Zelina further wrestled for other independent promotions like Family Wrestling Entertainment, Global Force Wrestling, and Women Superstars Uncensored (WSU).
TNA (2011-13, 2015)
Zelina joined TNA on January 27, 2011, after bring contacted by Tommy Dreamer. She used the ring name Rosita. She formed an alliance with Sarita and Hernandez as the group was known as Mexican America.
The group was highly successful during its tenure in TNA. Sarita and Rosita won the TNA Knockouts Tag Team Championships from Angelina Love and Winter, before losing it to Tara and Ms. Tessmacher.
Zelina left TNA in 2013 after her contract expired. She made a one-off appearance in 2015 at the show Knockouts Knockdown 3.
WWE
Zelina first took part in a tryout for WWE in 2016. She made many appearances in TV as part of Adam Rose's rosebuds. She also faced Asuka in 2016.
NXT (2017-18)
Zelina officially signed with WWE in July 2018 and was assigned to NXT. In NXT, she was paired with Andrade "Cien" Almas. She served as Almas' business associate.
The duo found considerable success as Almas went on to win the NXT championship from Drew McIntyre before losing it to Aleister Black.
As part of the 2018 Superstar Shakeup, both Almas and Zelina were drafted to Smackdown.
Acting Gigs
Apart from her wrestling career, Zelina has also featured in few movies. She acted in 2012's Dorothy and the Witches of Oz. She is also set to portray AJ Lee in 2018's Fighting with My Family.
Personal Life
Zelina is engaged to former WWE star Austin Aries, who left WWE back in July 2017 thanks to creative differences. The couple got engaged last December. Despite rumors that they had broken up, that's not the case and they are set to be married soon.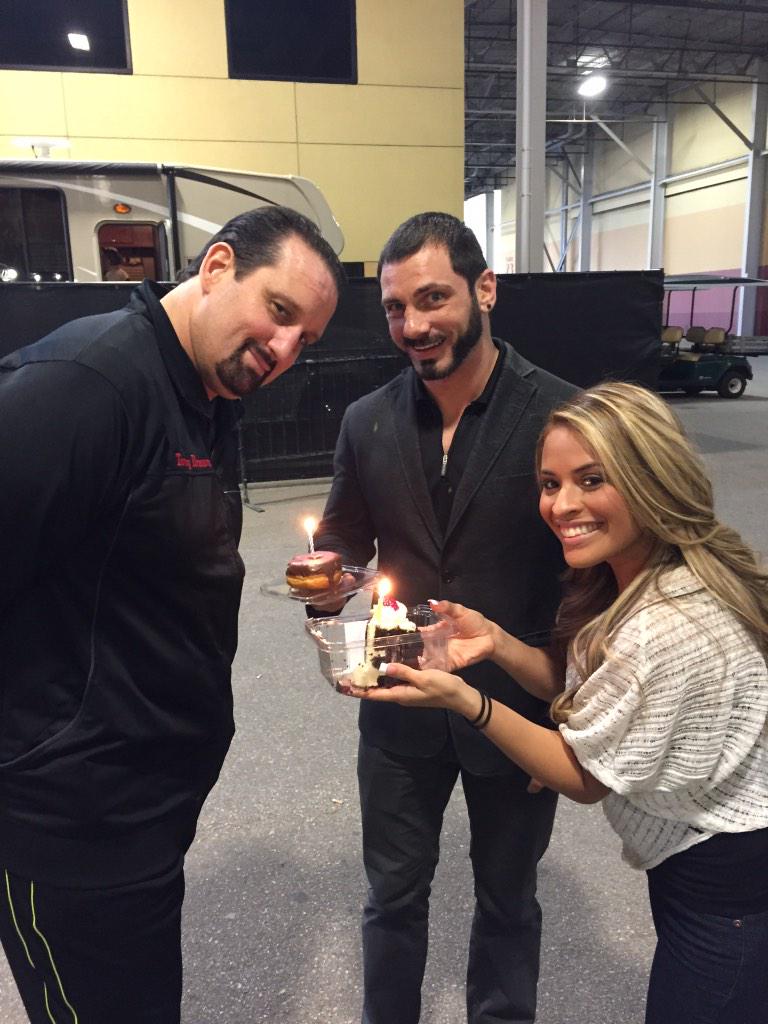 Zelina Vega and her fiance Austin Aries. Image source: Zelina Vega's Twitter.
There were rumblings of Zelina dating Aleister Black as well as dating Andarde "Cien" Almas, but those turned out to be false.
Zelina currently resides in Tampa, Florida. She is the cousin of wrestler Amazing Red.
Net Worth
Zelina Vega's net worth is not yet known, though we do know that she makes a substantial amount of money, as does every WWE employee.
In hindsight, her client Andrade "Cien" Almas has a net worth of $2 million.
For more Biography and entertainment, visit Superbhub.