Not everyone gets a chance at life the second time. And as such, Valerie Bertinelli's husband, Tom Vitale, can be called quite lucky. Vitale is a friendly man who has had his fair share of recognition through his work and later through his wife.
If you are a fan of the famous sitcom, One Day At A Time, you must be curious about Valerie Bertinelli's partner and his lifestyle. Therefore, without further ado, let's dig right into the bio of Mr. Tom Vitale.
Who Is Valerie Bertinelli's Husband, Tom Vitale?
Tom Vitale and Food Network star, Valerie Bertinelli, has been married since 2011. More interestingly, the couple has been together since 2004 and are still loving and affectionate towards one another. The couple was fated to meet through Bertinelli's brother, Patrick, a Scottsdale resident.
Both Tom and his to-be wife at the time were recovering from a severe heartbreak and failed marriage. Tom Vitale's wife, Valerie, revealed that their love was not the "love at first sight" sort. Instead, it was "family at first sight" kind of situation.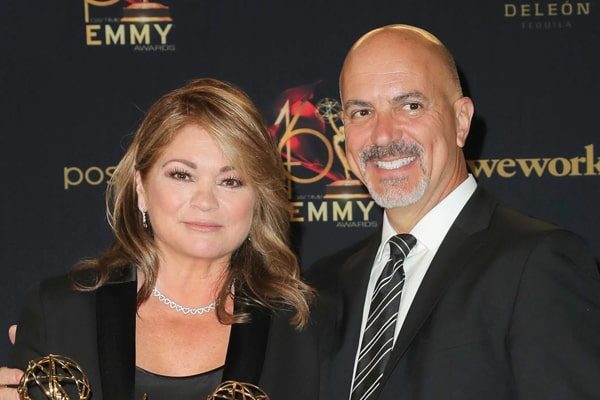 The couple of Tom and Valerie was going through some severe heartbreaks during their first meet. Image Source: Chelsea Lauren/Shutterstock.
The two bonded immediately and made the former wife of Van Halen's guitarist, Eddie Van Halen feel beautiful in her skin. Furthermore, Tom finally found his courage to pop the question after six whole years of sharing their moments. In the same interview as Bertinelli's, Vitale explained that he put the ring because time was right, and it was like his souls were calibrated.
The engagement took place in their Florance hotel room after dinner at the city's oldest restaurant, Ristorante Buca Lapi. A few months after the event, the couple shared their vows on January 1, 2011, surrounded by friends and families. The auspicious occasion was held at their home in Malibu, California.
Second Chance of Love
Bertinelli's ex-husband, Eddie Van Halen, and son, Wolfgang Van Halen, were also present at the wedding. The father-son duo was seemingly delighted for Valerie's new love life. Eddie and Valerie were married on April 11, 1981, until they separated in 2001.
In Valerie Bertinelli's autobiography, she suggested the main reasons for her divorce with her ex-husband was his cocaine addiction. Also, his denial to quit smoking despite being diagnosed and losing one-third of his tongue in the treatment process. Unfortunately, cancer moved to his brain and other organs resulting in Eddie's death on October 6, 2020.
It was the second chance at love for Bertinelli's present husband, Tom Vitale as well. Vitale was reportedly married to a woman named Sophie and had four children with her, according to his IMDb page. However, it was not a natural separation for Tom Vitale since he was convicted of domestic violence against his wife in 2001.
Despite being heartbroken by their long-term relationship, both Vitale and Bertinelli nested in one another's life pretty well. Let's hope this bond continues to grow stronger in the coming days as they continue to revive their romance one way or another.
What Is Tom Vitale's Net Worth?
Valerie Bertinelli's husband, Tom Vitale, is a successful financial planner and has been in the industry for a long time now. He is the founder and CEO of Veebow, a company that connects buyers with knowledgable companies through local, regional, and national deals using the free app on smartphones.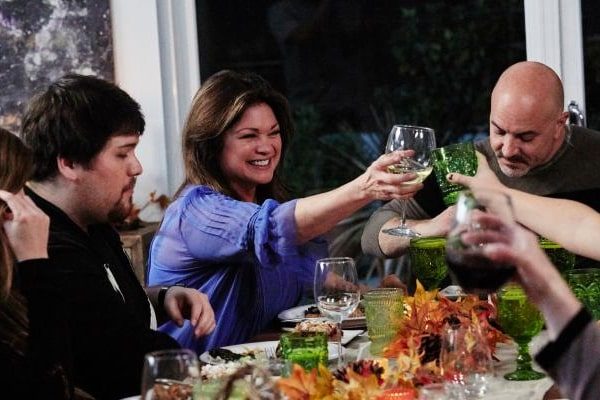 Tom Vitale's net worth must be grand. Image Source: Food Network.
The smarty-pants, Tom Vitale's net worth must be high as the fund raised by his company alone is a whopping $1.3 million. Furthermore, his television appearances alongside his wife must earn him quite a fortune. Along with his business ventures, Vitale's Instagram page suggests that he is an avid lover of vintage classic cars. Although Tom Vitale's net worth is kept under shade, his wife, Valerie Bertinelli's net worth is pretty impressive at $20 million.
Therefore, Valerie and Bertinelli are collectively working their best. They are earning themselves a life with luxury and doing what they do the best. Valerie, in an interview, revealed that her husband, along with being a financial planner, is an excellent cook as well. And hence, she had pinned his recipe in her book as well.
This proves the possible millionaire is interested in keeping his household a serene place along with his cash on a check. Let's hope we get to sneak peek into Vitale's net worth count soon.
Tom Vitale's Family
Tom Vitale is a big family man and a proud family of four himself. Aforementioned, Vitale and Bertinelli's union was a "Family at first sight," therefore, it is already evident that he is a great family guy. Although Tom Vitale's parents are not out in public, he makes sure to embrace the world with his beloved mother's moments now and then.
Furthermore, Tom Vitale's mother, Helen Vitale, is in her nineties. Vitale loves to share her wishes with the world through his Instagram. Also, Vitale's father has been living through them and holds a great place in Vitale's heart. Tom Vitale has a big heart and comprises every member of his family.
View this post on Instagram
Tom himself is a great father of his four children, Angela Vitale, Andie Vitale, Tony Vitale, and a son. The family of four is accompanied by Bertinelli's son Wolfgang Van Halen. Tom must be a great step-dad to him as the family has blended pretty well as one.
Tom Vitale did not grow up alone in his household. He had his little brother, David Vitale, to accompany in his childhood. Vitale shared a pretty close relationship with all of his family members and wish this continues for as long as his legacy passes.
Don't Miss To Follow SuperbHub For More Updates On Celebrity News, Entertainment, and Biography.