One of the world's greatest guitarist, Eddie Van Halen's son, Wolfgang Van Halen has begun his dominance in the rock world. The little boy who would mow the garden with no pants later grew up to accompany his legendary father on stage and celebrate his birthday with his sweetheart, just a day after celebrating hers.
Wolfgang Van Halen's girlfriend, Andraia Allsop, is stunning and talented. Want to know what celebrating a birthday means? Stay connected until the end.
Who Is Wolfgang Van Halen's Girlfriend?
Wolfgang Van Halen's partner, Andraia Allsop, is quite lucky to have a cool future father-in-law, Eddie Van Halen, along with Halen's multi-talented son as a husband. However, it seems like Wolf is not less lucky than his girlfriend as she is beautiful and intelligent.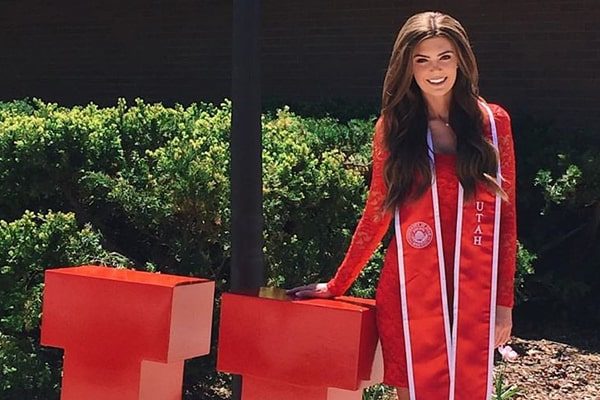 Wolf Van Halen's partner, Andraia Allsop, is gorgeous and intelligent. Image Source: Andraia Allsop's Facebook.
Wolfgang Van Halen's girlfriend is a very secretive person with a nerdy brain. Halen's partner graduated from the University of Utah and held a degree in Computer Science. According to her LinkedIn account, she was an intern at Instructure, an educational technology company based in Utah.
Furthermore, Halen's partner worked at the same company and developed an app called "PrepAIRd." This food storage tracking app allows users to track and organize food that they purchase for storage. Moreover, she has also appeared in Wolfgang Van Halen's mother, Valerie Bertinelli's Home cooking show on Food Network. Andraia Allsop's IMDb further reveals that she is also known for her role in Muscle Hawk: Electric Light.
View this post on Instagram
Talking about Andraia Allsop, Wolfgang Van Halen's sweetheart's social accounts, all of them are private. The calming face with a big smile that suits her the best is worth showing to the world. However, she has opted to remain mum and live on her own.
When Did The Couple Start Their Relationship?
Going through the Van Halen family's present bassist, Wolf Van Halen, he is totally in love with his partner, Andraia Allsop. Although the couple maintains their relationship out of sight from the public's scrutiny, they are enjoying most of it on their own.
According to Wolf Van Halen's Instagram post, the couple has been together since 2015. He wished his woman on their anniversary and seemed excited to share many more years together. A fascinating event in their relationship is that their birthdays are a day apart from one another.
Wolfgang is mostly private about his relationship, thus, he updated his fans by wishing his beautiful beau via Instagram in 2021 as well. Therefore, with smiles and sorrows, they also get to share their birthday cakes almost on the same day.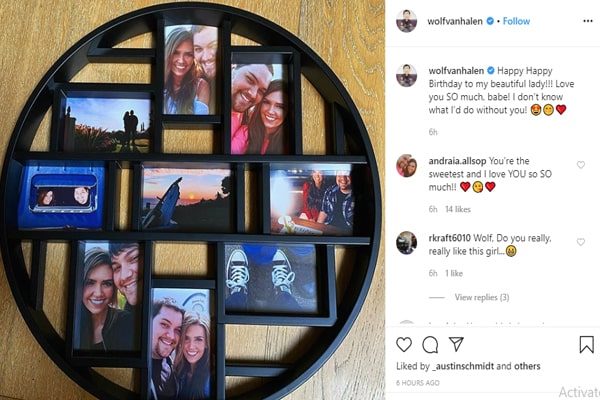 Van Halen's bassist, Wolfgang Van Halen, shared a sweet message to his girlfriend on her birthday today. Image Source: Wolf's Instagram.
The couple looks to be madly in love with one another and shares a deep connection that may not need extra exposure. Although the couple has been dating for quite a while now, news about their wedding is unheard of. But this is understandable as Wolf is very busy with his solo-album while his girlfriend must be doing well in her career as a software engineer as well.
While Wolfgang is having great love in his life, he just lost his dad, Eddie, to cancer on October 6, 2020. He battled cancer for decades before he succumbed to it.
Wolfgang recently made headlines after turning down the Grammy's invitation to perform Eruption. He clarified in a post, he doesn't think anyone can live up to his father's legacy but himself.
Let's hope that we get to hear about their marriage soon and hope to see the couple hit many milestones together. Furthermore, let's hope Wolfgang is facing a hard time bravely.
Don't Miss To Follow SuperbHub For More Updates On Celebrity News, Entertainment, and Biography.