Rubem Robierb is a Brazillian visual artist and photographer, who is well known as Sam Champion's husband. Rubem's photography and awesome art has been recognized with nine honorable mentions at the International Photography Awards in 2012. Rubem Robierb's net worth with husband Sam Champion is estimated to be over $10 million.
Born on December 1, 1976, in Bacabal, Maranhao, Brazil, Rubem Robierb's region is well known for being the birthplace of many poets. He used to write poetry from his childhood, but later, he developed an interest in photography.
Robierb moved to Sao Paula at age twenty, with the intention of attending photography school. During the same time, he started to do commercial photography for the advertising industry.
"The only time I don't think about art is when I'm painting."
-Rubem Robierb
A Brazillian visual artist, Robierb began his career as commercial photography for the advertising industry.
His hard work and art caught the attention of French Art et Partage Association. Later, in 2005, Association commissioned him his first solo exhibition, Brazil Autrement in Aix-en-Provence in Paris, France.
Robierb settled in Miami, the U.S. in 2008, as the Latin flair of the city attracted him. At the time he opened his studio in Wynwood and started to participate in the artistic atmosphere of Miami. He also began experimenting with images printed on metallic paper fused with Plexiglas.
He took part in Red Dot in 2009, with Eros/Thanatos series. The series includes images in which the artist researched the thin boundary that exists in human sexuality, between ecstasy and suffering.
Robierb debuted in New York City as one of the artists in 2012, at Emmanuel Fremin Gallery with his Bullet-Fly Effects series.
On November 8, 2012, Rubem Robierb's Bullet-Fly Effect Art show was a success with the presence of guest personalities like Michael Strahan, Thomas Roberts,  and others. The show was hosted by his love Sam Champion, Josh Elliot and Lara Spencer as mentioned by Broadway World.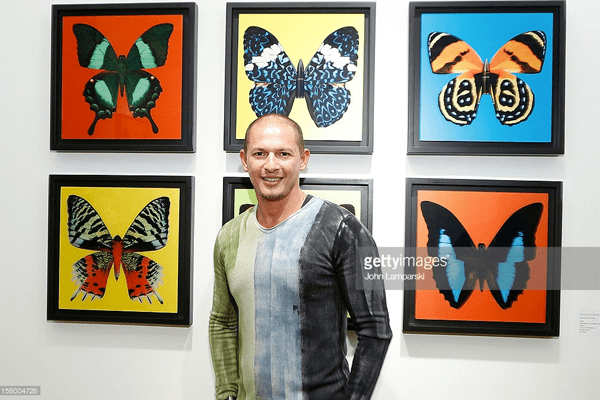 Rubem Robierb's net worth includes his earnings from his deals in exhibitions: Rubem in his Bullet-Fly Effect Art exhibition on November 8, 2012, New York.
Following his success, he made his Bullets and Butterflies show in 2013, at Tagliatelle Gallery in New York City. There he created noteworthy arts like HEart, BulletFly Effect and Power Flowers.
Moreover, he has participated in many group exhibitions including, Sao Paulo, Corpo Revelado, Blue Life Cultural Space, Brazil, Miami, and many more.
He is one of the talented artists, who is named as the featured emerging artists on Art Southampton in 2015.
In the year 2015, City of Fort Lauderdale, Florida commissioned Rubem to bring his famous BulletFly Effect series. Robierb got involved in Metamorph-US art project that actually transformed a building of Downtown Fort Lauderdale with 300 foot mural of large butterflies.
Rubem Robierb is more involved in his HEART art collection. He also has his own official site.
Rubem Robierb is a Brazillian visual artist, who had love affair with American anchor, Sam Champion for several years.
The lovebirds engaged on October 5, 2012. The couple is so loving and caring as they got married just after three months of their engagement. The pair first met at a New Year's Eve party in Miami.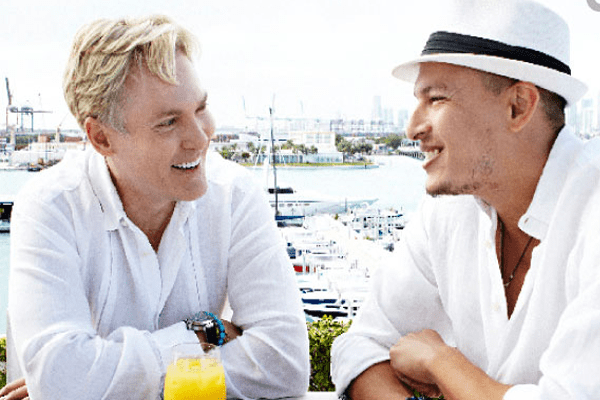 Rubem Robierb with his husband Sam Champion. Image source: Out Magazine
Rubem Robierb and his husband married on December 21, 2012, in New York and was conducted by New York State Supreme Court Justice George J. Silver. They also decided to exchange vows again by inviting their 100 friends and family including their parents.
The couple is living a happy life with one another. The sweethearts also received the award for Visibility, given for their support of LGBT causes, at the Gala Dinner of Atlanta.
Rubem Robierb's net worth including his husband Sam Champion net worth is estimated over $10 million.
Robierb's source of income is usually from his professional career, as he earns a considerable amount as an artist and photographer. He earns significant money and praise from a lot of art loving people through his numerous solo exhibits and art fairs that can be included in Rubem Robierb's net worth.
| Year | Rubem Robierb's Solo Exhibits |
| --- | --- |
| 2017 | Juxtasposed an Octavia Art Gallery in Houston, USA |
| 2017 | Octavia Art Gallery in New Orleans, USA |
| 2017 | Kasia Kay Art Project , Chicago, U.S.A |
| 2016 | Taglialatella Galleries in New York, USA |
| 2015 | HEART show, Williams McCall Gallery in Miami |
| 2014 | Mariposa, 212 Gallery, in Aspen |
| Year | Rubem in Art Fairs |
| --- | --- |
| 2016 | Art Miami Fair in Octavia Gallery |
| 2016 | Cube Art Fair, Bruxelles VogelSang Gallery |
| 2015 | Scope Miami Beach , Taglialatella Gallery |
| 2014 | Art South Hamptons, VogelSang Gallery |
| 2014 | Art fair New York City, Space del Art Gallery |
| 2013 | Overture Miami |
| 2012/2011 | Red Dot Miami |
Rubem Robierb's husband Sam Champion earns a massive amount as his salary is above 1.5 million. He lived with his husband in East Hampton house with four-bedroom, 4.5 baths which, they sold for $2.55 million in 2014. Moreover, his husband is usually active in Charitable organisations in the New York City.
Be connected with SuperbHub, for Celebrity Biography