American fashion designer, writer, and businesswoman, Rachel Zoe is known best for beginning her work as a freelance fashion designer and introducing the 'boho chic' look. She has worked with celebrities like Jennifer Lawrence, Miley Cyrus, Demi Moore, and more as their stylist. Rachel Zoe net worth is known to have amassed from her fashion stores, her books, and reality show. Rachel Zoe shoes and clothing lines have been available all over the United States. She is also known for her reality TV series The Rachel Zoe Project.
Rachel Zoe was born Rachel Rosenzweig on September 1, 1971, in New York City, New York.
She was born to parents Leslie and Ron Rosenzweig. She lived in Millburn, New Jersey with her sister, Pamela. She is of Jewish ethnicity and American nationality.
She received education from Millburn High School. Zoe then went on to attend George Washington University to study psychology and sociology.
How did Rachel Zoe's career as a fashion stylist begin?
Rachel Zoe was influenced by her parents to involve in fashion. In an interview, Zoe revealed that she loved to explore her mother's closet.
She immediately went on to work for Gotham Magazine and YM magazine after her graduation. She got the opportunity to style young pop stars for their photo shoot.
Experience and talent counts! Zoe has not studied fashion formally. Rachel Zoe worked more than 20 hours a day as a freelance stylist.
Rachel Zoe is known to have styled many celebrities like Jennifer Lawrence, Pauly Shore, Joy Bryant, Nicole Richie, Cameron Diaz, Lindsay Lohan, Brenda Song, and Eva Mendez  to name a few.
Her clients have been very satisfied with her services and have been loyal to her. Rachel Zoe shoes, dresses and handbags are available on more than 275 stores around the US as per 2011 data.
She also had her line of jewelry and accessory. Rachel Zoe shoes for women can be found all around the internet shopping sites and also retail stores. Her designer gowns can be found in stores like revolve and have also been worn in fashion weeks.
Some of Zoe's collaborations include luxury bags with Judith Leiber, shoe and handbag's with Gap Inc., Luxe Rachel Zoe Collection with QVC, DreamDry salon with Robin Moraetes, Lindex Spring Collection with retailer Lindex, and more. Her fashion collection has also been famous in Europe currently.
Rachel is known for her reality series, The Rachel Zoe Project which premiered in September 2008. She worked with her associates and husband on the project.
The series revolved around Zoe's work as a stylist and designer and her collections as well. The Bravo show was a huge hit for many seasons before being canceled after its fifth season.
In 2015, she went on to host the talk show, Fashionably Late with Rachel Zoe. She has also been the executive producer and host of the TV series Resale Royalty.
She appeared in a few episodes of reality series like Fashion News Live, Good Morning America, Live with Kelly, America's Next Top Model, Project Runway and more. She was also known for her appearance in TV series Barely Famous and Entourage.
Have a glimpse of Rachel Zoe working at her office of Style:

Caption:  Time at the Office with Rachel Zoe while styling for Awards Season (published at March 4, 2014)
In August 2009, Rachel Zoe started the free daily newspaper, The Zoe Report which featured issues related to fashion lifestyle, and beauty.
In 2011, the newsletter had more than 750000 subscribers. She has since launched Zoe Beautiful focused on beauty and Box of Style focused on Zoe approved goods to subscriber's homes four times in a year.
Rachel Zoe is also an author of two books. She released her first book titled Living in style in 2014 and her second book Style A to Zoe: The Art of Fashion, Beauty and Everything Glamour in 2007.
Her net worth is estimated to be $ 16 million as per various sources. Rachel Zoe shoes, clothing line, bags, jewelry, accessories, and career as a stylist have been the source of huge salary and net worth that has been increasing every year.
It was reported in 2015 that within two years she had amassed $ 2.4 million.
Who is Rachel Zoe's husband?
Rachel Zoe is a married woman. Rodger Berman is her man. Rodger is an investment banker who currently helps Zoe in her business.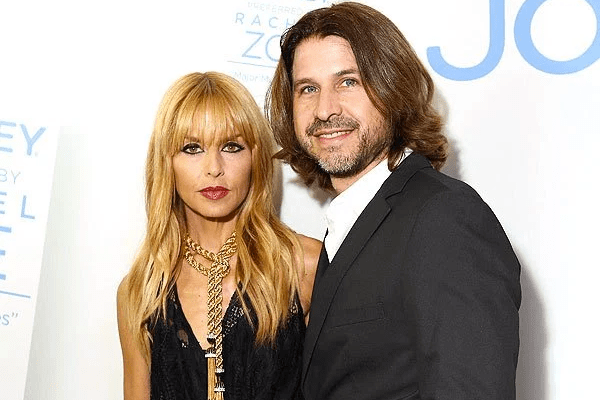 Image Source: People
The couple met each other in 1991 when they were studying at the George Washington University.
As students, Zoe was working as a restaurant hostess while her future husband worked as a waiter.
After long years of dating, the couple got married in 1996. This beautiful couple were blessed with children, Skyler Morrison Berman, born on 22nd March 2011, and Kaius "Kai" Jagger Berman, born on December 2013. Rachel Zoe along with her children and husband reside happily in New York.
46 years old stylist looks exceptionally young than her age.
Standing tall at the height of 5 feet 8 inches, Zoe has a body measurement of 32-25-32 inches from the breast, waist to hips which results in a perfect hourglass shaped figure.
She has blonde hair and mesmerizing green eyes. Rachel Zoe shoes size is 9, and her dress size is 6. She has a bra size of 32A. She had also suffered from anorexia and was bullied sarcastically for it by many critics.
She also accepted Women Making History award in 2016.
She has often been falsely blamed for pushing her clients to become size 0.
Rachel Zoe has a huge fan following on her social media accounts. Rachel Zoe Instagram account has more than 2 million followers who keep track of her fashion advises, styles, new collections and her personal life as well.
On the other hand, her twitter account has 2.6 million followers. Rachel Zoe bio can be found on numerous social media sites like Wikipedia, IMDB, and her official website as well.