Oksana Baiul career as a figure skater has taken her to perform in World Championship, European Championship, Skate America, and Nations Cup. Baiul is known best for being the gold medalist in 1994 Lillehammer Olympic Games.
Oksana Baiul's net worth is known to have been accumulated from her online shopping center that sells clothes, assets, and accessories. Baiul is a supporting and loving wife of a businessman and her former manager, Carlo Farina.
The beautiful and talented Oksana Baiul was born on November 16, 1977, in Dnipropetrovsk, Ukrainian SSR, the Soviet Union to father Sergei Baiul and Mother Mariana. When Baiul was the tender age of two, her parents divorced, and her father disappeared.
She was interested in Ballet when she was a child, but her grandmother guided her to do Ballet through Skating. Her grandmother took her to skating lessons, and she began skating at the age of three. As her father disappeared, her mother was the one pay all the expenses including lessons, equipment, and costume. Baiul's grandparent died when she was ten years old.
Oksana's mother was a French teacher.She is of Russian descent from her mother's side. Her mother died of ovarian cancer in 1991 and then in 2006, her father Sergei died. Oksana was raised in a Russian Orthodox Christian.
Oksana Baiul began her professional skating career by training with Stanislav Korytek in 1983.  Baiul eventually began training in Odessa, Ukraine in 1991 after the death of her mother. Oksana went on to take part in the Ukranian Championship in 1993 and won the gold medal.
In the same year, she took part in European Championship where she was the first runner-up and World Championship where she won the championship. It turned out to be the highlight of Oksana's career. In 1994, Oksana won the Ukrainian Championship. Then, she became the first runner-up in the National Cup and the European Championship in 1994.
While competing in 1994 Winter Olympics, she won the gold medal even though she was injured. In fact, she collided with her competitor that cause a small cut on her right shin. After three stitches and Olympic approved painkiller, she performed and won the gold medal.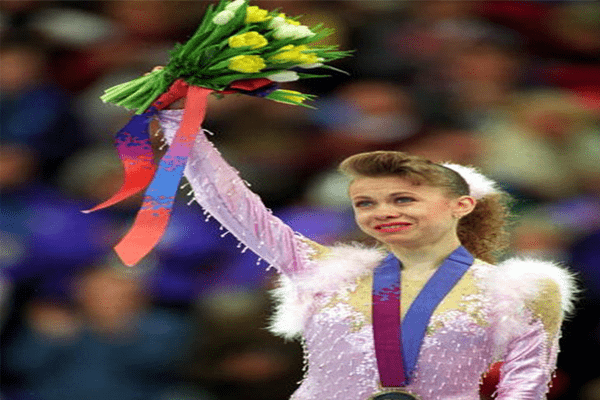 Caption- Okasanawon the Gold medal in 1994 winter Olympics.
Image Source- Pinterest
After the Olympics, she got various deals or offers including a profitable contract to tour the United States. 1994 was a golden year for her as she signed an agreement with American Talent Agency, William Morris Endeavor.
This tour became the decisive tour for her as she began drinking alcohol although she was a teenager. Well, this was the worst part of the year along with the arthroscopic knee surgery. Queen of Ice, Oksana was ordered not to skate, but due to her million dollar contract, she refuses the doctors advice. After touring the United States, she decided to shift in the US permanently.
Then she bought a luxurious house in the US and separated with her longtime coach, Viktor Petrenko. But life in America wasn't easy as she was immersed in Drinking problem. In January 1997, she was hospitalized after the car crash in the early morning at Bloomfield.
Baiul needed 12 stitches for the injuries. Additionally, another person, Ararat Zakarian was treated for the broken finger at St. Francis Hospital and Medical Center.
Life after rehab was a bit depressing to her.  Somehow, she regained the possession and published her autography named Oksana, My Own Story and Secrets of Skating. Furthermore, she opened her account as an entrepreneur by launching The Oksana Baiul collection.
Not to mention, her Emmy nominated biopic movie A Promise Kept: The Oksana Baiul Story was made and produced by SONAR/RHI/ Hallmark/ CBS. Her profile was featured in several networks like CBS, FOX, ABC, ESPN, NBC.BBC and some other networks.
But, she didn't give up skating and was performing in professional ice shows and other musical events including 2007 musical Cold as Ice. She also appeared on Television in 2006 as a Judge of Skating Competition Master of Champions.
Even though Oksana has faced career-ending problems, she never lost the hope to live life. While traveling to Ukraine from the US, she met Carlo Farina in 2010. She stayed in Ukraine for a while and came back to the USA. After arriving in the USA, she realized that he is the love of her life.
Before that, a lawyer Willian Morris advised her to get a business manager who can handle her business. So, she found Carlo Farina as her business manager and a life partner. Then in 2015, the sweethearts tied the knot and became a soulmate. Oksana hasn't disclosed the information related to their wedding ceremony, wedding venue 0r exact date.
Once she answered the question about their marriage information, then she said: "I never recognized it publicly." She also said that she is very fortunate to have a person like Carlo, who always respect and love her. Meanwhile, Oksana too loves and respect him.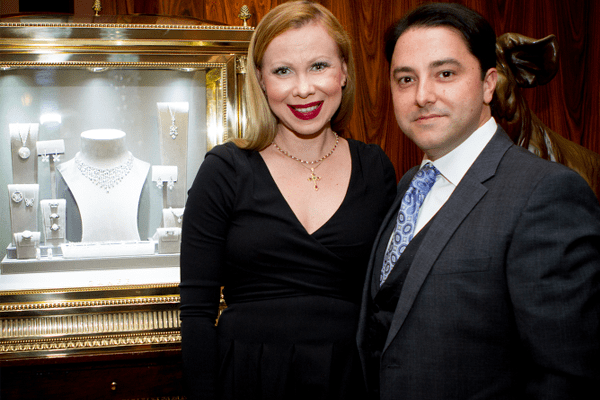 Caption- Oksana Baiul's husband, Carlo Farina is a very supporting and loving husband.
Image- Tribuna
By the way, Oksana Baiul husband is an American Businessman, an investor, and producer. And Oksana has added the surname and she is now called Oksana Baiul-Farina.
Furthermore, the family includes a beautiful and Cute daughter with whom both Oksana and Carlo likes to spend their time.
Oksana is an Olympic gold medalist and also a successful businesswoman. Not only this, but she also supports several organizations, that are involved in charity especially skating. Furthermore, she is a business partner with Entertainment Producer, Investor, and Philanthropist with husband, Carlo.
As mentioned earlier, she is an owner of an online shopping website, Oksana Baiul collection. Here, she sells apparel, accessories, assets, and jewelry. Well, this is one of the pivotal sources that generate revenue and adds to Oksana Baiul's net worth of $20 million.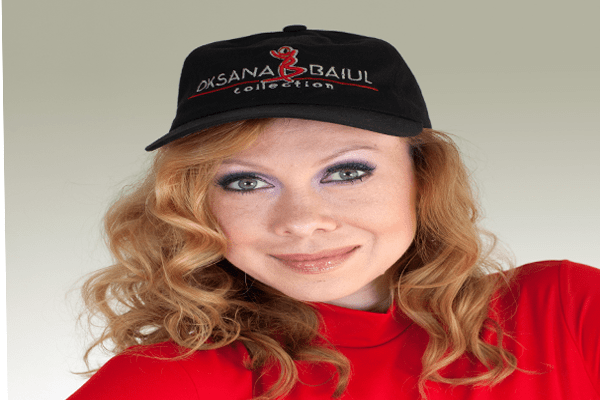 Caption- Okasana advertises the Oksana Baiul Collection's products.
Image Source- Oksana Baiul Collection
Furthermore, she also filed a lawsuit against the talent agency, William Morris Endeavor. This talent agency was with her since 1994. In 2011, she hired her new manager (future husband), Carlo and discovered the accounting and collection flaws.
Later, she collected $9.5 million from the lawsuit. She also believes that WME has hidden more of her money. And the hidden money includes $150,000 for Jewelry endorsement and $100,000 from a greeting card and stationery deal. The lawsuit also claimed at lean $1 million in compensatory damages and in Punitive damage. Later, WME declined to talk about the deal with Oksana.
Then in 2015, Oksana accused her former coaches Victor Petrenko and Galina Zmievskaya and also their manager for stealing her money for more than a decade. She claimed they had taken away more than $12 million of cash from her.
One of them is the money they took away from her is after her appearance in a TV Show. In fact, she had to earn million of cash for appearing on the TV show, but she got on 50 thousand dollars as a fee. Moreover, she accused that they used her name for their business and also for the various contract.
Baiul is only Ukranian ever to win the Gold medal in Olympic in Skating. Definitely, she aspires million of the youngster and the talent who want to pursue their career in Skating. So in 1997, sho wrote a book named Secret of Skating which costs $2.18 for hardcover in Amazon.
Furthermore, another book  Oksana: My Own Story was published in the same year, and costs range from $0.50 to $56.96 for Hardcover. So, earning from bookselling adds to Oksana Baiul's net worth.
After an inspiring struggle in Skating Rink, she has developed herself as a successful entrepreneur and a housewife. After her marriage with ex-manager and present husband, she resides in a house in Las Vegas. On her 4oth  birthday, she posted a picture on Instagram and expressed her happiness to get a lovely house and family.

She is also an owner of a luxurious car as well. Here is the picture snapped by her while she was in the car and it was Sunday. Oksana is posing with one hand on her expensive earrings, and the Mobile phone is another.
Overall, Oksana Baiul's net worth of $20 million includes, the earning for appearing in various shows and events, bookselling and importantly her e-commerce site.
Stay Tuned with SuperbHub for more Celebrity Biography, Entertainment News, and Articles.
This Biography was published on 6/7/2017 and updated on 3/28/2018.