18 times TT winner Michael Dunlop is a professional motorcycle racer hailing from Northen Ireland. Michael was born on 10th of April in 1989. The most tenacious competitors in motorcycle racing won the 2018 RST Superbike TT, lap average of 17:14:092 average speed 131.350 mph.
In Remembrance of Dan Kneen, Dunlop stated he wanted to do it for Dan and hopefully for the family after his 2018 RST Superbike win. Michael aka Maverick comes from a dynasty of magnificent bike riders. Brother of late William Dunlop, son of Late Robert Dunlop and nephew of Joey Dunlop King of the mountain course, former World Champion. 
Road Racing excels in the DNA of Dunlop family and every family riders have accomplished a milestone in their career of racing. Michael's mother's name is Louise.
Michael is the current lap holder of the outright category with an average speed of 133.962mph / 215.591km/h onboard BMW S 1000 RR set in 2016.
Dunlop also holds the TT Superbike Lap record of 16:58.254 averaging at 133.393mph in 2016.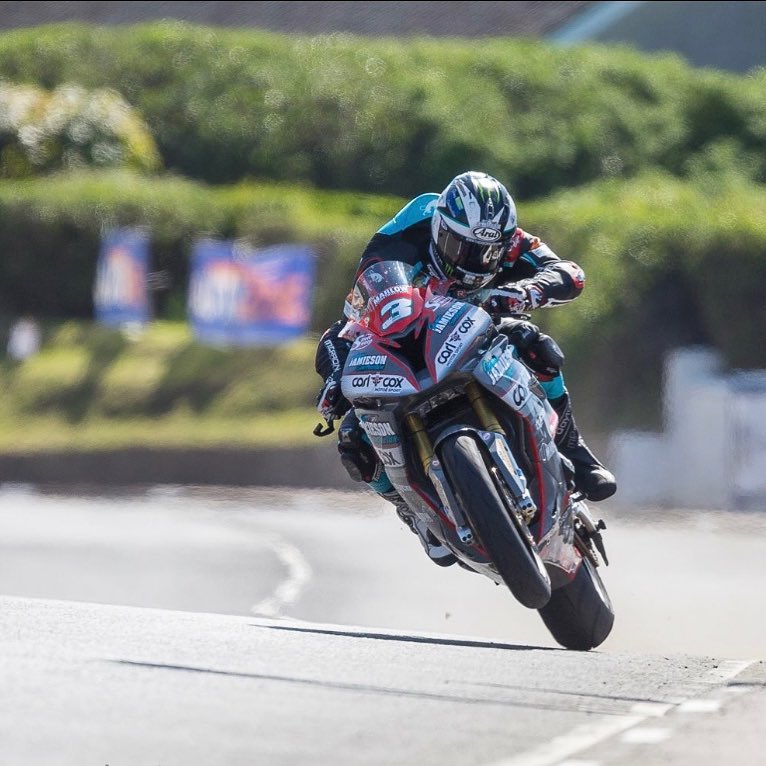 Michael Dunlop revving his BMW S 1000 RR as it makes a wheelie.
Image Source: Instagram/Dunlop
Michael Dunlop Net Worth
Most of the income of Michael Dunlop's net worth is compiled by the prize money he has won from all the race competitions he has participated in.
The winner of Isle of Mann TT bags around £18,000 after the completion of the race. Not just the winner but all the competitors who have participated in it takes home some amount of money if they are able to complete the race.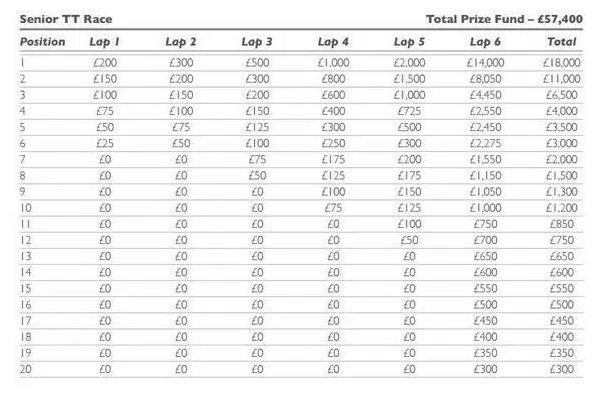 Prize money of Isle of Man TT.
Image Source: Tbni Blog.
Michael has won the race 15 times, so we can only imagine how much money must he have acclaimed till now.
Michael Dunlop is also the owner of Michael Dunlop Racing Ltd. The net worth of Michael Dunlop Racing Ltd is estimated to be around £316,093.00
Insurance
Isle of Man TT is considered to be one of the riskiest sporting events in the world. No matter how much of a professional you are, someday you too will be in a crash. So whenever that day arrives, the riders are well prepared for that day. Almost all the riders have insurance.
Michael Dunlop Racing Career
The 29-year old professional bike racer Michael made his debut in 2007. In 2008 he decided to join in last minute and incredibly secured the 10th position in Senior TT with the fastest lap of 124.773, making him the fastest Dunlop around the TT course.
Only in 2009, Michael's maiden TT Victory came when he won the second Supersport Race.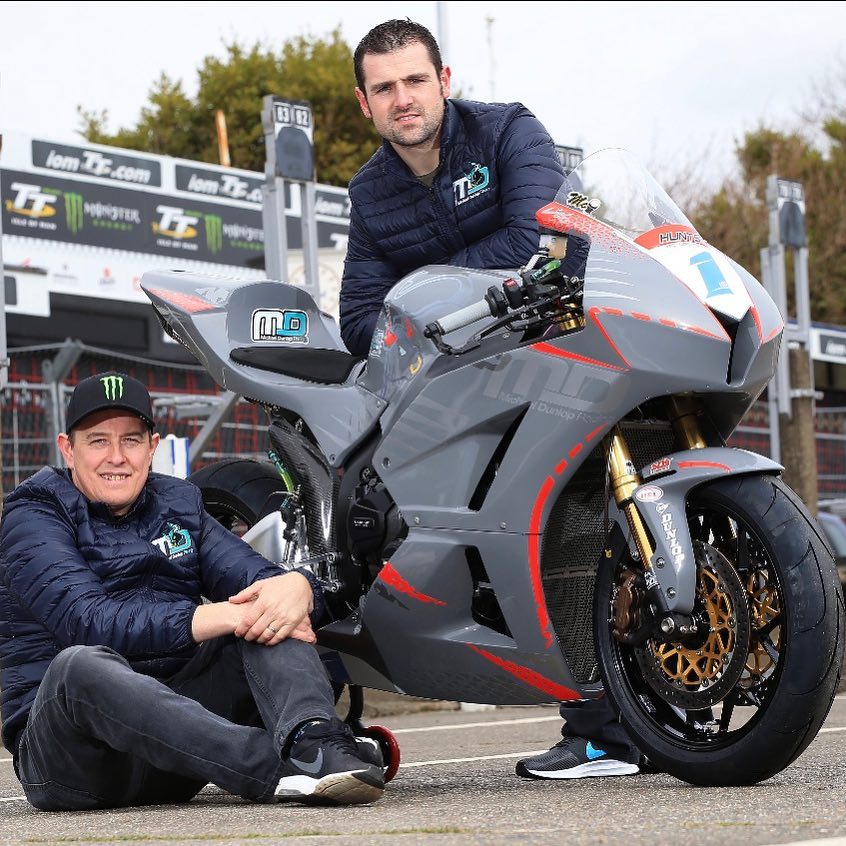 Michael Dunlop and John McGuiness were set to race on the MD Racing Team for Isle of Man 2018.
Image Source: Instagram
The luck didn't favor the Ballymoney man after that and only in 2011, he managed to claim his second TT win. He also had a victory in the 2012 event in the Classic Superbike race at the Manx Grand Prix.
Here's a table representing Michael Dunlop's total winning in some of the racing competitions e took part in.
| Competitions | No. of times won |
| --- | --- |
| Isle of Man TT | 15 |
| Isle of Man Classic TT | 4 |
| Manx Grand Pix | 3 |
Michael Dunlop won the 2018 Monster Energy Supersport TT on his own bike making a lap time of 18:00.284 at an average speed of 125.734
Alongside Michael, some of the best TT racers are Dan Kneen, Bruce Anstey, John McGuinness, Ian Hutchinson, Ivan Lintin, Peter Hickman.
Michael Dunlop Crash
Being a motorcycle racer and having a crash is not much of a big deal until and unless it's serious. Michael's father, Late Robert Dunlop also lost his life in the crash while racing in 15th May 2008. Unfortunately, on the 7th of July, Michael's younger brother William Dunlop was announced dead after a tragic accident in County, Dublin.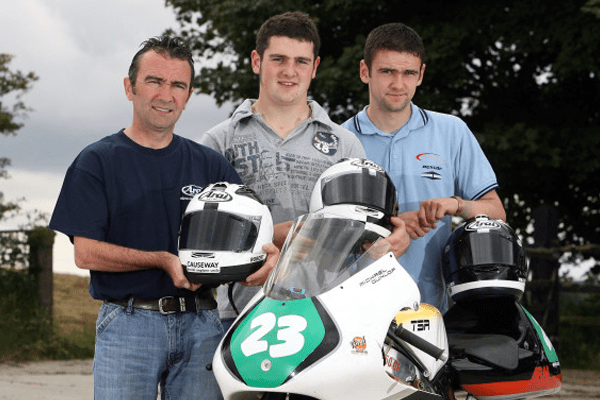 Isle of Man TT racer Michael Dunlop with father, Late Robert Dunlop, and brother, Late William Dunlop. Both his father and brother died in a crash while racing. Photo Source: Huffington Post.
The 32-year-old racer William followed the same fate as his late father and uncle, and we hope that Michael will not have such ill-fated ending.
Michael himself has been in a crash, fortunately, he didn't suffer a lot of injuries, he just walked away with some minor bruises. The other rider involved in the crash was Scott Wilson who escaped with a broken collarbone.
Beside crash, he had an incident where Micael Dunlop's house caught a fire.
Michael Dunlop Girlfriend
Michael Dunlop is also a man of secrecy. Besides his Career life, his personal life has always been away from the limelight. Only he knows if he has a girlfriend or not. But, a girl named Charlotte might be Michael Dunlop's girlfriend.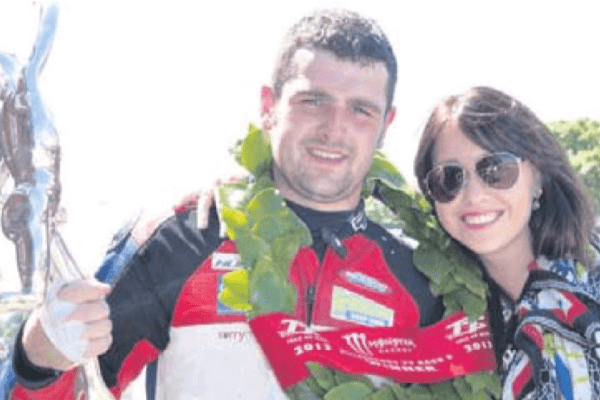 Michael Dunlop with rumored girlfriend Charlotte enjoying his win.
Image Source: Press Reader
Originally Published, May 31, 2018, on SuperbHub, Revised and updated on Jul 8, 2018.