Lily–Rose Depp is a French-American actress. She was born on May 27, 1999, in Paris, France. Her father is a well-known Hollywood star Johnny Depp and her mother is a sensational French singing star, Vanessa Paradis. Lily-Rose has a younger brother, John Christopher Depp III.
When Lily was small, the family divided their times between their homes in France and LA and especially the children would often travel with their parents. Her parents split back in 2012 and both Lily and John spent most of their time in the stateside.
Lily-Rose Depp's net worth and career.

Lily Depp began her acting career with a cameo in the movie "Tusk", which premiered in September 2014, at Toronto International Film Festival. She was announced as a Chanel ambassador in 2015, where she even modeled for the brand's eyewear line.
Lily-Rose's role in the movie Tusk was reprised in 'Yoga Hosers', a spin-off and was premiered at the 'Sundance Film Festival' in January 2016. She was also announced as the face of Chanel's new fragrance. Lily even has done other movies like 'The Dancer' and 'Planetarium'.
The 18-year old Actress/Model is again set to reprise her character of Tusk and Yoga Hosers in her upcoming movie 'Moose Jaws'.She also has acted in a French movie 'Les Fauves'.
Lily Depp's net worth is still under review. According to Box Office Mojo her came movie Tusk managed to earn about $1,826,705. Lily's other movie The Dancer grossed $71,917 .
Family, Career and Personal Life
Family
Lily Rose Depp's parents are not common people. There must be less number of people who won't recognize Johnny Depp for his marvelous acting in all of his movies. The American actor is widely famous for his portrayal as 'Captain Jack Sparrow' in the 'Pirates of the Caribbean' franchise. He has been nominated for 3 Academy Awards and has won a number of prestigious awards.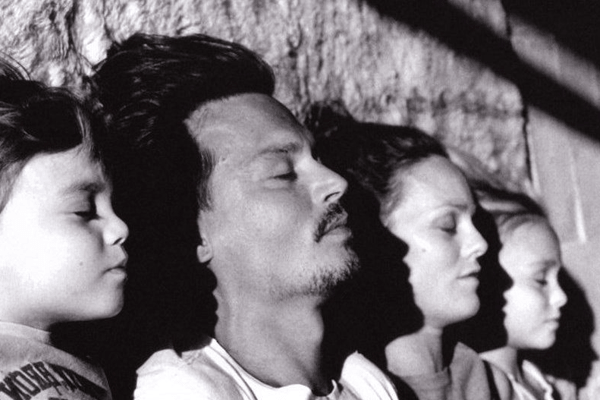 Lily-Rose Depp with her family. From Left to Right: Brother John Christopher Depp III, Father Johnny Depp, Mother Vanessa Paradis
Image Source:Height Line.
Lily's mother is a sensational French singing star Vanessa Paradis. She is also a spokesmodel for The Fashion Brand Chanel. She parted her ways with Johnny in 2012 after 14 years of their marriage. She became a star at the age of 14 with her single "Joe le Taxi" which was a worldwide success.
The 18-year-old actress Lily-Rose Depp has a little brother John Christopher Depp III who is 3 years younger than her. The little Depp always resembles the picture of a carefree kid who wants to live life to the fullest.
Personal Life
Lily dropped out of high school in 2016 to focus on her acting career. She also suffered and struggled with anorexia and is now recovering. Lily Depp is fluent in both French and English.
The French-American actress dated model and also an actor Ash Stymest. Their relationship ended in April 2018, after 2 years of togetherness.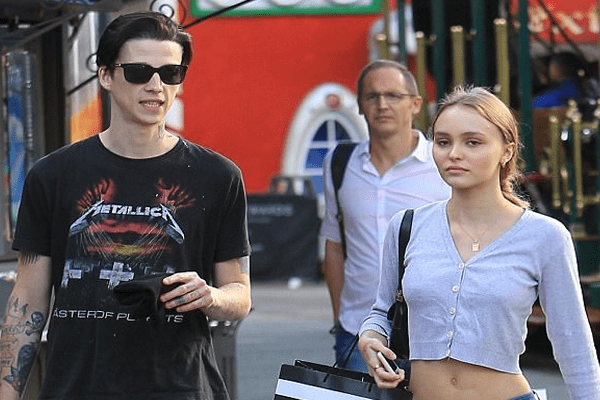 Lily Rose Depp along with her ex-boyfriend Ash Stymest.
Image Source: DailyMail.
Their relationship raised eyebrows as there were a whopping 8 years of gap between the couples and the fact that Lily was just 16 when they started dating. After breaking up with Ash, Lily started dating Timothee Chalamet, actor known for Call Me by You Name. In an interview, Lily said that she will now focus on her acting and modeling career and follow the footsteps of her superstar parents.
For more News and Entertainment follow SuperbHub.