Fierce, Dynamic, polarizing and Intense are the words that come in mind while describing Reality star, Kailah Casillas. Her explosive figure has tantalized millions of men throughout the world. She grew up watching MTV's reality shows and finally became the part of them in shows like Real World and The Challenge; making Kailah Casillas net worth today really impressive.
Not to mention, she is not single and has a boyfriend, Mikey P.
Born on November 10, 1992, Casillas's perfect figure comes from the time she invests in the gym and the diet and lifestyle she follows. Besides the tag Reality star, she is also an entrepreneur or say businesswoman who have an e-commerce site that sells various clothing products.So, this is the one of her source of income to add in Kailah Casillas' net worth.
She is also associated with Central Entertainment Group that specializes in Celebrity influencer Marketing and Booking talent for concerts and tours. It also gives the facility of Digital Branding and sponsorship.
Kailah was born in Sunny South Florida and spent her childhood there. In  fact, she was watching the MTV's reality shows since she was a teenager. She completed her graduation from  Florida Gulf University in Journalism in 2014.
During her high School, Kailah was popular in the school due to her looks and outfit. And, her friends and mates used to call her 'Mean Girl'. When she was seventeen, she left her parents and the house moving to FGCU's Northlake Village.
After moving to Northlake Village, Casillas got the chance to participate in MTV's Real World reality show. Initially, she wanted to fill the form for the 30th season, but she missed the opportunity because she wasn't 21 yet. But she didn't miss the chance in 31st season and got the entry in the house.
Casillas entrance into the house changed her life completely as she found seven strangers in the show. She was living and tolerating them that really changed her life. As she was from the journalism background, it was an opportunity for her face a mass amount and speak confidently.
In 'Real World: Go Big or Go Home', she along with mates got the weekly mission that they had to complete. Interestingly, Casillas completed the Bunjee Jump from a hot air balloon along with Dione Mariani, Dean Bart- Plange, Chris Ammon Hall, and CeeJai Jenkins.
She also faced the challenges like, participate in blobbing, last sixty second with poisonous tarantulas on your body, trek up the mountain in less than ninety minutes, Create a surprise divorce party for Dean and much more.
Then, Real alumni, Casillas also participated in MTV's 'The Challenge Vendettas'. Here she competed with Cara Maria Sorbello, Kam Williams, Kyle Christie, Leroy Garrett,  Nicole Zanatta, Tony Raines and Zach Nichols in Finale.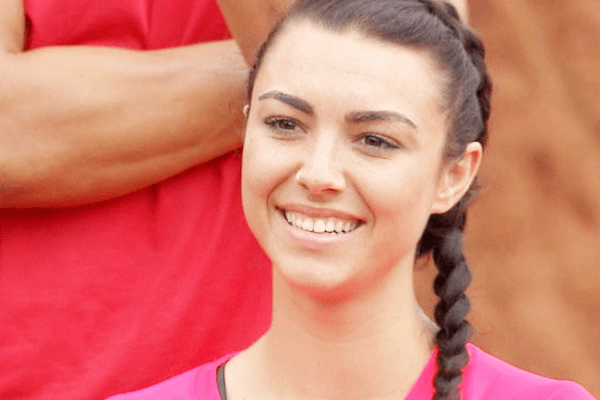 Kailah Casillas is a contestant on The Challenge Vendettas. Image Source- MTV
Casillas is also set to appear on new season of The Challenge: Champs vs. Stars 2, that will premiere on April 17, 2018. In the competition, the competitors will fight for $150,000 cash prize. And the cash prize will be donated to the charity of the competitors choice. No wonder, Kailah Casilas net worth is increasing day by day.
As mentioned, she is the participant of The Challenge Vendetta , the winner of which is yet to be announced ( on April 3, 2018). The winner of the series will take $500,000 as a prize. Not to mention, the contestant also has the chance to earn money via completion of the challenge. For Instance, winners of a task get $25,000 each that will be deposited into their personal bank account.
Kailah Casillas net worth cannot be estimated in exact amount but winning the show will certainly increase her fortune. Meanwhile, Kailah rarely missed the chance to win cash from the challenge. In episodes 6/7, 7/8,8/9, she made $5,000 in each making $15,000 in four episodes. Then in episode 9/10, 11,12, 12/13, she made $8,750 in each making around $35,000 in five episodes.
She is participating in The Challenge: Champs vs. Stars as a Champ. So, the Channel might be paying her good amount of salary per episode.
See full article on Kailah Casillas net Worth in 2018
Somehow, earning from YouTube Channel also sums to Kailah Casillas Net worth. She teaches how to remain fit in her videos. The estimated monthly earning of $13 and yearly earning of $157 doesn't affect her treasure but surely will in future.

Furthermore, Kailah Casillas net worth also includes her house in Las Vegas. Her house is the ultimate place for her to take rest after the gym, exercise and filming.
During her participation in Real World: Go Big or Go Home she hooked up with Dione Mariani. It was second episode of the season, and Dionne's intense flirt with Casillas make them fall in love. But after some episodes, things didn't work out between them and they decided to split.
But, this wasn't the end of Kailah Casillas's relationship. Since January 2017, Casillas and Recording artist, Mikey P are dating. The exact venue and date of their meeting are still unknown, but the kind of chemistry they have shown makes us feel that they were dating since long.
Know more about Mikey P
The sweethearts look desperate for each other as they visit together so often. In fact, the romantic lovers drink together, travels together and celebrate the occasions together. Not to mention, Kailah Casillas's boyfriend, Mikey, and Casillas don't hesitate to post a lot of pictures on Instagram.
In one of the picture, she captioned Love to Love You and the duo were enjoying the time together.
Kailah is also a tattoo freak. She has got tattoos in several body parts. One of those is in her hand. Where she has written Home is Wherever and I'm with you. In Kailah Casillas's tattoo collection, you can also see a van surrounded by flowers. She inked this tattoo in Forever tattoo parlor.

You will love to see Inspiring Love Story of Kailah Casillas and Mikey P
Stay with us on SuperbHub for more Celebrity Biographies and Entertainment News.