Giada De Laurentiis is the famous host of Food Network's appetizing cooking show, Giada at Home. Born in Italy, Laurentiis is an American chef, an author, and television personality. Emmy award winner, Giada is the founder of the catering business GDL Foods and restaurant, Giada. Her growing success certainly adds to Giada De Laurentiis net worth of $20 million.
Giada Pamela De Laurentiis was born on August 22, 1970, in Rome, Italy. She is the eldest child of actress Veronica De Laurentiis and actor and producer father Alex De Benedetti.
She is the granddaughter of famous producer Dino de Laurentiis who died at the age of 91 in 2010. Her grandmother was renowned personality too. She was a popular Italian movie star, Silvana Mangano. Giada certainly belongs to a show business family.
Laurentiis family moved to the United States in 1977, when Giada was seven years old. They settled in Los Angeles. During her childhood, she couldn't feel comfortable in her school as she couldn't speak a word of English and other school kids made fun of her.
So, Laurentiis often found herself in the family's kitchen. Giada had actually inherited the passion of cooking as her great-grandfather also sold pasta in Italy. She also spent a great deal of time at her grandfather's restaurant DDL Foodshow.
Giada loved to help prepare the meal when the family gathered at grandfather's house for lunch. She would have never thought that her such interest would lead to her millions of dollar net worth today.
Giada grew up in Beverly Hill along with sister Eloisa De Laurentiis (makeup artist)  and brothers Igor De Laurentiis and Dino A. De Laurentiis who died in 2003 from Melanoma stage four.
She graduated from Marymount High School in Los Angeles. After graduating, she attended University of California, LA and earned Bachelor Degree in social anthropology in 1996. After graduating, with aspirations of becoming a pastry chef, she studied at Le Cordon Bleu in Paris.
Giada became a professional chef working in several Los Angeles restaurants, after returning to the United States. She first started to work at famous restaurants, Wolfgang Puck's Spago and Ritz Carlton Fine Dining Room.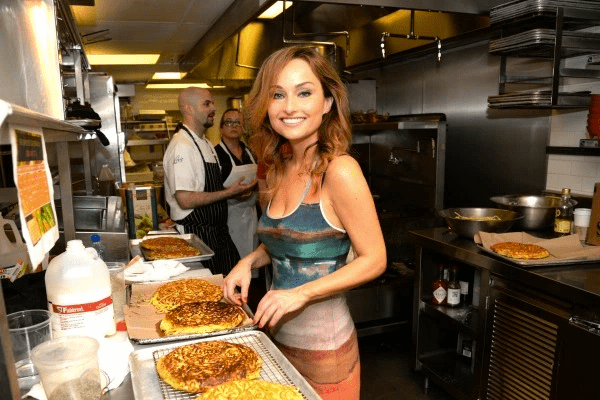 Giada De Laurentiis in Kitchen preparing fried smashed potatoes with lemon.
Source: Style Caster
She then started her own catering company, GDL Foods. Later, Giada also worked as a food stylist. Laurentiis had a great start to her new career when her friend working at Food & Wine magazine made her an offer. She was asked to write an article on her family's Sunday meal traditions.
Career in Food Network
Giada De Laurentiis net worth started increasing once she developed her own series in 2003 for Food Network as the channel's executive loved her article. Giada had admitted that she never wanted to be in her family business, and when she first began hosting in Everyday Italian, she felt uncomfortable in front of the camera.
Slowly, she developed confidence and gained millions of fans who loved her work in the show. Her cookbook for the series in 2005 was successful and hit too.
In October 2006, De Laurentiis began hosting Behind the Bash. Laurentiis hosted the show, Giada's Weekend Gateways in January 2007 that is debuted on Food Network.
Giada appeared as a presenter in 2007, Food Network Awards. She hosted a two-part food Network special entitled Giada in Paradise. She hosted along with the two locales of Santorini, Greece and Capri, Italy.
The Barilla Group and Giada launched an Italian gourmet line in 2008 under the Academic Barilla name. She joined fellow chef Bobby Flay as a judge in season 7 of Food Network Star.  In season 8, Giada worked as a team leader of five cooks competing against Bobby Flay's and Alton Brown's respective teams.
Hardworking Giada made her fortune in Food Network. But she also represented herself in a different field. De Laurentiis also became the voice of "Paulette" in 2009, a character on the animated children's show Handy Manny.
In 2010, Laurentiis CafeMom ranked her as #6 in their yearly "Sexiest Moms Alive" list. Giada became a regularly appearing mentor to the finalist in June 2010, in the popular competition show, Food Network, The Next Food Network Star.
Giada then played as a voice actress for Gleta's character in 2014, in the US version of the Tinker Bell special. Her involvement in TV shows, films, a established career as a chef obviously increased Giada De Laurentiis net worth.
Giada also made a special appearance in Ellen Degeneres show in May 2017 and gave cooking lessons to Ellen and Nicole Kidman.

On 25th May 2003, Giada married Todd Thompson. They met when Giada was studying anthropology and was just 19.  The couple also has a daughter named Jade Marie De Laurentiis Thompson (March 29, 2008).
However, the couple split up on 3rd September 2015 after spending 11 years of togetherness. Misunderstanding is the cause of their separation. After her separation with Thompson, Laurentiis was rumored to be dating celebrity chef Bobby Flay. However, she denied the state.
As of 2018, according to US Magazine, Giada De Laurentiis is dating an executive producer Sean Farley. He has earned Emmy Awards several times for his work Tyra Banks and Chrissy Teigen's talk show and Rachael Ray's daytime cooking show.
Giada De Laurentiis net worth is $20 million as of 2015 as stated by E!News.
According to Paysa, Food Network host salaries ranges from $51k-$55k annually. The figure is an aggregate estimate of total compensation that includes base salary, equity, and an annual bonus. Giada is not just a TV host, She is the fan favorite TV host of Food Network known for hosting a number of cooking shows.
As per Starcasm, For Giada's Feel Good Food in 2013, Laurentiis received $2.3 million and for Weeknights with Giada in 2012, she received $2.5 million. In 2015, Happy Cooking, Giada received $2 million likely payday.
To conclude, Giada De Laurentiis net worth includes the handsome amount of salary as Food Network's one of the best cooking show host. She has also appeared in NBC's Today Food often too.
Giada Restaurant
Also the owner of the production company named Linguine Pictures, De Laurentiis opened her first restaurant, called Giada in July 2014. The restaurant is located on the second floor of The Cromwell hotel in Las Vegas. The hotel is a result of Bill's Gamblin' Hall and Saloon renovation with an investment of $185 million.
Giada restaurant's dining room has the capacity to accommodate 300 diners, has lounge, terrace showing outdoor views, especially of Caesars Palace and Bellagio fountains. Being a famous personality and excellent cook with mouthwatering food recipes, her restaurant is certainly giving millions of revenue in return to Giada. Laurentiis share profits in gross from her food business.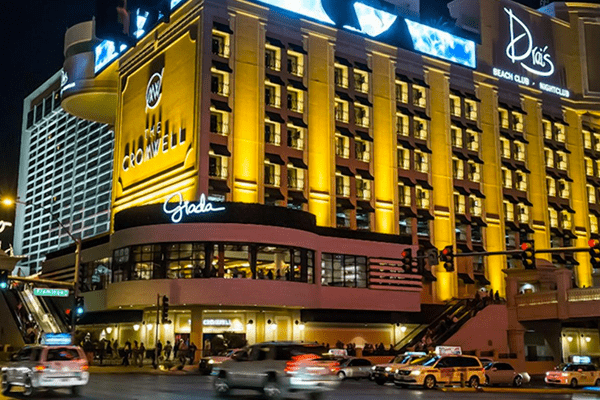 Giada De Laurentiis net worth includes her restaurant, Giada in July 2014. The restaurant is on the second floor of The Cromwell hotel in Las Vegas.
Source: New York Times
Giadzy
Giada also has her own official website, Giadzy with food recipes, blog, videos, entertainment and shop navigations. In shop navigation, Giada has a page filled with food and kitchen ingredients where anyone can order online and purchase it. In short, do online shopping from her website.
This definitely adds extra income to Giada's pocket. In addition to that, Giada also has her cookbooks listed with the fixed price of $35. For purchasing them, one needs to sign in and join Club G and also participate in the discussion forum.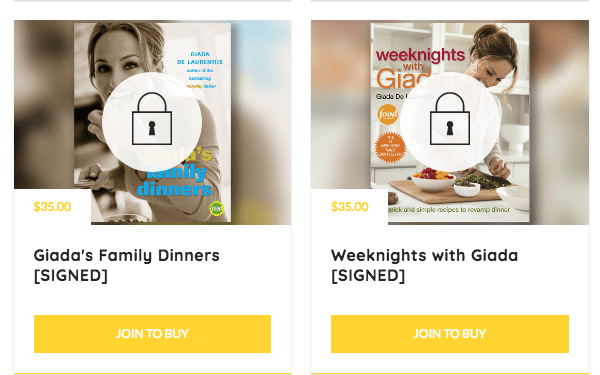 Shop from Giadzy and also purchase Giada's cookbooks at price $35.
Source: Giadzy
Laurentiis House
Giada after getting married to husband Todd Thompson moved to Todd's house who lived there for 14 years.
However, the couple completely transformed the house into a dream bungalow with the help of Peter Cohen, an architect. The house was spread in 1,600 square foot in area of Pacific Palisades. But after the transformation, it became a contemporary home with double space.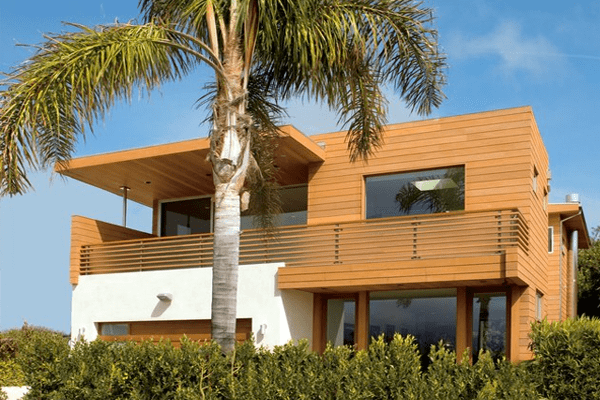 Giada De Laurentiis shared a $3.2 million house and $300,000 worth of artwork and furniture with husband Todd Thompson in California. 
Source: Architectural Digest
However, after the divorce, Giada's husband will get to keep the $3.2 million house.
So, after divorce, Giada is living in a 13, 255 sq. ft house with 5 bed and 5 bathrooms that cost $6.195 million. Her house is located in Riviera area.
Expensive Divorce
Highlighting the information publicized during her divorce with her ex-husband Todd, Giada was ordered to pay $9000 monthly for their daughter's care and support.
Additionally, Giada's husband will be owning the $3.2 million home in Pacific Palisades as there was no prenuptial agreement signed before their marriage. After their divorce, the partners made an agreement to equally divide the assets.
Similarly, Todd will receive half of Giada's revenue in millions for unpaid book advances according to Page Six.
Ox Fair America's ambassador, Giada is now starting a new life with Sean Farley from ABC talk show FABLife. According to Page Six, Farley is working his best to get back with the Giada's retailer who in 2014 discounted Laurentiis's line of products. He's thinking to take over Giada's marketing and work best to increase her earnings from food and show business.
After her divorce, Giada De Laurentiis net worth is estimated to be in not less than eight figures.
Laurentiis has a height of 5 Feet 3 Inch (1.6 m) and body weight 115 lbs. She has blue eyes and brown hair. Leo is her birth sign. She holds an American and Italian nationality and possesses white ethnicity. 
According to Food Network article,
| Other Giada De Laurentiis facts | |
| --- | --- |
| Favorite Smell | Baking Bread |
| Best Vacation Place | Positano in Italy |
| Favorite TV Show | House of Cards |
| Favorite Emoji | Sunglasses |
| Pleasure food | Chocolate |
| Typical Weeknight Dinner | Taquitos |
| Food Ingredient she dislikes | Green Pepper |
| Dish she orders out | Any Indian food |
| Favorite Pizza Topping | Cheese |
| Favorite Game in cell phone | Candy Crush |
| Drink she prefers | Bourbon |
| Dish that she must have in last supper | Lemoncello Soufflé |
| Strange thing in her refrigerator | Teeth whitener |
In 2003, Giada was honored by Daytime Emmy Award for Outstanding Lifestyle Host for Everyday Italian. Being nominated three times for Emmy Outstanding Culinary host, Giada won Gracie award for Outstanding Lifestyle Host in 2012.
And she loves her cute little chef daughter, Jade Marie De Laurentiis Thompson.
Stay connected with SuperbHub for more biographies of celebrities.