Dwayne Johnson is a Professional Wrestler and a famous actor commonly known as The Rock. Johnson became a box-office star after appearing in films like The Scorpion King, Hercules and The Fast and the Furious. Johnson was ranked as World's highest-paid actor in 2016 with an earning at $65 million. Besides acting Dwayne also runs his own production company Seven Bucks Productions.
Synopsis      
Dwayne Johnson is the first ever eight times WWE World Heavyweight Champion. Besides an acting skill and wrestling career, Johnson is also a fantastic football player. Johnson was also a player for the University of Miami. And he is the winner of National Championship on 1991 Miami Hurricanes team. Dwayne represented the first third-generation wrestler in the WWF's history from 1996 to 2004.
Johnson continued his part-time wrestling to WWE since 2011. Johnson also voiced in the video game titled Spy Hunter: Nowhere to Run (2006). He also has done a stunt as Theme park ride in Fast & Furious: SuperCharged (2015). As of 2017, Dwayne Johnson's Net Worth is $190 million. 
Who was Dwayne Johnson before entering into the spotlight? Is he All-American?
A renowned personality Dwayne Johnson was born on May 2, 1972, to father Rocky Johnson and mother Ata Johnson.
His father is a Canadian Retired Professional Wrestler. Also, Rocky Johnson is the National Wrestling Alliance Georgia Champion and NWA Southern Heavyweight Memphis Champion.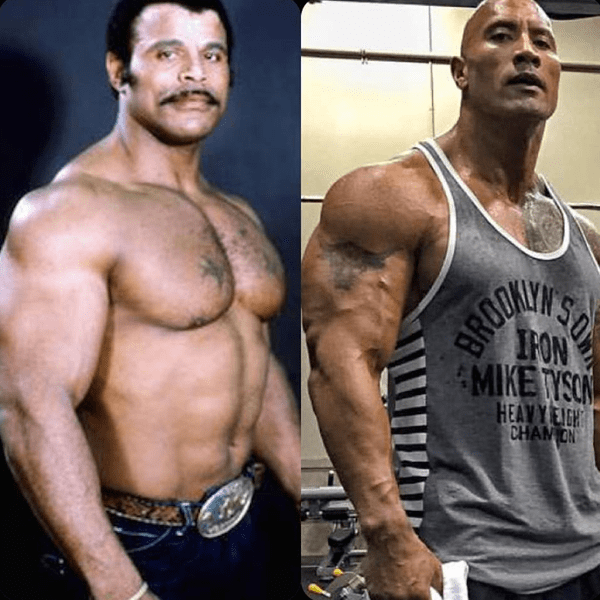 Father Rocky Johnson and son Dwayne Johnson
Image Source: Twitter.com
In addition to this, Johnson's maternal Grandfather, Peter Maivia was also a wrestler. And his maternal Grandmother Lia Maivia was female wrestler promoter.
His father Rocky is Canadian of Black Nova Scotian and Irish ancestry. Whereas, Johnson's mother is of Samoan descent.
Johnson is not primarily a native of America, though he was born in Hayward, California, United States. Instead, he is a Canadian citizen due to the changes in Canadian nationality law in 2009. However, he was not born in Canada.
Reviewing back to his educational background, Dwayne attended Richmond Road Primary School in Auckland, New Zealand. Johnson completed his primary school staying with his mother's family. Then, he moved to the United States with his parent.
And Johnson joined Shepherd Glen Elementary School following Hamden Middle School in Hamden, Connecticut.
Successively, Johnson completed his tenth grade from President William McKinley High School.
Next, he joined Freedom High School as his eleventh grade. There, Dwayne appeared as the football player, member of the school's track and field. Also, Johnson was the member of the wrestling team in college.
As a player, Dwayne received a scholarship at the University of Miami. He remained as the winner on the Miami Hurricane's national championship team in 1991.
But later, with an injury, Johnson replaced by Warren Sapp, the National Football League star.
Subsequently, he enrolled at the University of Miami in 1995. He graduated with a Bachelor degree in Criminology and Physiology.
Career
Growing up in the family wrestling career, Dwayne also landed his professional job in the wrestling sector.
Initially, his father denied him from doing so. But later, with a condition to train himself, he agreed on Dwayne's perception.
Then in 1996, Pat Patterson, Veteran Wrestler, helped Johnson to tryout matches with World Wrestling Federation (WWF).
Firstly, he won against The Brooklyn Brawler and lost to Chris Candido and Owen Hart. The same year, Johnson won the USWA World Tag Team Championship twice the time. Thus, he signed a contract paper to WWF. Then, he was further trained by Tom Prichard along with Achim Albrecht and Mark Henry.
In 1997, Johnson joined the Nation of Domination and represented himself as The Rock. The year he remained as the winner of the Intercontinental Championship on Monday Night Raw from Hunter Hearst Helmsley.
The next year, Johnson joined another wrestler team The Corporation. On March 30 at the episode of Raw is War, he became the winner of the Intercontinental Championship belt. However, the belt was provided to represent his title until October 2, 2011.
Likewise, on May 31, 1998, Dwayne won the Intercontinental title against Faarooq at Over the Edge: In Your House.
Apart, Johnson also defeated Ken Shamrock and Mankind at
Breakdown: In Your House in a triple threat steel cage match.
Eventually, he renamed as the number one contender for the WWF Championship.
Later in the year 1998, Johnson gained several singles and team championship opportunities teaming with the former enemy Mankind.
They teamed after he challenged WWF Tag Team Champions Undertaker and Big Show. Then, at the very beginning, they won the title for three times.
On January 23, 2000, Dwayne (The Rock) entered into the Royal Rumble match. Then, he competed against The Big Show but lost to the Big Show. But, on March 13 at the episode of Raw is War, Johnson finally defeated Big Show. Later, The Rock stood as The People's Champ competing for several personalities.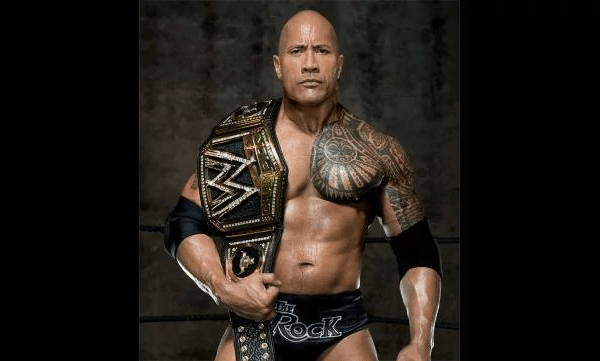 WWE Champion Dwayne Johnson aka the Rock
Image Source: wweuniversewikia
Dwayne won the WWE Heavyweight title six times. In addition to this, he also won the WWE Tag Team Championship five times.
Acting Career
Besides a career as a wrestler, Dwayne also landed himself in the movie industry. He made his appearance in numerous films, television shows, TV movies, Video game and Theme park ride. Dwayne Johnson movies are hit of the times.
Film
At the very beginning, Johnson debut documentary Beyond the Mat in 1999.
Dwayne Johnson in Beyond The Mat
Image Source: the smart marks
Dwayne Johnson movies list includes The Mummy Returns (2001), The Scorpion King (2002), and Doom (2005).
Similarly, Dwayne Johnson movies are Tooth Fairy (2010), Journey 2: The Mysterious Island (2012), and so on.  Let's pray the best for Dwayne Johnson movies career in coming days.
Television
He first started his television career from the television wrestling show That '70s Show (1999). Successively, he then appeared in numerous television series like Saturday Night Live, Transformers: Prime (2010), Ballers (2015-present), and so on.
Discography
Wind Beneath My Wings (2010), What a Wonderful World (2012), You're Welcome (2016), etc. are Johnson's significant discography.
Personal Life
Dwayne Johnson married Dany Garcia, American Businesswoman, on May 3, 1997.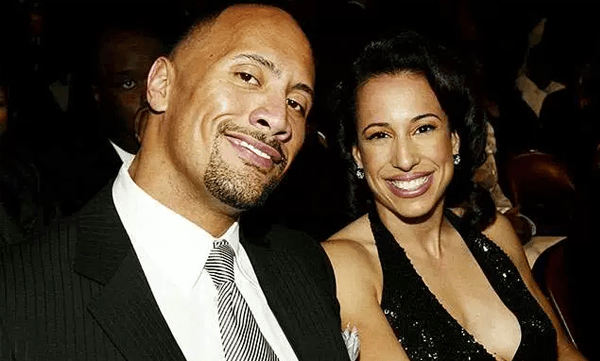 Dwayne Johnson with his ex-wife Dany Garcia on May 3, 1997.
Picture credit: heavy.com
The couple welcomed a daughter named Simone Alexander on August 14, 2001. But later they announced their separation on June 1, 2007. Lastly, The couple's divorce finalized in 2008.
After he divorced the first wife, he dated Lauren Hashian. The couple had met before in 2006 while filming The Game Plan. The couple also welcomed a baby girl named Jasmine on December 16, 2015, and baby Tia Johnson on 2018, April 23.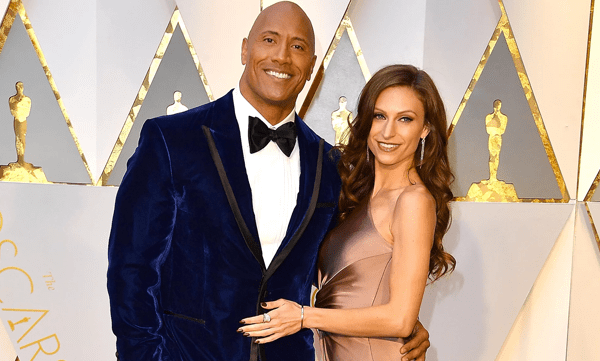 Dwayne Johnson with his girlfriend Lauren Hashian
Image Source:popsugar
Similarly, the duo made the next announcement that they are expecting one more baby girl in December 2017. They are not married yet but happy together.
Dwayne Johnson Magazine Covers
Johnson was named as the sexiest man alive by People for 2016. WWE champion and Hollywood Superstar Dwayne was featured in the front page of the 2018 issue of Rolling Stone Magazine.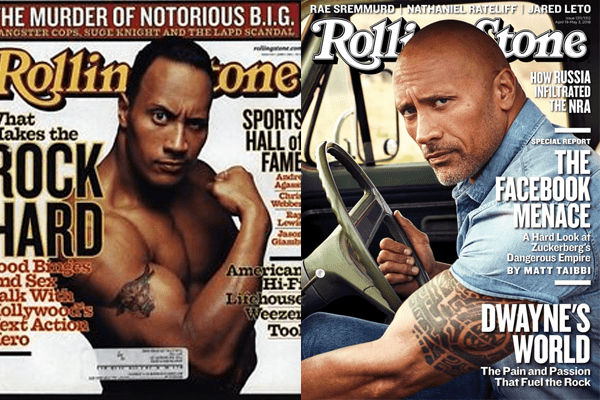 Dwayne Johnson on the cover of Rolling Stones Magazine.
Image Source: Rolling Stones
Making his appearance multiple times on the front pages of Muscle&Fitness magazine, Men's Health. Dwayne was also featured on the 2016 issue of Sports Illustrated magazine.
Physical Traits
Dwayne called as The People's Champion, The Brahma Bull, The Great One, The Rock, and Dewey.
Dwayne stands at the height of 6 Feet 5 Inch.
Johnson body weight is 260 lbs.
Taurus is his birth sign.
He has dark brown colored eyes.
For More Celebrity News and Entertainment: SuperbHub