DeMarco Murray is known for his sprinting effort on the football ground. An NFL star who has done his running back job effortlessly for Dallas Cowboys, Philadelphia Eagles and Tennessee Titans is a free agent as of 2018. This professional football player has earned name, fame and lots of cash from his rushing and blocking skills. Salary from the contract and bonuses makes DeMarco Murray's net worth of $8 million.
Murray's remarkable skills and instincts have won several awards including NFL Offensive Player of the Year and Rushing Touchdowns leader in 2014. Former Dallas Cowboys Running back, Murray is the father of a son and daughter and caring husband of a wife, Heidi Mueller
A remarkably powerful athlete DeMarco was a sprinter with raw speed as any athlete in history. He is definitely a special talent and a kind-hearted personality. Murray is the founder of a Charity organization, DeMarco Murray Foundation. This foundation basically focuses on daily encouragement and life-changing experiences to chronically ill kids.
Seriously, he has won millions of heart not only on the football ground but also on the social ground. Truly, Murray is a treasure of the million fans and the country.
Early Life and Education
Murray was born on February 12, 1988, in Las Vegas, Nevada to father Kevin Murray and mother, Lorraine Travis. Since his childhood, he was passionate about sports.  He completed his High Schooling from his hometown Las Vegas, Nevada.
Murray was a student at Bishop German High School where used to play football, basketball and ran track. He was player of choice at the high school as he was on the squad for three consecutive years. NFL star, Murray got awarded as Offensive Player of the Year award during his high schooling.
For his outstanding game spirit, he received several offers Texas A&M, Miami and Pennsylvania State University, but he attended the University of Oklahoma. In his four years in university, he created few records as well. He became the first player in the School's history to score four touchdowns in half and on debut.
Career: Records in University of Oklahoma
Jersy number 7, Murray is the former all-time leader in points scored (390); surpassed by kicker Michael Hunnicutt in 2014.
Murray is the all-time leader in touchdowns (65) and also a leader in all-time yards (6,718). He is also the all-time leader in receiving yards for a running back (1,571) and leader in kickoff return average.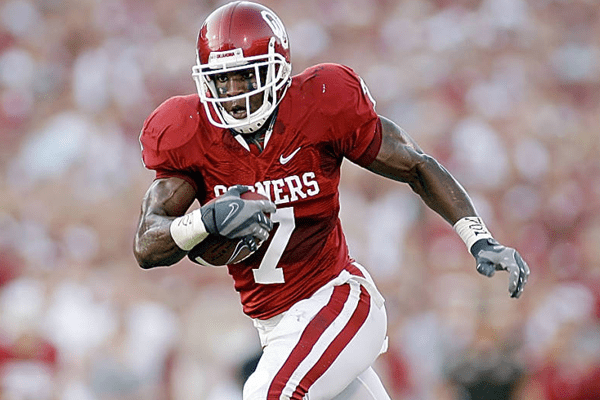 Caption- DeMarco Murray played for Oklahoma Sooners.
Image Source- Sooner Sports
After tying record (i.e., 1,947 rush yards, 27 touchdowns) Murray was honored as an All-American and selected to the 2006 U.S. Army All-American Bowl. During the year, he chose the game against the USC Trojans on live television.
Professionally, DeMarco stepped on the field in 2007 playing against North Texas and created an astonishing remark with five touchdowns and 201 rushing yards. Successively, he continued his work until he named himself as the Freshman All- American with 15 total touchdowns.
Career: Dallas Cowboys- Present
An athlete and jersey number 9, Murray is known for the downhill running style and his physical was drafted as the first former third-round draft of Dallas in 2011. On July 29, 2011, Murray signed a four-year contract with the Dallas Cowboys.
In 2012, season, he rushed for 93-yards and 14 carries before suffering from an injury, sprained foot. Due to his injury, he had to miss six games. But after the injury, he fought back with 83 yards and a single touchdown on 23 carries against his future team, Philadelphia Eagles.
Then in 2013 season, he suffered a sprained MCL while playing against rival Washington Redskins. And that causes him to miss next two games. In 2014, Murray was listed as the fifth-fastest player in league annals to reach the 1,000-yard mark and the fastest player in the Dallas history. That put him in number four of top 100 Players 2015.

DeMarco spent four seasons of his career with Cowboys, and during the last season, the Cowboys also broke the franchise history record in rushing yards (1,845) and scrimmage yards (2,261).
Establishing himself as the mature professional player, DeMarco signed a $42 million contract with $21 million guaranteed with Philadelphia Eagles on March 13, 2015, for five-years. Interestingly, he wore the same jersy number 29.
DeMarco Signed a $42 million contract with guaranteed $21 million with Philadelphia Eagles.
Image Source- SB Nation
His performance in the season for Eagles wasn't that impressive as finished the Year with only 702 rushing yard which is lowest since 2012. Earlier in Week 3, he suffered a hamstring injury. Murray was replaced by Matthew who performed brilliantly and ran for 108 yards. Despite that, he wasn't selected as the starter against Washington Redskins instead Murray was taken.
Then,  Murray along with his agents joined the Tennessee Titans on March 9, 2016. Teaming with Titans, Murray played 16 games in the first season and eventually Titans ranked third in the NFL with 1,287 rushing yards.In 2017 season, Murray suffered a knee injury and missed the final game of the season. Here as well, he was wearing Jersy number 29.
Despite his trouble in 2015 and 2016, he was again traded by Eagles with 2016 4th round pick to Titans. Further, in the biggest game of the season 2017, he defeated the Seahawks in week 3 with 115 rushing yards and 33 touchdowns.
As of March 8, 2018, The Titans cleared $6.5 million salary cap room by cutting DeMarco Murray. Running back rushed for a career-low 659 yards in 2017 season led the move to dump Murray.
NFL Career Stats
In his whole NFL Career, he played 99 games and started 86 games. In his 99 games, he made 1,604 rushing attempts and covered 7,174 while rushing. While he made 307 receiving covering 2,165 yards with an average of 7.1. Meanwhile, he made two passing attempts and completed one and made 18 fumbles and 12 lost.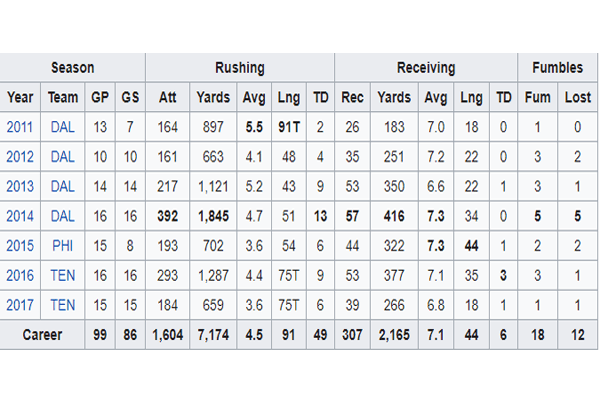 Murray played 99 games in seven seasons making 1,604 rushing attempts.
Image Source- Wikipedia
Net Worth
Surely Murray's fortune is massive as he was a star player for million dollars clubs. According to The Richest, DeMarco Murray's net worth is approximately $8 million. As mentioned, he played 99 games in seven seasons and made estimated career earnings of $25,715,703 to sum DeMarco Murray's net worth.
He signed a four-year contract with Dallas Cowboys in 2011 for $2,973,440 with annual percentage yield of $743,360 making a total earned an amount of $3,623,969. And this is 121.9% more than the salary. Furthermore, the total earned amount includes the bonus of $737,500.
Moreover, he was fined, $7,875 for facemask violation of Pittsburg and $21,000 for a striking helmet in Philadelphia's player.
Then, he was traded to Philadelphia Eagles in 2015 in $40 million for a 5-year contract. But playing for a single year total cash of $9 million including $8 million of Annual Percentage Yield which is 22.5% less than the contract amount and bonus of $4 million.
Also See: DeMarco Murray's Wife Heidi Mueller's Net Worth
Afterward, he signed a 4-year contract with Tennessee Titans for $25.25 million and that included guaranteed $12.950 million. Before his release from Tennessee Titan, he made $12.950 million in his fortune including $6,375,000 as Annual Percentage Yield which is 50.8% of the contract amount. After playing for two years, he was terminated from the side.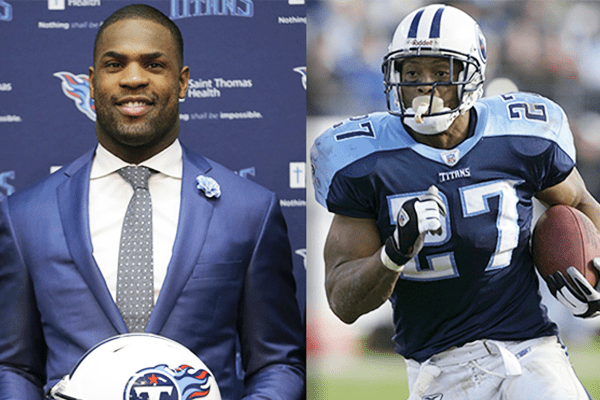 DeMarco Murray made $12.950 million while playing for Tennessee Titans.
Image Source- Tennessee Titans
Overall, Murray career earning was fruitful making more than $25 million to his treasure.
Murray's $2.95 million House
DeMarco Murray's net worth includes his $2.95 million Nashville house at 1606 Whispering Hills Drive, Franklin. Source: Furthermore From Equinox
He paid $2.95 million for the house to owner F.David Bender who had bought the home initially at $1.9 million in 2010. He paid $1.05 million more after six years.  The Nashville county where his million dollars house is located in the fastest-growing county in the whole state.
This is how his beautifully equipped and decorated looks like.
DeMarco Murray has a very organized closet. Source: Furthermore From Equinox
Dating and Marriage
DeMarco Murray's wife and then-girlfriend felt a spark in her body when she first met NFL star. She straight-away knew that she is going to fall in love with him. At that time the couple was residing in Pennsylvania. But the duo chose Dallas Texas as their wedding location.
The life partners were dating since 2011 and exchanged the engagement ring on January 19, 2015, five months before getting married. The sweethearts do have good chemistry and look like a perfect match since their meeting.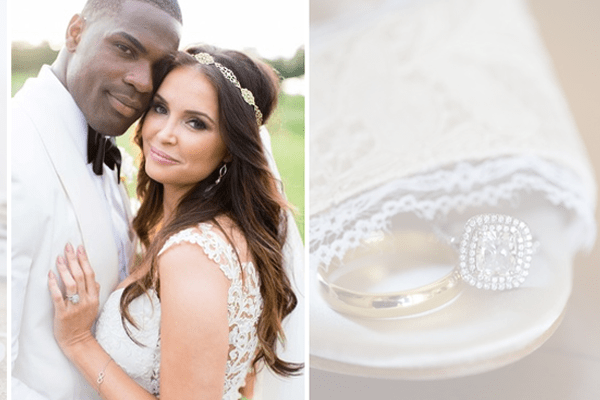 The married couple, Murray and Mueller were dating since 2011 and exchanged the engagement ring on January 19, 2015.
Image Source- Inside Weddings
Initially, the couple was in trouble to choose the date of marriage. But they decided summer as the wedding date. The couple chose June 20, 2015, as the wedding date as it was her daughter's second birthday as well. Moreover, the guests were invited to the wedding venue using golden invitation suite featuring laser-cut details.
The guest found themselves under the well-decorated tent with a sound of acoustic guitar. Furthermore, a family friend, Jake Holman was the one in vocals. DeMarco Murray's wife and Murray decided not to include bridesmaids or groomsmen in the wedding party. And the lovebird's attendant was the birthday girl, daughter Savanna.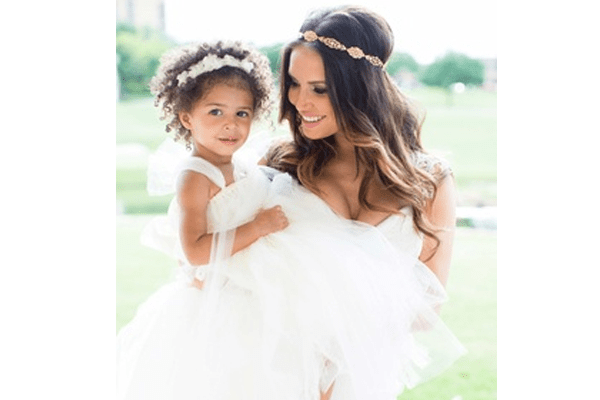 Birthday girl, daughter Savanna was the attendant of Bride and Groom in the marriage ceremony.
Image Source- Inside Wedding
Heidi walked down the aisle with Ed Sheeran's acoustic Thinking Out Loud in the background. In fact, her father was holding her on the arm while walking down the aisle. When Murray saw her in the Bride's wedding dress, he said, "Wow, she is beautiful and can't wait to marry her."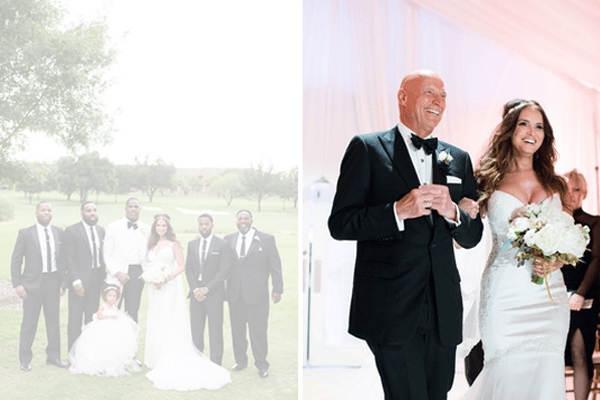 Heidi was holding her father's hand while walking down the aisle.
Image Source- Inside Wedding
Heidi met her groom with a wide smile on her face. The soulmate took the wedding vows under a custom tiered floral Chandelier. And the Chandelier was composed of gilded leaves, fringe, and up-side-down creamy calla lilies.
After they took the wedding vows it was time to taste the wedding cake. To be exact, the wedding cake was showcasing four round ivory tiers decorated with fresh ranunculus blossoms. As it was her daughter's birthday, they surprised her with a separate cake. All and all, the wedding day was extremely exciting, and the couple enjoyed the occasion.
In the ceremony, bride Mueller looked like a princess with a simple yellow diamond ring, dangling earrings and gold hardware along with the gilt headpiece. And the Groom, Murray was looking awesome on those white wedding suit with black bow and pant.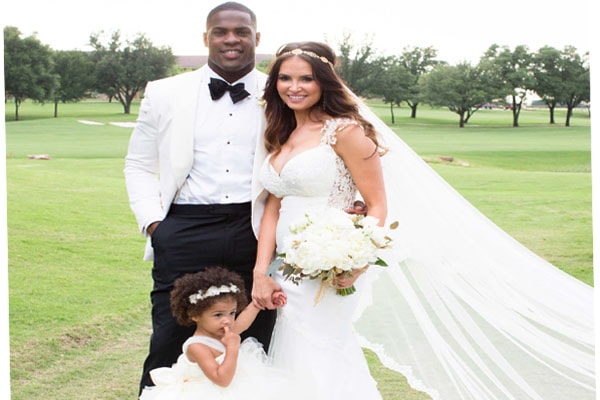 Image Source: Inside Weddings
DeMarco Murray with his spouse Heidi Mueller and daughter Savanna
Definitely, it was their dream wedding and why not if they are getting the love of the life.
The daughter was born Two Year before the Marriage
As we know, Murray's wife Heidi Mueller and he were dating since 2011. On June  20, 2013, Heidi gave birth to a beautiful baby girl, Savanna. At that time the couple was not married.  After exactly two years with a daughter, they decided to get married and announced that Heidi is pregnant with another baby.
And the baby boy named Parker Ray Murray was born as their second child. And now the family of four is happy together.

Not to mention, Heidi Mueller was previously dating and was engaged to Matthew Lawrence since 2004 to 2006.
To get newer updates on celebrity biography and Entertainment News stay updated with SuperbHub.