Carla Jimenez is the hilarious and funny Alba, the real gem of the series, 'The Mick'; a fox comedy sitcom. After playing roles of six nurses, and one maid, Carla again cheered her fans with her funny  housekeeper character  in 2017.
Carla not only an actor anymore, but a writer and director is also well known for her performance in Desperate Housewives (2004) and Last Man Standing (2011). Jimenez is also known for her role in series Lincoln Heights, Little Britain USA, and My Name Is Earl. She has appeared in films Miss March in 2009 and Phat Girlz in 2006.
Earning great fame, Carla Jimenez net worth thus is estimated to be around $2 million.
Early Life and Family
Carla Jimenez, born on May 14, 1974, in Westwood, Los Angeles, California is an American citizen and holds Mexican-American ethnicity.
Carla has three elder siblings. Her all sisters were born one year apart on the same day of April 1st. Carla's father took care and raised Carla because her mother, who was a nanny had stroke when Carla was just six according to Broadly.
Her father worked very hard on computer factory and spend enough time with them on weekends. Carla had said that her dad raised the four daughters like guys and they were not so sensitive. She added that they loved watching 1970s horror movies.
Carla first fell in love with theater when her friend's mother took her to Man of La Mancha, a tent revival production in middle school. She got a feeling that she wants to act. And her family encouraged her too. Carla then began performing in musicals when she was in high school.
Carla Jimenez went for acting classes at the end of her high school. She also performed at Moorpark Melodrama, a community theater. There she got a chance to study other actors. Carla then began earning $10 per show which was obviously not enough. So, Jimenez worked at a call center to pay her bills.
Career
Jimenez once said;
"I don't see giving up. I just see opportunity."
In late 1990s, when Carla was in her twenties, she went to pursue her dream in theaters in Glendale as recommended by her friend.
Carla then landed upon the role of Bloody Mary in Rogers and Hammerstein project, South Pacific. Her performance was noticed by an agent who wanted to sign her.  On the other hand, Carla's father encouraged her to leave the call center job. As soon as she did, Carla got a break in a national commercial.
Carla Jimenez then featured in different roles in various episodes of Strong Medicine in 2002 and 2003. Even, she had appeared in 'ER' and The 'District' in 2003.
After her successful performances, she got the opportunity to play roles in series Lincoln Heights, Little Britain USA, and My Name Is Earl.

Later, Jimenez appeared in feature films Nacho Libre, Accepted, and Lady in the Water. Moreover, she also appeared as a character named Virginia, in the independent cult film My Life with Morrissey by Andrey Overtoom in 2003.
She has also played a recurring role on the ABC TV shows Desperate Housewives, the Last Man Standing, Better Off Ted and also as Rosa on Raising Hope. Carla has however rejected scripts that abused the characters who are overweight.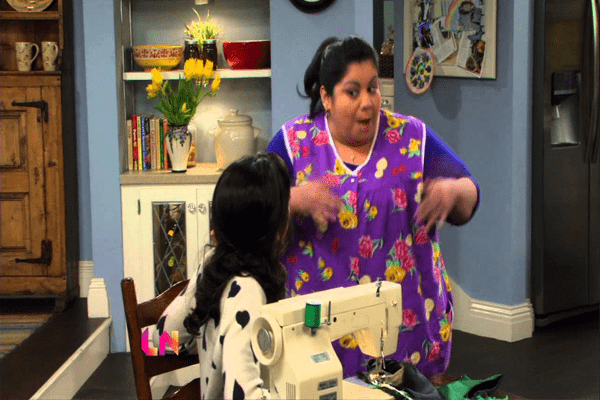 Carla as a housekeeper, nanny in series,'Last Man standing.' 
Image source: YouTube
She has also recently appeared in the Netflix sitcom Fuller House, where she played an adoption agent for Jesse and Becky. Jimenez is also known as Alba, the Pemberton's maid, on FOX's The Mick in 2017.
And everyone loves this singer in 'The Mick' show.

Dating Affairs and Boyfriend
Well, Carla Jimenez is an unmarried woman, who has not revealed the name and identity of her boyfriend yet. But she has mentioned that she has boyfriend in her interviews and social media like twitter.
She has however not mentioned about being married or having any husband anywhere.
On her Twitter on 29th May 2009, Carla's fan saw this;
"The magical words my boyfriend used to woo me."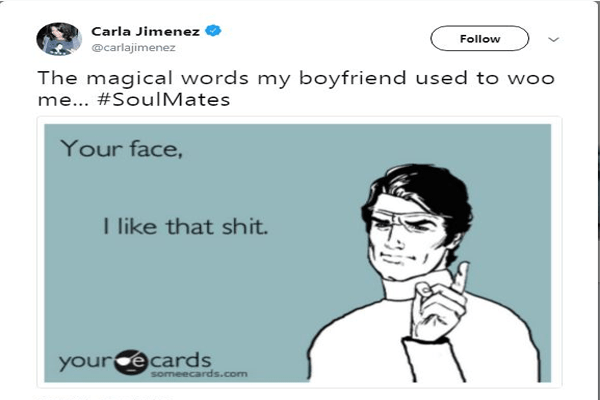 Carla Jimenez boyfriend?
Funny as you are Carla!
And in one of her interview with TV insider, Carla while answering to question of where she was when she found out that she was selected for Alba's character?
Carla answered that after the audition she was sitting with her boyfriend on a Friday night watching TV.  She had shut off her phone at 11:30 and when she was going to bed at midnight, she saw six messages from her agent,  trying to let her know that she got the role.
Well, the thing that interests us here is not where she was but who she was with that night. It was clear that Carla Jimenez was dating someone. Some of the sources even had mentioned that Carla Jimenez's boyfriend is a celebrity driver whom she had met at a coffee shop.
Carla Jimenez Net Worth
Carla Jimenez net worth is estimated to be at $2 million. Jimenez source of income is solely from her professional career.
She had earned a considerable amount from her movies like 'Phat Girlz' and 'Miss March'. The movie Phat Girlz was made at the budget of $3 million and earned an amount about $7, 061, 128.

Stay with SuperbHub, for more celebrities Entertainment and Biography.