An American citizen Bills Gates is successively the Wealthiest Men in the world. Besides, he is a Business Leader, Entrepreneur, Author, Investor, and Philanthropist. And they are the major source to add up Bill Gates's net worth. Similarly, he is a Co-founder of the world's most significant software business, Microsoft.
There is no single word to describe Bill Gates. Gates is genuinely a fantastic personality with a versatile character. He is a multi-talented person engaged in almost every sectors. Bill Gates is active in books, films, social media, radio, business venture. Also, he is active in investment, sports events, social-support program and many more.
The year 1975 was blessing year for him as the year transformed an ordinary Bill Gates to the renowned Bill Gates. Bill is the youngest self-made billionaire in the history at the age of 31. Successively, he introduced himself as the world's richest person since 1998 except for the year 2010 and 2011 to present date.
Who was Bill Gates before known as "the world's richest person"?
Gates was born on October 28, 1955, to William H. Gates Sr. and his wife, Mary Maxwell Gates. His father is a retired lawyer currently at age 92. Similarly, his mother (1929-1994) was a School-teacher and businesswoman. She died of breast cancer in 1994.
He grew up in Seattle, Washington, the United States along with two siblings named Libby Gates (younger sister) and Kristi Gates (elder sister). He renamed as William Henry Gates II during in birth. Bill Gates is currently residing in Medina, Washington, United States. English, German, Irish, and Scots-Irish are Gates' ancestry.
Gates joined Lakeside School at the age of 13. During School, he started spending most of the free time working on the terminals connected to the Mother's Club. Then gradually, he established an interest in programming the GE system in BASIC.
Also, he excused from math class to pursue his interest. Eventually, Gates wrote the first computer program named tic-tac-toe and facilitated the users to play games on the computer.
Gates completed his graduation from Lakeside in 1973 scoring 1590 out of 1600 on the college SAT. And they remembered him as the intellectual student for several years.
Subsequently, he attended Harvard University in the end date of 1973. But he appeared more in computer lab than his classroom. Then he finally decided to turn his hobby into a professional format.
After two years i.e. in 1975, he dropped out of the college and began his journey in business, Microsoft, partnering with Paul Allen.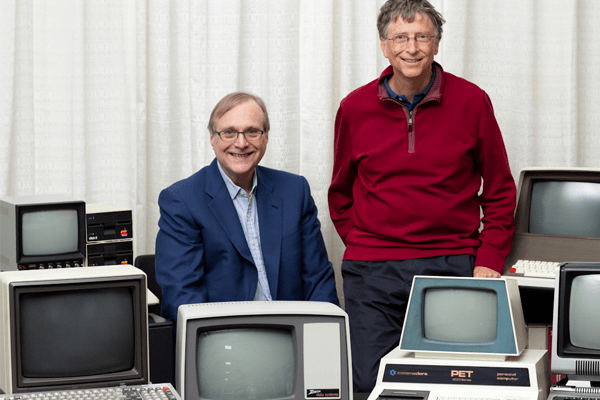 Bill Gates with his longtime partner Paul Allen
Image Source: StMU History Media
Paul Allen is a two-year senior student of Bill Gates from the Lakeside. They coordinated in a bond after noticing the common interest.
They finally moved into business developing Traf-o-Data with value $20,000 for their effort. Traf-o-Data was a computer application to monitor traffic patterns in Seattle. Later, they wanted to continue their partnership and develop their own company. But due to Gates parent's hope to make him a lawyer, they stopped him from doing so.
Successively, he went to Harvard University, and Allen went to Washington State University. But both of them remained in touch. With several ups and downs, they succeeded to develop Microsoft, which enlisted as the world's largest PC software company. And Gates was appointed as the president and chairperson of the board. Whereas, Allen renamed as the executive vice-president.
By 1983, Allen resigned with Microsoft for the treatment of cancer, but Gates continued his passion. In the meantime, he stepped down from his full-time work at Microsoft to part-time job. And he planned on working at Bill & Melinda Gates Foundation as a full-time worker. He gradually shifted his duties to Ray Ozzie and Craig Mundie.
Gates did not stop his career in one sector. Instead, Gates developed and enhanced his Microsoft with the Windows software. He improved its operation and expanded its uses in the competitive environment. Gates is the one who never gets tired of doing something new. Thus Bill Gates biography is different from another ordinary person.
Gates developed Microsoft Word and Excel into one system and made it compatible with the Microsoft product in 1989. The new version sold 100,000 copies in just two weeks leaving the others competitors behind.
Explaining him in another word, he is also a business person. Gates external business ventures and investment includes Cascade Investments (private investment and holding company), bgC3 (think-tank company), and Corbis (digital image licensing and right services company).
Further, Terra Power (nuclear reactor design company), Eclipse Aviation (manufacturer of very light jets), and Research Gate (social networking sites for Scientists) are Gates venture. Gates is known as the  entrepreneur of the personal computer revolution.
Also, he is the writer of books The Road Ahead (1995) and Business @ the speed of Thought (1999). In the first book, he summarized the implications of the personal computing revolution. Whereas, in the second book Gates discussed how business and technology are integrated.
Similarly, he arose in documentaries, firstly through the title That Changed the World (1990, miniseries). Next, he appeared in Triumph of the Nerds (1996), Nerds 2.0.1. (1998), Waiting for Superman (2010), and The Virtual Revolution (2010).
Likewise, Gates featured in films Pirates of Silicon Valley (1999), Nothing so Strange (2002), The Social Network (2010), and Steve Jobs (2015). Apart, he has an appearance in several videos and film clip, ads and radio.
The Microsoft developer and business leader Gates is also a Philanthropist investing half of the wealth to philanthropy, as of 2009. He contributed to the various charitable organization and scientific research programs through the Bill & Melinda Gates Foundation (2000).
As of 2017, Bill Gates said he would provide $50 million to the Dementia Discovery Fund according to Quartz. Whereas, $50 million to start-up ventures working in Alzheimer's research. Equally, Bill Gates remarked as the influencer of the internet source LinkedIn in 2013.
Bill Gates married Melinda French at the age of 38 on January 1, 1994. The marriage took place on a golf course on the Hawaiian island of Lanai. The couple is blessed with three children named Jennifer Katharine Gates (1996), Rory John (1999) and Phoebe Adele Gates (2002).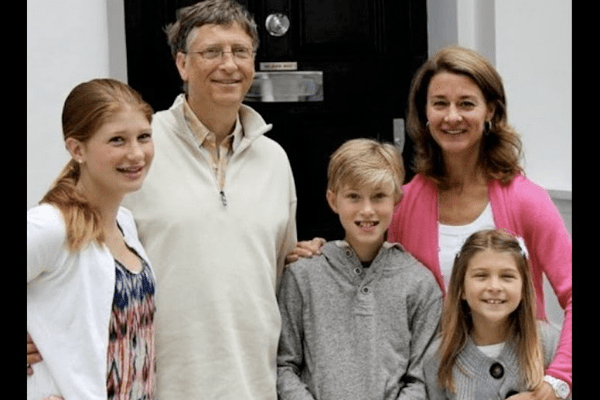 Bill Gates with his wife Melinda Gates and children Rory John Gates, Jennifer Katharine Gates and Phoebe Adele Gates
Image Source: YouTube
Currently, Gates and his family are residing at a modern design mansion in Washington State, United States. He believes religion is an important aspect. That's why his children are raised in religious terms.
Sadly, Bill Gates and Melinda Gates are getting a divorce soon. He released a statement via Twitter hinting their divorce is amicable. Likewise, Melinda Gates filed for divorce asking the judge to dissolve their marriage as per the separation contract.
As of 2018, Bill Gates's net worth is $92.9 billion according to Forbes. Gates is the wealthiest person in the world and highest taxpayer individual as well. Thus, a reasonable sum of Bill Gates's net worth is facilitating Gates and his family members to live a luxurious and lavish lifestyle.
Reviewing Bill Gates biography, for sure, you may have gained enough knowledge. For viewing newer updates on celebrities, remain in touch with SuperbHub.
Bills Gates has an average height 5 Feet 9 Inch matching his body weight 154 lbs. He has greyish blue colored eyes and grey color hair. Scorpion is his birth sign.
He is active in the social sites like Facebook, Instagram, and Twitter.