Alexi Laiho was born on 8th April of 1979 in Espoo, Finland. He is a Finnish guitarist, composer, and vocalist. Laiho is famous as the lead guitarist and vocalist of Children of Bodom, melodic death metal band. He has been ranked as the number one Greatest Metal Frontmen of All Time according to Roadrunner Records.
Alexi Laiho's net worth is estimated to be $6 million. He is currently engaged to his fiancee Kelli Wright. He was previously married to Kimberly Gross and engaged to Kristen Mulderig. Furthermore, in 2004 he was ranked number 96 out of 100 Greatest Heavy Metal Guitarists of All Time by Guitar World.
Net Worth And Earnings
As mentioned earlier, Alexi Laiho's net worth is estimated to be $6 million. He has managed to accumulate such fortune throughout his career as vocalist, guitarist, and composer. He is also the founding member of the metal band Children of Bodom.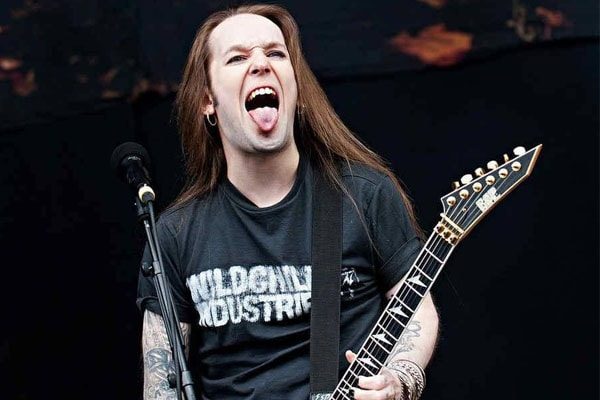 Alexi Laiho is a Finnish guitarist, composer, and vocalist with an estimated net worth of $6 million. Picture Source: Pinterest.
In 1993, Alexi Laiho along with Jaska Raatikainen formed a melodic death metal band Children of Bodom. The band released their debut album titled Something Wild in 1997 and sold more than 22,000 copies of records in Finland. The collection is available on Amazon and costs around $9.43. Laiho must have earned a considerable amount of money by selling albums.
On the long list, some of the band's albums are Follow the Reaper, Blooddrunk, Skeletons in the Closet, I Worship Chaos. He is also the guitarist for the Sinergy, The Local Band, and Kylähullut. Laiho released three albums with Sinergy and four albums with Kylähullut. He earned a huge amount of money as a guitarist in those bands.
Alexi Laiho also tours and performs at concerts along with his band Children of Bodom. They also perform at many major outdoor concerts and at the end of the show, he possibly takes home a considerable sum of money.
Alexi Laiho's Guitar And Equipment
ESP Guitars endorsed Alexi Laiho in January of 2003. He uses seven ESP models that are Scythe, Arrow Head, Sawtooth, Katakana, Pink Sawtooth, Blacky, Greeny. He started using Lee Jackson GP-1000 preamp at first, and after that, he used Peavey 5150.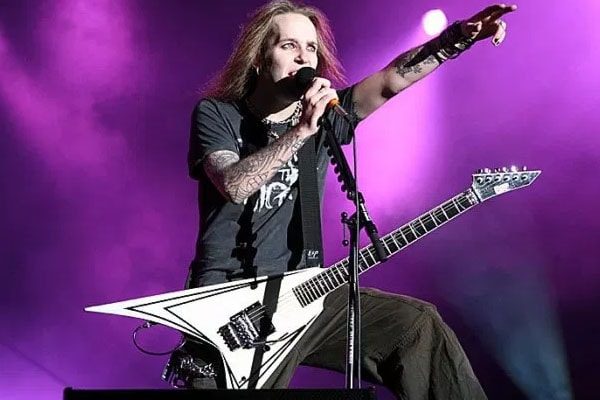 Alexi Laiho uses ESP Guitars. Pictures source: Metal Injection.
In the amp, he used Marshall 1960A cabinets for half of his career and later used various amps such as Lee Jackson Sp-1000, Rocktron Velocity 300, Marshall JCM800 KK and Engl Special Edition EL34 head. He also uses a Boss CH-1 Super Chorus pedal, Dunlop Kirk Hammett wah pedal, and a Boss DD-7 digital delay pedal for effects.
Family And Relationship
Alexi Laiho has kept information about his parents and siblings private. Talking about Alexi Laiho's relationship status, he is engaged to his fiancee Kelli Wright. The engaged couple has been together since 2016.
Alexi Laiho's fiance Kelli is a publicist, and according to her Twitter account, she is also a music business educator and marketing specialist. It's been almost three years since the couple got engaged and also has a child, probably from Kelli's previous relationship.
View this post on Instagram

Alexi Laiho was previously married to Kimberly Gross. The ex-couple tied the knot in 2001. However, their relationship couldn't last long and got divorced in 2004. Alexi never revealed the exact reason behind their divorce.
After that, he was engaged to Kristen Mulderig for two years. The former couple dated for around seven years from 2006 and got engaged on 29th April of 2013. But their relationship couldn't go further and later separated in December 2015.
Children Of Bodom Guitarist Died At 41
The metal world was taken aback by the news of the frontman for Finnish metal band, Children of Bodom, Alex Laiho's death. His record label, Napalm Records released the statement confirming his death.
Furthermore, Laiho's official Facebook page has a post that says that he died in his Helsinki home because of undisclosed 'long-term' health issues. Moreover, Laiho's devastated wife, Kelli Wright-Laiho said that he was a loving husband and a father whose death has eternally broken their hearts.
Guitarist Alexi Laiho deceased

One of the most renowned guitarists in the world, Alexi Laiho, has passed away. The…

Posted by Alexi Laiho Official on Monday, January 4, 2021
Well, death is inevitable and thus a person can only accept the rules of the divine and cherish their memories. Therefore, let's hope Alexi Laiho's soul rests in peace and his family & friends find comfort in his memories.
Keep connected with SuperbHub for more News, Entertainment and Biography.