Abigail Hawk was born in the US state of Georgia by father Robert Gustafson and mother Diane Gustafson Marietta as Abigail Diane Gustafson, she is an American actress and a director best known for the drama Almost Paris of 2016, Law & Order: Special Victims Unit TV series of 1999, and Body of Proof, TV series of 2011.
In 2004, Abigail completed her Bachelor degree in Fine Arts from the University of Maryland.
Career
Abigail was debuted from the TV series named Reality Check where she played the role of Samantha Bonner. During the series got chance to work with American radio personality Ryan Seacrest and John Aaron Bennett.
Abigail got her big break from the Police drama series Blue Blood of 2010 where she is portraying the role of Abigail Baker. The series was rated 7.5 out of 10 and it is about the dedicated family to New York City law enforcement. According to the IMDb, Abigail Hawk has done 150 episodes between 2010 and 2018. She has only 18 acting credit in her name and she is earning around $800,000 to $1 million according to Fame 10. Many of her fans were impressed by Abigail's emotional performance in Blue Blood Episode 13.

Abigail was also seen playing the role of Maria Macabre in the short horror movie The Tragedy of Maria Macabre. The movie was directed by the famous directors Sean Gill and Rachel Klein in 2010.
In September 2016, Abigail was invited at the Spring Gala of HeartShare Human Services of New York as a guest. Her husband Bryan was seen accompanying her in the function. Spring Gala of HeartShare Human Services is a program aimed to collect more than $60,000 for differently abled people.
In Golden Door Film Festival 2017, the actress was pleased with The Best Actress award for her role in Almost Paris. Abigail made her appearance in A Christmas in Vermont, a movie of 2016. She has received the Linda Dano Award, the award was named after the Emmy award-winning actress Linda Dano.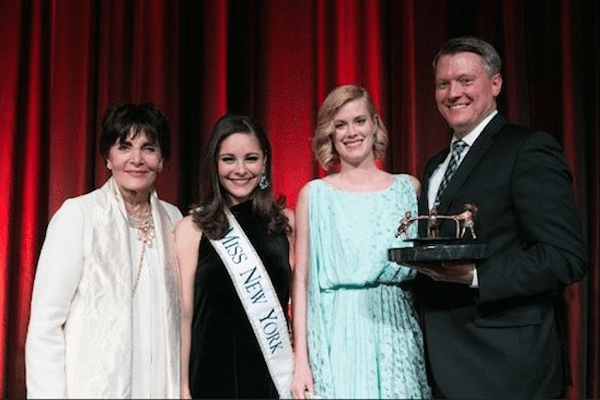 Abigail's husband Bryan carrying her's Linda Dano award.
Image Src: Pinterest
Personal Life
Hawk was married to her long-time boyfriend to Bryan Spies since April 2009. The wedding ceremony was held out in Rosewell while their reception was organized in Davenport.
Till date, the couple is successful in covering their personal lives under a wrap, however, they have failed to hide their supportive behavior and dedication for each other in public. They share one son of their own who was born naturally in 2014, but the identity of their son is not revealed yet. Abigail loves sharing her son's picture on her social media account.

Maybe, the couple is enjoying their married life as there are no rumors of them getting divorced. The couple celebrated Valentine of 2018 together and shared the image of the duo on Instagram.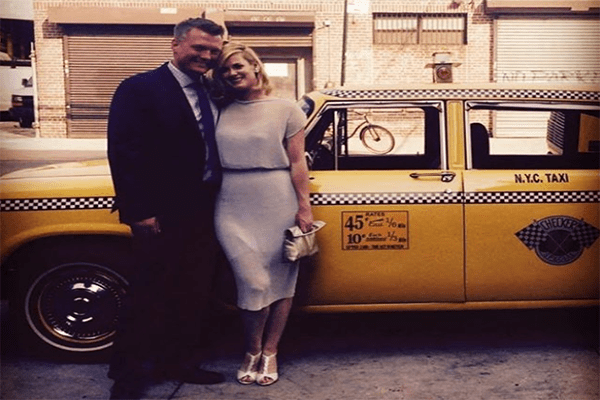 Abigail with her husband on the Valentine 2018.
Image source: Instagram
They were spotted at the Roxy Hotel in 2015 during the premiere of the movie Jess Stone: Lost in Paradise.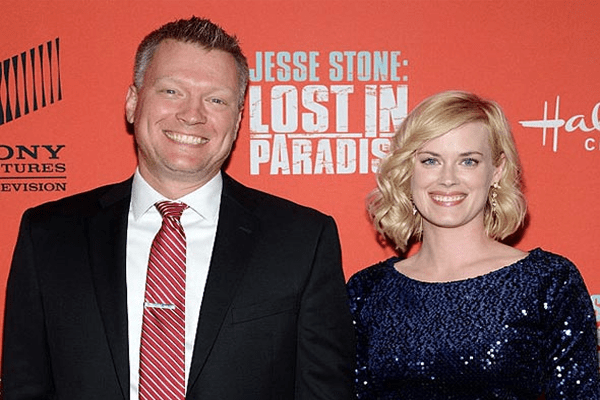 Abigail Hawk spotted together on the premiere day of the movie Jess Stone: Lost in Paradise.
Abigail husband was the one-time worker at Thomas Keller's Bouchon Bakery in New York City. In an interview of 2016, Abigail publicised that, her husband is an Official Fire Department of New York (FDNY) medic.  The earning from her husband's career must have added some amount to Abigail's Net Worth.
Stay updated with SuperbHub, for more Biography of celebrities.