Jamaican rapper and Producer Safaree released his own brand of Coconut Oil Safaree Coconut Oil. Stuntgang's head Safaree made the announcement of the product's release on August 13, 2016, via his Instagram.
Nicki Minaj's ex-boyfriend Safaree is building a reputation of his own by the launch of Safaree Coconut Oil. The rapper and producer rose to fame after making an appearance on Love& Hip-Hop Hollywood. 
Well, it's not an easy task to go and just sale Coconut Oils to the mass market, one needs to have a proper strategy and adequate market studies. Whilst keeping everything in mind from product's composition to sales strategies and proper marketing. However, Safaree proved himself to be the King of coconut oil and a successful entrepreneur by selling the coconut to a mass market.
Safaree Coconut Oil
Safaree Coconut Oil is a natural coconut oil made and produced in India. Virgin Coconut Oil (VCO) is extracted from coconuts without applied heat. The difference between regular coconut oil and virgin coconut oil is the extraction process and benefits.
Virgin Coconut oil has the best fragrance, antioxidants, vitamins, taste, and MCFA(Medium Chain Fatty Acids). Many customers assume the name is only for the purpose of sales increase which is not true. Virgin Coconut Oils contain a high amount of Vitamin E and minerals
Likewise, Safaree Coconut Oil is made from pure VCA from coconuts grown on various USDA-NOP, EU & Indian certified organic plantations. The coconuts are grown in Lakshadweep groups which are considered as the best coconuts in the world with highest oil content and nutritive value of about 72%.
Safaree Coconut Oil is obtained by a cold-pressed method without applying heat in order to regain the vital nutrients and delicate fats. The oil is free of hydrogenation, refinement or deodorization retaining its pure flavor, taste, aroma and virgin quality. Learn more about the benefits of Safaree Coconut Oil:
| | |
| --- | --- |
| 1 | Helps in cleansing and moisturizing skin |
| 2 | Removes dead cells and strengthens skin tissues |
| 3 | Can be used to heal wounds(apply to an affected area) |
| 4 | Controls dry rashes and dry skin problems(eczema, psoriasis and skin problems) |
| 5 | Moisturizes hair with a shine and cleans scalps |
| 6 | Antibacterial, antifungal, anti-inflammatory properties improve body immunity |
| 7 | Strengths hair root and helps in hair growth |
| 8 | Aids in weight loss |
| 9 | Helps digestive system(get rid of the irritable bowel syndromes) |
| 10 | Stretch marks? regular massaging with Safaree Coconut Oil can help to get rid of stretch marks |
Buy Safari Coconut Oil and contribute to Jamaican Charity
The percentage of cash collected from Safaree Coconut Oil is contributed to a charity called Stunt4Jamaica. The collected percentage of cash will be used to provide needy kids with school supplies, clothes and donate a new computer to a school every month. A substantial percentage of Safaree's CD, T-shirt, and coconut sales will be contributed to Jamaican Charity.
Safaree took his coconut oil as an aid to get a sperm count test on Love & Hip Hop Hollywood. Stars Safaree, Ray J, and A1 attended the fertility test and the one who comes last has to record a song in the studio with Co-star Hazel-E.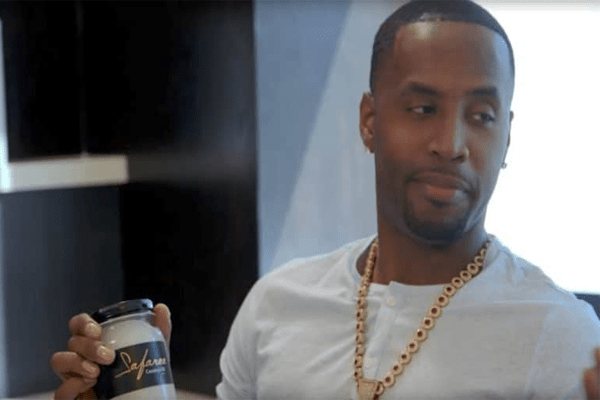 Safaree is a funny man and used his sense of humor as a marketing strategy for the sales. His Instagram promotion video is a comical approach and the ultimate commercial for mass sales. Got a dry situation? No hesitation, use Safaree Coconut Oil.
How much does Safari Coconut Oil Costs?
The 380 Ml of natural Safari Coconut Oil costs $20. Buy Here . Reviews are still to come for his product but there are positive assumptions.