Power attorneys have always been behind the success, downfall, conflict, harassment, mergers, settlement, divorce in fact anything that matters in Hollywood.
There's a lot of work in the entertainment industry for lawyers. Before there used to be movie lawyers, sports lawyers, music lawyers and the name goes on. But, now the lawyers have to do it all in the entertainment business covering all areas.
Similarly, it's not easy to represent a celebrity; a Hollywood celebrity. But some of the lawyers who have managed to do so, have become the most preferred and famous power attorneys. The lawyers have established a star identity and in fact gets referred to celebrated clients.
Let's get to know the five celebrity lawyers having list of celebrated high profile clients.
1. Skip Brittenham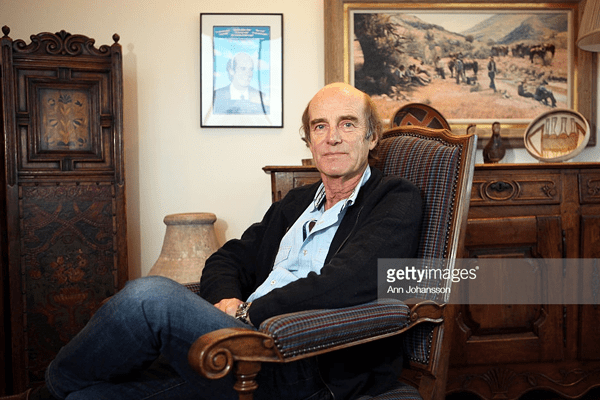 Founding partner of the Ziffren Brittenham LLP, Hollywood's powerful attorney Skip is also known for marrying actress and screenwriter wife Heather Thomas.
Father to three beautiful daughters, Kristina Lynn, Shauna Leigh and Indiana Rose, Brittenham represents top actors, producers, directors, writers and personalities in the industry. Having top clients like Ridley Scott and Harrison Ford, Brittenham is known to be a great deal-maker who have been negotiating $1 billion in contracts a year.
His noteworthy work as a lawyer was again proved in 2017 when he represented Jim Gianopulos, former Fox Film chief helping him to take over as CEO and Chairman of Paramount. And also representing Toby Emmerich to achieve president and chief content officer position in Warner Bros. And his list goes on.
2. Cliff Gilbert-Lurie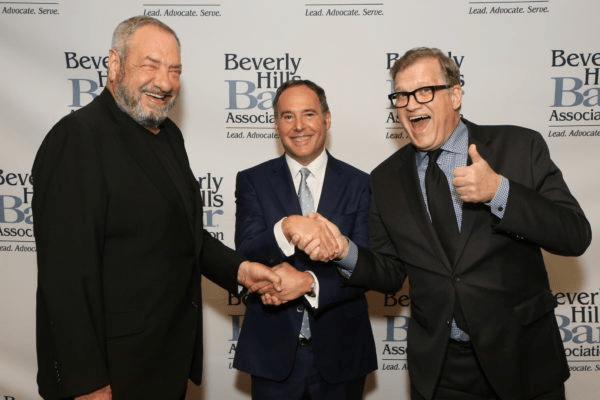 From left to Right: Dick Wolf, Cliff Gilbert-Lurie and Drew Carey. Source: Hollywood Reporter
Cliff Gilbert-Lurie who served as a co-managing partner of Ziffren Brittenham LLP is now a senior partner in the corporation since 1986.
Having made his spot constantly in 'Top Lawyers' list by entertainment and legal industry publications for more than a decade, Cliff  had also been honored as Entertainment Lawyer of the year 2018 by Beverly Hills Bar Association.
And to make the moment more special, came the stars Sandra Bullock, Drew Carey and Dick Wolf,  long time clients of Attorney Cliff who served as emcee of the program.
The ceremony was held on May 3, 2018 in the presence of 350 people and Cliff's partners Skip Brittenham, Ken Ziffren, Sam Fischer and Melanie Cook presented him the award. He hasn't just made his way to the top 100 Power lawyers list in Hollywood Reporter.  He has also been honored several times by various organizations.
Many celebrities like Bullock and Wolf have been taking his legal advice from long years. His wide client list includes entertainment, digital, media personalities, motion picture, television talent, TV producers, senior executives in the entertainment and media business and software companies, investment funds too.
Celebrity lawyer Cliff Gilbert-Lurie is also a loving husband of Leslie Gilbert-Lurie and father to three children. He received his J.D in 1979 from University of California, Berkeley.
3. Allen Grubman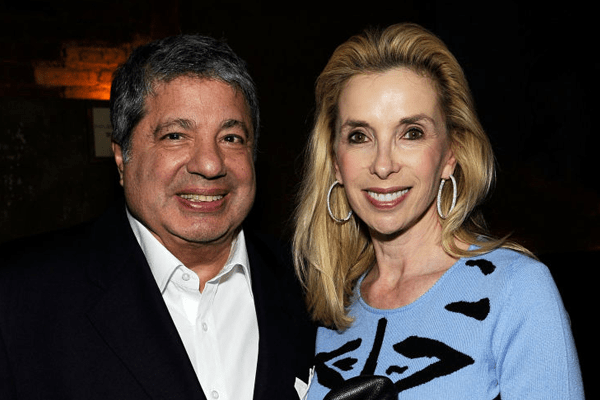 American entertainment Lawyer Allen Grubman with Real estate broker wife Debbie Grubman. Source: Gawker
Known as American entertainment Lawyer, Allen Grubman is the founder of Grubman Shire Meiselas & Sacks law firm. It was originally a music law firm, but now it has expanded it's service to entertainment business's every areas, making it the largest law practice in the entertainment world.
His client list includes music persona like Jennifer Lopez, Lady Gaga, Sting, Madonna, U2, Bruce Springsteen, Lionel Richie, Andrew Lloyd Webber, Elton John, Nicky Minaj; television personalities like Charlie Rose, Richard Engel, Barbara Walters , Diane Sawyer.
He is a trusted advisor and great negotiator for Media entrepreneurs like David Geffen, Les Moonves, Martha Stewart, Jimmy Iovine.  Having made spot in number 50  in 2016 Billboard Power 100 list, Allen Grubman now lives with his wife real estate broker, Debbie Grubman from Corcoran Group in Manhattan penthouse worth $18.5 million at 944 Park Avenue since 2016.
4. Harold Brown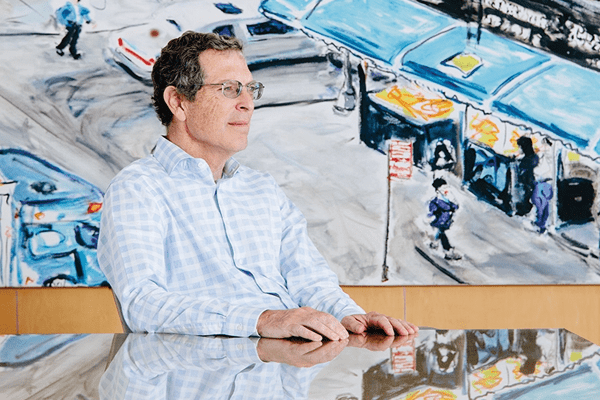 Harold Brown was honored as Entertainment Lawyer of the Year in 2017 by Beverly Hills Bar Association. Source: Variety
Hollywood Stars and Authors like Dwayne Johnson, Steven Spielberg, Gwyneth Paltrow, Stephen King, Michael Mann and Heidi Klum  go to Harold brown for every legal matters. Honored as Entertainment lawyer of the year 2017 by Beverly Hills Bar Association, Brown serves as a partner in family law firm Gang, Tyre, Ramer & Brown.
Well, Harold Brown had his influence to be a lawyer from his family. His family was a powerhouse of lawyers with his late mom, Hermione Brown; partner at Beverly Hills law firm, and late Harvard educated attorney father Louis M. Brown who was also a law professor at USC.
This is what the power attorney has to say;
"I'm super lucky because if you look at the list of my clients, you can see they are wonderfully focused people, fascinating to work with."
5. Laura Wasser
Celebrity Divorce Lawyer Laura Wasser is named as 'disso queen' by TMZ  Source: Long Room
With over two decades of experience, this family law attorney beauty of law firm, Wasser, Cooperman & Mandles P.C, Laura Wasser have handled number of high profile celebrity divorces.
Her client list includes popular names like Tom Cruise, Kim Kardashian, Angelina Jolie, Heidi Klum, Jessica Simpson, Stevie Wonder, Travis Barker, Britney Spears, Naveen Andrews, Robyn Moore, Ann Lopez and the list continues. She's the first choice in any lawyers for celebrities seeking divorce.
Now, Laura has made the divorce easy by launching her online divorce plaftform, 'It's Over easy.'
Also Read:
NET WORTH OF LAURA WASSER LAWYER 2018 | HOW MUCH ANGELINA JOLIE PAID FOR 
LAURA WASSER HAS TWO CHILDREN FROM EX-BOYFRIENDS AND SHE IS DIVORCED TOO
For more exciting articles, entertainment, news and bios, stay with SuperbHub.