The two-time Academy Award winner Robert Redford has an estimated net worth of $170 million. In 2014, the 82-years- old actor was in the media for fighting a $1.6 million tax bill in Court. He married painter Sibylle Szaggars in 2009.
Robert Redford who is all famous as a founder of Sundance Film Festival is a retired actor and director. He fought for his $1.6 million tax bill claiming that it violated his constitutional rights. The actor was born and raised in Santa Monica California.
How much is Robert Redford's Net Worth
As of 2018, Redford's Net worth is estimated to be $170 million. The legendary actor frequently comes into the media gossip for his lavish lifestyle and luxurious houses. The American producer owns a ranch in Utah and two more homes in Santa Fe, New Mexico, and Napa Valley, California.
American Actor and Producer Robert Redford's Net worth is estimated to be $17o million. Image Source: Youtube
This year on October Robert listed his house on Napa Valley Retreat on sale for $7.5 million. According to the Wall Street Journal, actor and director bought the house in the wine country in 2004.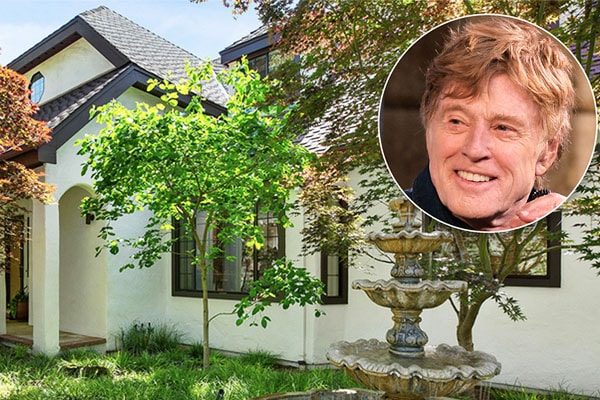 Robert Redford house in Napa Valley is on sale for $7.5 million. Image Source: Today Show
The 10-acre, private and gated estate is in the grand location on top of a knoll in St. Helena. The two-story home is decorated with European-style architecture. It has views of Napa and hiking trails leading to Meadowood, a luxury resort which is a major plus point.
Fought $1.6 Million Tax Bill in Court
The New York State Department of Taxation charged the whopping fee of $1.6 million to the Former actor Redford in May. The charge was for the sale of his ownership in the Sundance Channel in 2005.
The retired cleverly claimed to the NY that the Empire State is trying to take an unfair bite out of his wallet. He confidently claimed that his take from the sale was clearly included in the income tax return Plaintiff filed with his home state of Utah which was fully taxed by that State."
Robert is a nature-lover who loves "semi-wilderness" in the houses and he himself has a lot of contemporary art collection. The actor who began his career in acting in the 1960s has received very high acclaim for his performance in movies.
SuperbHub for Exclusive News and Entertainment.